Doctor Who's Jodie Whittaker Has A Brilliant Idea For How She Can Appear On Brooklyn Nine-Nine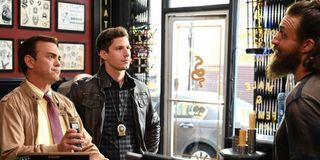 It's easy to forget that actors watch television series like we do and can be huge fans of other shows. Such is the case with Doctor Who's Jodie Whittaker, who is a big fan of NBC's Brooklyn Nine-Nine. She recently shared her idea for how she can appear on the comedy series and it's bloody brilliant!
Brooklyn Nine-Nine has often touched upon Jake Peralta's issues with his absent father, an airline pilot named Roger. While it's caused Jake a lot of emotional turmoil over the years, Jodie Whittaker has plans to exploit Roger's behavior to get herself a gig on the sitcom. Asked to pitch an idea for what her ideal episode would be if she guest starred, Whittaker had her appearance all planned out. Here's what she said:
Craig Robinson's Doug Judy, the thief known best as the Pontiac Bandit, would definitely turn her character's name into a catchy song. However, during the interview with TVGuide, Jodie Whittaker quickly realized that she would have to change her name. She would probably go with Claire. That's fine because Doug Judy can work with any name, so bring it on!
I hope the Brooklyn Nine-Nine writers catch wind of this idea because it's a thoughtful one. Aside from simply being a superfan, Jodie Whittaker, who became the first woman to take on the role of The Doctor, would be a shoe-in as Jake's sister. Not to mention that it would make for an incredibly entertaining episode. Perhaps Whittaker can even make a Doctor Who reference if she ever makes it onto the show. It would be very meta, that's for sure.
Jake Peralta's personal drama has run a bit dry of late, so it would be fun if a previously unknown sister showed up out of nowhere. It could even be an excuse for the Brooklyn Nine-Nine cast to head to England for a quick trip. If the crew can make a pit stop to see the Die Hard building and get Saved by the Bell's Mario Lopez and other big-name stars on the show, then inviting Jodie Whittaker to guest star could, theoretically, happen at some point.
New episodes of Brooklyn Nine-Nine air Thursday nights at 8:30 p.m. ET on NBC. Doctor Who airs Sundays at 8 p.m. ET on BBC America. For more on what to watch, be sure to check out our 2020 midseason schedule to stay updated on all of the winter and spring shows.
Your Daily Blend of Entertainment News
Your Daily Blend of Entertainment News
Thank you for signing up to CinemaBlend. You will receive a verification email shortly.
There was a problem. Please refresh the page and try again.