Why Brooklyn Nine-Nine's Rosa Was Barely In The Season 7 Premiere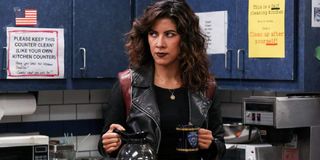 Warning! Spoilers ahead for Season 7, Episode 2 of Brooklyn Nine-Nine.
Brooklyn Nine-Nine has long been an ensemble comedy series, so when a main cast member goes missing from an episode, it's pretty noticeable. While viewers rejoiced in seeing the cast back in action in Season 7's two-episode premiere, Stephanie Beatriz's Detective Rosa Diaz was notably absent from the remainder of Season 7's second installment and many wondered why that was. But don't worry, there was a good reason.
Following Captain Holt's demotion to patrol officer, Julie Kim was announced as the new interim captain. While the rest of the Nine-Nine wondered how long she'll be around, Rosa left before she could meet the new captain, explaining that she had the weekend off. She asked if the squad could have her "gone by Monday" because Rosa's "over meeting new people" and then disappeared. Here's what Brooklyn Nine-Nine co-creator Dan Goor had to say about her absence:
That makes a lot of sense. Stephanie Beatriz was cast as Carla in Lin-Manuel Miranda's upcoming musical adaptation of In the Heights, and it seems that the filming schedule for both projects overlapped. I'm relieved to learn that Beatriz was only gone because she was filming another project, because that means her absence only temporary. And of course Dan Goor couldn't say no to Miranda, who guest-starred as Amy Santiago's brother in Season 6.
It's admittedly hard not to be paranoid when actors exit shows without warning like this, though, because history has shown they don't always come back. Such was the case recently with ABC's Grey's Anatomy, which saw the abrupt departure of a series regular after 16 seasons without any major lead-up.
In any case, Dan Goor's confirmation to TVLine is a relief. Stephanie Beatriz is sticking around, as it should be, and at least Rosa got her wish and didn't have to be introduced to the new captain at all. By Monday, poor Julie Kim had already asked to be transferred.
Replacing her will be the one and only Lieutenant Terry Jeffords, whose leadership is often applauded. I'm no mind reader, but I'm sure Rosa will be thrilled by that news when she returns. While she was only absent for one episode, I did miss her glaring at everyone all the time.
Brooklyn Nine-Nine Season 7 is back in full swing and will air new episodes every Thursday at 8:30 p.m. ET on NBC. For more on what to watch this winter, be sure to check out our complete midseason schedule for all updated premiere dates and times.
Your Daily Blend of Entertainment News
Your Daily Blend of Entertainment News
Thank you for signing up to CinemaBlend. You will receive a verification email shortly.
There was a problem. Please refresh the page and try again.