Why Outlander Has To Be Careful About Its Sex Scenes, According To Caitriona Balfe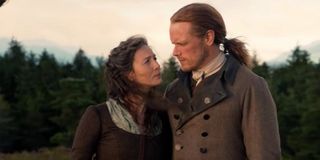 Outlander has not shied away from sex scenes between Claire and Jamie. For five seasons now, the Starz drama has depicted their relationship as one of mutual passion, respect, and love, which has translated into a balanced sex life. (Definitely not always the case on this show or others on cable.) However, with so many sex scenes, Caitriona Balfe recently explained why Outlander has to be careful about the way they're filmed as it relates to objectification.
One of the things any fan of Outlander can appreciate is that the sex scenes between Jamie and Claire are consensual and balanced. Because the show is focused on both characters, Claire's pleasure is given as much screen time as Jamie's. During an Entertainment Weekly roundtable discussion, Caitriona Balfe praised Outlander for focusing on both characters' perspectives in sex scenes. In her words:
It is incredibly important for Outlander to remain balanced between the sheets and beyond. Historically, sex scenes of any medium have been portrayed from the male point of view and, like with Game of Thrones and certain other series, sexual pleasure for women is rarely showcased onscreen. (Outlander has thrown in a few unnecessary rape scenes as well, so it isn't exactly perfect on that front.)
However, Caitriona Balfe maintains that Outlander must be careful when shooting sex scenes, because there's always a chance that the altered perspective could take things in the other direction. The balance has to be maintained. Here's what she said:
For the most part, the Starz series is very respectful of its lead characters, and it's refreshing to watch. Jamie and Claire have a lot of sex to shake their minds free from all the war, fighting, and further drama that seems to follow them wherever they go. Five seasons in and Outlander's "sexiest couple" still sets a good example of what mutual love and pleasure looks like.
Turn your lights down low for new episodes of Outlander air every Sunday at 8 p.m. ET on Starz. For more on what to watch, be sure to check out our 2020 midseason schedule for updated premiere dates and times.
Your Daily Blend of Entertainment News
Thank you for signing up to CinemaBlend. You will receive a verification email shortly.
There was a problem. Please refresh the page and try again.