In Total Badass Move, Hallmark May Make Elisabeth Moss' Dreams Come True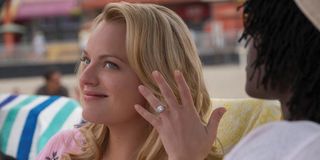 This weekend, you can see Elisabeth Moss escaping an abusive partner in The Invisible Man. Or you can throw on Hulu and see her do some equally harrowing stuff in The Handmaid's Tale. But very soon, you may get to see the sunnier side of Elisabeth Moss as Hallmark has approached her about doing a Christmas movie.
While doing press for The Invisible Man this week, Elisabeth Moss has been asked quite a bit about her penchant for playing characters dealing with just horrible, wild stuff. Interestingly, while these are the roles people often see Elisabeth Moss in, she revealed she's actually always wanted to do a rom-com.
Enter Hallmark, who heard that news and touched base with Moss shortly after it became clear she is absolutely serious about this rom-com stuff. In fact, Elisabeth Moss told Kelly Clarkson all about it on her talk show this week, admitting she's a huge fan of Hallmark Christmas movies in the process.
Look, Hallmark is often the place where well-liked actress go when they want to spend a little more time with their families and a little less time chasing down the next role. Hallmark movies take less time to film and once you have an "in" with the company you are often able to do multiple movies, thus generating a specific amount of revenue per year.
It can be a good gig, and actors like Lacey Chabert and Kristoffer Polaha have talked about liking how Hallmark operates and enjoying the types of stories the network chooses to tell.
To me, if Elisabeth Moss does this, it would be akin to that time Will Ferrell and Kristin Wiig did a Lifetime Original Movie. She would be a higher profile name for the network and it would give her a chance to do a fun, breezy rom-com gig like she has clearly been wanting to do for a while. It sounds like it would be a win-win for both Hallmark and Moss. If it works out.
Elisabeth Moss elaborated on The Kelly Clarkson Show that she "wants to make a real Christmas movie," also mentioning that right now she and Hallmark are "looking into it" to see if it may work out. For my own sake, I hope it does. Hallmark movies are almost always a little bit better when there are known names involved.
Hallmark's producing like 100 holiday movies a year now and it would be pretty, pretty cool if one of those had The Handmaid's Tale lead in it. Just throw some hot chocolate into the contract to sweeten the pot.
Reality TV fan with a pinch of Disney fairy dust thrown in. Theme park junkie. If you've created a rom-com I've probably watched it.
Your Daily Blend of Entertainment News
Thank you for signing up to CinemaBlend. You will receive a verification email shortly.
There was a problem. Please refresh the page and try again.