One Hallmark Movies Star Absolutely Loves Working For The Network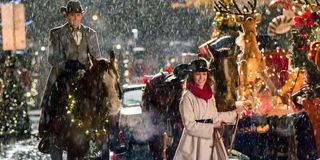 It's no secret now that tons of people love Hallmark movies. Hallmark and Hallmark Movies & Mysteries produce made for TV movies year round, and specialize in Christmas themed romances, heartfelt stories and mysteries that have people coming to the networks in droves on a monthly basis. If you've watched more than a handful of these films, you will have likely noticed that several actors seem to make appearing in these movies a priority. Well, now one of those actors, Kristoffer Polaha, has revealed what's so wonderful about working in Hallmark films.
As Kristoffer Polaha mentions in the piece he wrote for The Hollywood Reporter, Hallmark is about love and loyalty, two things which are apparent when you watch their films. Most Hallmark movies are focused on relationships, either between family members, friends or romantic partnerships. And, like I mentioned above, you'd be hard pressed to watch more than a few of the films done for either of the Hallmark channels and not see the same actors pop up over and over again. So, it would seem that building relationships and keeping them strong is something that the networks like to focus on in real life, as well.
Polaha notes that Hallmark kept showing him the love, and it's obvious from his increasing catalog of Hallmark Channel movies that he means those behind the network liked working with him and decided to keep offering him opportunities to be a leading man in several romances. In fact, since The Dater's Handbook, Polaha has done four more movies with Hallmark; Hearts of Christmas, Rocky Mountain Christmas and Pearl in Paradise were released previously, with his most recent effort, Small Town Christmas, set to debut on December 16 on Hallmark Movies & Mysteries.
Part of the "new business model" Kristoffer Polaha is talking about probably relates to the way Hallmark has no fear in casting the same actors in similar roles for many of their movies. With each movie being unrelated to the others (unless it's specifically stated that the film is a sequel) it's still not uncommon to find actors reprising leading roles. And yet, there doesn't ever seem to be any doubt that the same actors can reappear in film after film for Hallmark and get the audience on board with whatever new (ish) scenario they help present to viewers.
I say new (ish) scenario not to be mean, as even Kristoffer Polaha goes on to talk about how most Hallmark movies have the same basic theme (usually falling in love), but that the familiarity is what seems to be bringing people to the movies instead of driving them away. As someone who's watched a fair number of these films (and even made fun of some of them), I can tell you that Polaha and Hallmark have really set on something major.
Going into a Hallmark movie, it's never any secret that the leads will fall in love, the broken family will reconcile, the career obsessed single dad will discover that there's more to life than making money or that Christmas joy and the spirit of the holiday season will conquer all. No one who watches a Hallmark movie is tuning in for the result, they're tuning in for the journey. The family friendly, easy to digest, uncomplicated and sometimes silly journey that will always be pure escapism from the troubles of real life.
For some reason, Hallmark has been able to make dozens upon dozens of movies every year that use a few basic ideas in different combinations and still get people to not only watch, but eagerly anticipate the next film coming down the pike. The familiarity Kristoffer Polaha talks about is driving fans to the networks, instead of driving them away. You don't put it on Hallmark wondering what you might get; you put it on Hallmark because you know you won't have to think about how hard personal relationships really are.
Speaking of personal relationships, Hallmark clearly has strong working relationships with many of the actors who have starred in the channel's movies, seeing as how the same stars tend to show up repeatedly. And, who can really blame them? Aside from the fact that it must be nice to be an actor who can rely on a few jobs a year, it must also be a boon to know that when you head to those jobs, you'll be working with people you can trust and who have faith in your talent and what you bring to the table. Plus, there's no doubt at this point that millions of people will see your work if you star in a Hallmark movie. You might not get famous from doing them, but you won't be toiling in obscurity, either.
It turns out that working for Hallmark multiple times isn't just about getting a paycheck for Polaha, either. According to him, having tons of people reliably throw themselves into Hallmark movies at any time of the year has made his work relevant in a way he wasn't expecting. After recounting a story about finally being able to connect with an older fan who'd seen his work in Hallmark movies, but nothing else he'd ever done, Polaha talked about how the films even help him bond with his own family.
It would seem that there are several actors who've elected to "lean into" Hallmark just like Kristoffer Polaha. And, we're the better for it. For more more on what you can catch on TV when you're not watching Hallmark movies, check out our 2018 fall premiere guide and our 2019 midseason premiere guide.
Yennefer's apprentice, Gilmore Girl; will Vulcan nerve pinch pretty much anyone if prompted with cheese...Yes, even Jamie Fraser.
Your Daily Blend of Entertainment News
Thank you for signing up to CinemaBlend. You will receive a verification email shortly.
There was a problem. Please refresh the page and try again.