How Marvel's Anthony Mackie Feels About Playing Captain America As A Black Man For Disney+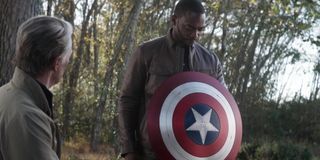 Anthony Mackie has made Sam Wilson's Falcon a household name in the Marvel Cinematic Universe. Sam has loyally stuck by Captain America's side since his introduction in Captain America: The Winter Soldier, though Avengers: Endgame saw his title change, as Steve Rogers passed on the mantle of Captain America to Sam. Now, Mackie has revealed his feelings about playing Captain America as a black man for the Disney+ series The Falcon and the Winter Soldier.
After several years of playing Sam Wilson, Anthony Mackie explained that The Falcon and the Winter Soldier will be different from the MCU films, because fans will "really get to know" Sam and the ins and outs of his life much better in the six-episode series, as opposed to the ensemble-driven features. When asked about how he feels taking on the Captain America role as a black man, Mackie admitted it was a bit intimidating. Here's what he told Shadow and Act about it:
In Endgame, Steve Rogers' Captain America made a wise choice in passing along his title and shield to Sam, who was completely floored by the gesture. Knowing how noble the character is, it's obvious that he was the right choice to inherit the heroic mantle, and it's wonderful to witness a black man finally embody the iconic role, even if we've only seen brief clips of the show.
That said, previously released concept art revealed that Falcon has a new suit for the Disney+ series, so it's unclear whether he will get to don Captain America's traditional uniform in public, or if he'll have to fight U.S. Agent — Cap's copycat if there ever was one — and the government to hold onto the mantle. While the TV show's overall plot remains under wraps, it sounds like Anthony Mackie got to throw around Captain America's shield a whole lot. Personally, that seems like a big clue on the Sam-as-Captain America front.
There's also the case of the mystery role that Supergirl's Carl Lumbly will play in the series. Many are speculating that he's been cast to play Isaiah Bradley. If that's the case, then fans may get the rare privilege to watch two black Captain Americas share the screen at the same time.
The Falcon and the Winter Soldier will be available to stream on Disney+ at some point in August, followed by WandaVision a few months later. In the meantime, be sure to check out our 2020 midseason schedule for more on what to watch.
Your Daily Blend of Entertainment News