Marvel Super Bowl Commercial Offers First Good Look At Loki, Wandavision And Falcon And Winter Soldier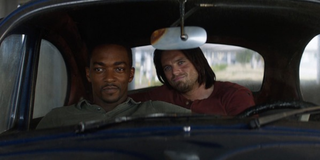 Anticipation for the wave of Disney+ shows featuring big screen Marvel heroes has been at a fever pitch for many moons now. Before too much longer we'll get to see The Falcon and the Winter Soldier, WandaVision and Loki hit the small screen to continue the stories that began in the MCU. As anticipation builds, fans are becoming even more thrilled at the prospect of finding out what two (now) unlikely duos and one displaced mischief-maker would be up to come late 2020 / early 2021. We've all been dying to see anything that might give us some more hints at what we can expect to see, and now the first tease has just dropped, thanks to the Super Bowl, and it did not disappoint.
And, as we well know, hearing about something like this doesn't compare to getting to feed it right into our eyeballs, so, take a look!
Um...I don't know about you, but I didn't think it would be possible to get even more excited for The Falcon and the Winter Soldier, WandaVision and Loki. But, this first look at all three certainly managed to exceed expectations by a wide margin! Let's go ahead and start with what we've seen from Falcon, because that's the first show we got a look at in the trailer, and that just happens to be the first series which will show up later this year.
The first thing we see is Sam, a.k.a. Falcon, appearing to practice with Captain America's shield. The show will, of course, take place after the events of Avengers: Endgame, where the now old Steve Rogers showed up after living his life with Peggy to gift his shield to his good friend Sam. So, it makes sense that he would be using it at some point during The Falcon and the Winter Soldier.
But, we've also heard from Anthony Mackie that Sam supposedly won't be the new Captain America in the show. This might explain why, when we see him suited up it's still as Falcon, and why this first shot of him throwing the shield makes him look so...less than happy.
Meanwhile, Bucky might be the one we hear saying "it's time" as Sam is throwing the shield, and he's also sporting his new haircut and seems to be in no mood to screw around with Zemo, to the point where it looks like he considered just shooting their Big Bad for the series in the head. I find it odd that we never see Bucky suited up for superhero mode in the trailer (especially since we see a bit of U.S. Agent in uniform), but there might be a very good reason for that which Disney+ and Marvel didn't want to spoil yet.
WandaVision comes next in this rundown, and, well, it really does look like it will be just as bonkers as we've been promised. It looks like the action will switch back and forth between three different classic sitcom-esq settings, with a 1950s look a la The Dick Van Dyke Show, something 1970s-ish that reminds me of The Brady Bunch, and a setting that seems very 1980s Family Ties.
Vision, as we all (should) know, died in Avengers: Infinity War, meaning that the only way he could be living any kind of life with Wanda (who will officially be introduced as Scarlet Witch on the show) is if her reality warping powers are at work. From what we see of several shots, it actually looks like at least some of these new realities might not be intentional on Wanda's part. Or, at least, getting booted from them, which seems to happen, won't be. Poor Wanda; who can blame her if her psyche is a bit broken after losing the love of her life?
Last, but definitely not least, we got this super murky scene with Loki in a prison-esq outfit talking to some mystery person or persons about how he's "going to burn this place to the ground." To which place might he be referring, I wonder? Considering that this is the completely evil Loki who escaped during the Time Heist in Endgame (and after the events of the first Avengers movie), it could really be anywhere. The building he's in, the organization he's speaking with, or, you know, the whole Earth and humanity along with it. That Loki, what a...trickster.
Speaking of the organization he's speaking to and that prison-like outfit. I'm sure we all noticed the logo on the shirt, right? I'll admit, at first I thought it said TWA, and couldn't figure out why he'd be threatening representatives from either Trans World Airlines or some Teeny Weeny Afro association members, but then realized it was TVA and, well, I guess we'll have to see what's going on when Loki debuts in 2021.
We will, no doubt, get full trailers before too much longer, especially for The Falcon and the Winter Soldier, which debuts this fall on Disney+. WandaVision is coming this year sometime after Falcon debuts, and Loki will be along in 2021. For more on what you can watch right now, check out our 2020 winter / spring premiere guide!
Your Daily Blend of Entertainment News
Yennefer's apprentice, Gilmore Girl; will Vulcan nerve pinch pretty much anyone if prompted with cheese...Yes, even Jamie Fraser.