10 Shows You Should Stream If You Like Tom Clancy's Jack Ryan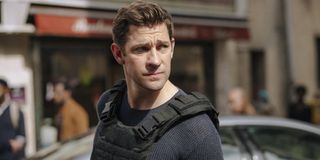 Jack Ryan, Tom Clancy's most famous literary creation, has been brought to the screen several times over throughout the decades. But Amazon's new series, appropriately titled Jack Ryan, has given the property a new lease on life, most notably with a strong leading man turn from John Krasinski. The streaming giant's mega-hit series has endured book lovers and newcomers alike. The third season is on its way, but it might take some time before we catch up with the title character's latest exploits. Therefore, TV watchers will need a few other streaming-friendly shows to tide them over in the meantime. Fear not, we have some suggestions handy! If you want another show that's in the same vein as Amazon's Jack Ryan, here are 10 shows that are worth looking into.
Homeland (Hulu)
Based on the Israeli series Prisoners Of War, Homeland centers around a CIA officer (Claire Danes) who believes that a U.S. Marine Corps Scout Sniper (Damian Lewis) who was held as a prisoner of war might now serve as a serious threat to the U.S.. A political, suspenseful, award-winning drama series, this acclaimed Showtime series was considered among the finest works on TV during its peak. While it hasn't reached the same success during its later seasons, Homeland's eighth and final season is now airing on the premium cable channel, which means that you have ample time to catch up with the program now that the previous seven seasons are currently available on Hulu. Catch up to see what the fuss is about with this celebrated dramatic cable series.
The Americans (Amazon Prime)
Set during the Cold War, The Americans is a political period drama centered around two Soviet KGB officers (Keri Russell, Matthew Rhys) who pose as U.S. citizens while living in the Virginia suburbs with their two young children. Gripping, nuanced, captivating, exceptionally well-crafted and well-acted, The Americans was considered one of the best shows — even during Peak TV — during its six season run on FX. And it's not hard to see why. It was a show that only continued to impress its viewers with its sharp dramatic turns, engrossing performances, and captivating twists. If you're on the hunt for another compelling political drama available on Amazon Prime, The Americans might very well be your best bet.
Sherlock (Netflix)
What first appeared to be simply another re-imagining of the ever-famous Arthur Conan Doyle detective character became one of the sharpest, most beloved takes on the character to date with BBC/PBS series, Sherlock. Starring Benedict Cumberbatch as the title sleuth, along with Martin Freeman as his trusted companion, Doctor Jon Watson, the present-day take on the character found each episode taking on movie-length installments with our main character piecing together the puzzle of each episode's central mystery. Created by Stephen Moffat and Mark Gatiss, Sherlock has been widely praised by critics and audiences alike for its brilliant writing, strong direction and spellbinding performances, notably from our central two performers. The show aired its final fourth season back in 2017, but you can catch up on all 13 episodes of Sherlock streaming. They are all currently available on Netflix.
Killing Eve (Hulu)
A growing hit both nationally and internationally, Killing Eve is spy thriller/dark comedy based on the novel series Villanelle from author Luke Jennings that centers around a British intelligence investigator (Sandra Oh) who is tasked with trying to find and capture a psychopathic assassin (Jodie Comer). Though, naturally, as the hunt is on, these two find themselves obsessed with one another. While the show has faced a number of changes behind the scenes, with Fleabag's Phoebe Waller-Bridge notably involved with the show's first season, Killing Eve is acclaimed for its wicked sharp writing and for its dynamic lead performances, with Sandra Oh, in particular, receiving her great share of acclaim and awards for her lead performance. Both seasons of the BBC America is available on Hulu. It should also be noted that Killing Eve has been renewed for a third and fourth season since earlier this year.
The Widow (Amazon Prime)
A suspenseful action-drama series, The Widow follows Kate Beckinsale as a woman grieving the loss of her husband from a plane crash three years prior who discovers that he's still alive in the Congo. Released on ITV in Britain and on Amazon Prime both in the United States and internationally, the show might not have earned quite the same high marks as some of the other shows on this list, but it has certainly won audiences over, particularly with its dramatic lead role from Kate Beckinsale. If you're looking for a show in a similar vein as Jack Ryan on Amazon Prime, this could be the ticket.
Designated Survivor (Netflix)
When a sudden explosion kills everyone ahead of him in political ascension, a U.S. Secretary of Housing and Urban Development — who was kept in safe chamber in case such a dangerous scenario were to happen — suddenly finds himself assuming the role of president in the United States in ABC's intriguing thriller, Designated Survivor. Starring Kiefer Sutherland in one of his most prominent post-24 roles, the government-based show earned a sizable following during its first season, though when it came time for a third season renewal, ABC decided not to move forward with the White House program. Netflix opted to renew the series for its third and final season. If you're looking for another thrilling show that dives headlong into political intrigue in a dynamic way like Jack Ryan did, you'll find a lot to enjoy in this drama. All three seasons of Designated Survivor can be found on Netflix.
24 (Hulu)
Speaking of 24, if you haven't had a chance to watch the intensely well-watched real-time action-drama series, this might be the time to check it out. Starring Kiefer Sutherland in arguably his most famous role, the thrilling action-packed series followed counter-terrorist agent Jack Bauer. The season takes him on extremely dangerous and hazardous missions under the United States government's behalf, all played out in 24 hours (one hour for each episode). Premiering in November of 2001, the thrilling program came just a mere few months after the tragedy of 9/11, which undoubtedly shaped its development over the years. The political series drew no shortage of media attention and fervent controversy throughout its multi-season run, but it ran for nine seasons in total, also including a 2008 TV movie, 24: Redemption, and a short-lived spin-off, 24: Legacy, in 2017, respectively. If you haven't watch this much-discussed TV show, it's available on Hulu.
Quantico (Netflix)
A thrilling timeline-jumping drama-thriller, Quantico follows a young FBI recruit (Priyanka Chopra) who becomes the prime suspect of a terrorist attack in Grand Central Terminal. The ABC program gained media attention for featuring the first South Asian actress to headline an American network drama series, but throughout its three season run on the broadcast station, the show was also praised for its diverse cast and strong cast, including Chopra in the lead role. While the jumping timeline was ultimately criticized by some, there were certainly many folks who were engaged with the suspenseful series. It did not last as long as the show-runners likely hoped, but if you want another show with a great deal of thrills, you can check out Quantico on Netflix.
The Looming Tower (Hulu)
Based on the book of the same name by Lawrence Wright, The Looming Tower is a 10-part mini-series based in the late 1990s that traces the growing danger of Osama bin Laden and Al-Qaeda during the late '90s and how the budding rivalry between the CIA and the FBI might've set the course for the tragic events of 9/11. Bouncing between New York and Washington D.C., notably the counter-terrorism divisions of both the FBI and the CIA, this mini-series might not have the same thrilling action sequences as Jack Ryan, but it's nevertheless a compelling, well-crafted series based on recent history with a heavy focus on the CIA. With a list of acting greats that includes Jeff Daniels, Bill Camp, Michael Stuhlbarg, Peter Sarsgaard, and several others, The Looming Tower has received much acclaim and many accolades ever since it premiered in 2018. All 10 episodes are available exclusively on Hulu.
Bodyguard (Netflix)
A six-part police-thriller drama series created and written by Jed Mercurio, Bodyguard gained a lot of notice on the BBC, receiving the highest viewing numbers the British station has seen since 2008. That's certainly very impressive, even if the show hasn't quite received the same notice and attention in the United States. Nevertheless, with Richard Madden in the role of Police Sergeant David Budd, a war veteran with PTSD who eventually becomes the principal protection officer (PPO) in London's local government, the series tackles some timely themes on the government's role monitoring private information, the difficulties of living with PTSD in modern society, and several other discussion-worthy topics. Madden's award-winning role is also the source of acclaim. Certainly, while the show hasn't quite made the same impression in the United States, it could be worth your while if you enjoyed the political themes at the center of Amazon's Jack Ryan. You can discover Bodyguard for yourself; all the episodes are now currently available on Netflix.
These are only a handful of the streaming-friendly shows in the vein of Jack Ryan that we believe could be worth pursuing, but there are certainly lots of great choices out there — available to stream and otherwise. Do you have any recommendations? Let us know your favorites in the comments below!
Your Daily Blend of Entertainment News
Will is an entertainment writer based in Pittsburgh, PA. His writing can also be found in The Playlist, Cut Print Film, We Got This Covered, The Young Folks, Slate and other outlets. He also co-hosts the weekly film/TV podcast Cinemaholics with Jon Negroni and he likes to think he's a professional Garfield enthusiast.