Who Is The Masked Singer's Frog? Here Are Our Best Guesses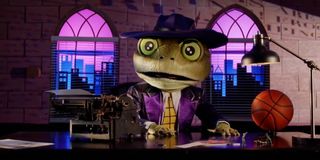 The Masked Singer Season 3 is rapidly making its way through competitors, and these latest episodes have been full of shocking reveals and eliminations. With all the craziness that has happened so far, can we even begin to predict the identities of the remaining competitors? Some may be more difficult to guess, but I'm feeling pretty optimistic about the identity of The Frog.
The Frog has the energy of a seasoned stage performer, and has been sticking to mainly hip-hop based performances. That's typically a sign indicative of someone not necessarily known for their singing ability, so then why does this Frog look so good on stage? Let's take a look at the clues and see what they tell us about this mystery contestant.
The Clues
The Frog's first clue package made heavy reference to the 1996 Olympic games, which happened in Atlanta, Georgia. The Frog made references to a "lightning bolt" and said that he never got a chance to change his image during his first run. A bag of leftovers was prominently displayed, which could be known as a doggie bag. The other major piece of imagery was $106 in bills, which may be a number of significance to The Masked Singer contestant.
Things switched up a bit in the second clue package, where the Olympic clues were replaced by a typewriter and basketball. On the typewriter, the letters C, S, and I, were highlighted, which Jenny McCarthy sniffed out as an obvious nod to CSI. The next thing The Masked Singer fans saw was a price tag of $19 and a picture of a walk of fame star. Finally, The Frog referred to himself as a "prince" a lot, though I'm not so sure we should actually be thinking this contestant is royalty.
Honestly, there are a lot of great clues in just those two clue packages. The internet wasted no time in making its guesses on who The Frog is. There are a few interesting options worth considering for The Masked Singer contestant, though I'm only really seriously considering one of these three. Before we get to that though, let's run through some of the popular guesses out there.
Bow Wow
Ohio-born Shad Moss became known to the world as Lil' Bow Wow, but dropped the "Lil'" as he matured. The rapper has done a fair amount of acting in his life, including the Fast and Furious franchise, Like Mike, and All About The Benjamins. In recent years Bow Wow has lived a more quiet life, and even announced in 2017 he'd be retiring from rapping after his last album. That album has not dropped yet, so could Bow Wow be using The Masked Singer to promote it? It wouldn't be a bad idea.
Morris Day
Famed musician, actor, front man of The Time, and a key factor of one of the best quotes from Jay And Silent Bob Strike Back, Morris Day has the moves, the voice, and the stage performance to really bring it on The Masked Singer. Plus he's got that Prince connection, which would explain all that talk about princes. Also, we can't ignore that The Frog is a snappy dresser, and a quick Google search of Morris Day will show there's rarely a day where he isn't as well. Day isn't really one to rap, which could be a great way to disguise his presence in this competition.
Chris Smith
More frequently referred to as the "Daddy Mac" that'll make you jump, Chris Smith is one half of the rap duo Kris Kross. Smith underneath the mask of The Frog would be fitting, because frogs jump, which is the title of the duo's most known song. As the sole surviving member of the group (Chris Kelly passed away in 2013), Smith has found a new career in starting his own business, and would get great exposure for it by appearing as The Frog on The Masked Singer. Plus, it'd be a great way to remind the world he's still got it musically, and is capable of making the world move and grove.
Who We Think It Is
The "formalities of this and that" don't factor into my prediction, as I'm almost 100% certain The Masked Singer's Frog is Bow Wow. Bow Wow is an Ohio native but he currently resides in Atlanta, which again, is the home of the 1996 Olympic Games. As far as other sporting references are concerned, the basketball is a likely reference to Bow Wow's movie he did as a child: Like Mike. For those that don't remember, it was a movie where he played a child who made it to the NBA thanks to an enchanted pair of basketball shoes.
Then there's the $106 in the first clue package, which threw the judges for a loop. The cash amount may be a reference to the former BET show 106 & Park, of which Bow Wow was the host for two years before its cancellation. It's a connection I can make for the number that I struggle to find anywhere else, and just fits too perfectly
Remember the typewriter Jenny McCarthy called out? Yes, it was rather obvious this was some form of call out to the show CSI, and it just so happens that Bow Wow was on one of the spinoffs. He played Brody Nelson on CSI: Cyber alongside stars like James Van Der Beek and Patricia Arquette. Again these are some things you can't say about either of the other candidates on this list, which keeps my guess squarely in the Bow Wow category.
Finally, there's the talk of being a prince, the doggie bag that had hush puppies, and the incredible stage performance for songs that de-emphasize singing ability. Bow Wow is a rapper, and as a child he was referred to as the "prince of hip-hop." Some rappers can sing, so I'm not going to say Bow Wow can't, but I will say that a vast majority of his music does not showcase his singing ability. It's all about rap, so it would make sense he'd do just that while performing on The Masked Singer.
Have any guesses on The Frog's identity that aren't on this list? Put them in the comments and be sure to catch The Masked Singer on Fox Wednesdays at 8:00 p.m. ET.
Mick likes good television, but also reality television. He grew up on Star Wars, DC, Marvel, and pro wrestling and loves to discuss and dissect most of it. He's been writing online for over a decade and never dreamed he'd be in the position he is today.
Your Daily Blend of Entertainment News
Thank you for signing up to CinemaBlend. You will receive a verification email shortly.
There was a problem. Please refresh the page and try again.