Legends Of Tomorrow's Brandon Routh Speaks Up About Ray Palmer's Exit Being 'Not Well-Handled'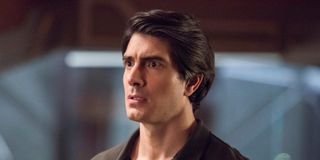 Prior to the start of Legends of Tomorrow's fifth season, the announcement came that Brandon Routh and real-life wife Courtney Ford would be leaving the Arrow-verse show in Season 5. As Ray Palmer, Routh has been a staple of the show since its inception and he even got to play both Ray and Superman in the "Crisis on Infinite Earths" crossover. However, Routh recently spoke up about leaving Legends of Tomorrow behind and how his exit as Ray was "not well-handled."
When the news broke that Brandon Routh was leaving the series, it took fans by surprise. Last month, Legends of Tomorrow showrunner Phil Klemmer revealed why they decided to write out Ray and Nora in Season 5, stating that the Waverider was only ever meant as "a halfway home" on their life's journey. However, during an appearance on Michael Rosenbaum's "Inside of You" podcast, Routh revealed that he was told he was leaving before Season 5 began filming and that he's still working to process the decision. Here's what he had to say:
Ouch. It sure sounds like Brandon Routh and Courtney Ford were blindsided by the news. While Routh doesn't expand upon the details regarding how the situation was mishandled, the actor has been honest about the decision to leave being taken out of his hands. In fact, he said as much when he replied to an Instagram comment with "not my choice" after a fan suggested that he could change his mind and stay on Legends of Tomorrow.
Personally, I was sad to hear the news about the actor's departure. Ray has been a wonderful addition to the Arrow-verse since his introduction on Arrow all those years ago. To see him go out like this when his story seems far from over is frustrating. Brandon Routh continued, saying that the situation was tough because he had gotten the news, but he still had to make the best of things with the limited time he had. In his words:
Honestly, I'm still pretty shocked about it, too. Brandon Routh filmed his last episode for Legends of Tomorrow back in October and posted a touching goodbye, stating how grateful he was for the cast and crew for making the last five seasons so memorable. While Routh isn't the first actor to leave the time-travelling show, he was one of three original cast members left and his presence on the show will be greatly missed.
Legends of Tomorrow returns with a new episode on Tuesday, March 10 at 9 p.m. ET. For more on what to watch, be sure to check out our 2020 midseason schedule.
Your Daily Blend of Entertainment News