Shameless: Why The Main Cast Members Left, Including Emmy Rossum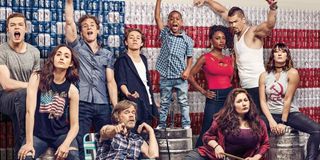 Later this year, Showtime's long-running dramedy Shameless will air its eleventh and final season. Based on the British series of the same name, which notably ran for a much briefer amount of time, the William H. Macy-led series has been a staple of the cable channel's programming. But with over a decade of episodes behind it, Shameless' solid run is coming to a close. And over the course of 120+ episodes, the hit show has seen several major cast members come and go, with Emmy Rossum as the standout.
Here are the reasons why different actors left Shameless during its run, from Karen actress Laura Slade Wiggins to Fiona actress Emmy Rossum.
Emmy Rossum (Fiona Gallagher)
As Fiona Gallagher, the oldest sibling who took on most of the responsibilities in the multi-child house, Emmy Rossum played her most well-known role to date in Shameless, and it was certainly the one she played the longest too. In August 2018, however, Rossum revealed in an emotional Facebook post that she was making her exit from Shameless following its ninth season. The character of Fiona was taken off the series when she received a large sum of money and realized the Gallagher family grew up. Fiona wrote the family a $50,000 check and flew out of Chicago.
Having been a core cast member for Shameless' nearly decade-long run, the actress noted that she felt immensely grateful for this opportunity, and that she "never realized how much" she "craved the kind of continuity" that she was given by Shameless' cast and crew throughout the program's extensive storyline, but she felt it was time to say goodbye. While Emmy Rossum didn't specify a concrete reason why she wanted to bow out when she did, that decision did follow a contract dispute in late 2016 regarding how her pay related to co-star William H. Macy, who earned more than she did in previous years. Nevertheless, that issue was resolved shortly thereafter and didn't seem to have been directly involved with her decision. According to the show's producers, Rossum left to pursue the next chapter of her career. Speaking of, she is currently filming a role in the upcoming Peacock drama series, Angelyne, which comes from show creator Sam Esmail, Rossum's Emmy-winning husband.
Joan Cusack (Sheila Jackson)
In her Emmy-winning role as Sheila Jackson, Joan Cusack played a memorable part in Shameless as the kind and caring (if somewhat absent-minded) mother of Karen. Cusack took on the role after future Oscar-winner Allison Janney, who played the role in the first edit of the pilot before leaving the series due to commitments elsewhere. Certainly, it worked out, as Cusack received a wealth of acclaim for her excellent (as per usual) performance in Shameless, garnering five consecutive Emmy nominations before finally winning in 2015. But in Season 5, Sheila Jackson was written off of Shameless, with Sheila leaving Chicago and exploring the countryside in an RV after Frank accidentally blew up her house.
Beyond it possibly being a natural time to wrap up Sheila's story and return the focus on the Gallaghers, there isn't a reported reason for why Joan Cusack was taken off Shameless. There were grain-of-salt rumors that the actress initially joined the series because she knew it'd only be a limited commitment, and that she started to back away when her character was given more to do. Since her tenure on Shameless, the always-great Joan Cusack has been seen (and heard) in several different movies and TV shows, including Instant Family, Toy Story 4, Let It Snow, The Stinky & Dan Show, Klaus, and Netflix's A Series of Unfortunate Events. It should also be noted that in the recent past, Cusack has hinted at a possible Shameless return, though that reprisal has not materialized just yet.
Justin Chatwin (Steve Wilton/Jimmy Lishman/Jack)
Playing Jimmy Lishman, who also went by the names Steve Wilton and "Jack," Justin Chatwin played a prominent part in Shameless Seasons 1-3. As the love interest of Fiona Gallagher, and one who went to great lengths to woo her, he played a tumultuous role with his various misdeeds, deceptions, and his presumed death in Season 3. Jimmy did briefly return in Season 5 before Fiona finally decided to end things for good.
Given the turbulent nature of their relationship the writers behind Shameless decided to end the character's story after this brief appearance in Season 5. In an interview with THR, Justin Chatwin admitted that he wasn't expecting to return to the series after his character's presumed death at the end of Season 3, but Emmy Rossum and fans reportedly wanted to bring the character back for more emotional closure. It appears that Chatwin's time on the series has ultimately drawn to a close, with that Season 5 return serving more as a chance for Fiona to show her growth and progression as a character. Plus, with Emmy Rossum no longer on Shameless, it'd make little sense to bring Jimmy back now. Since his time on Shameless, Chatwin has starred in a number of films and TV shows, and was most recently seen in Netflix's Another Life.
Laura Slade Wiggins (Karen Jackson)
Throughout the first two seasons of Shameless, Laura Slade Wiggins played the recurring role of Karen Jackson, Lip's friend-with-benefits who found herself suffering frontal-lobe brain damage during the end of her time on the show. When we last saw her, Karen was taken to Arizona to be tended to by faith healers. There is a moment in Season 5 where the character is referenced by Sheila, but that's the last we see or hear of Karen Jackson in Shameless.
Given the severity of her character's condition, it seems unlikely that Karen Jackson will return to Shameless in its final season. When it comes to her departure from the series, Laura Slade Wiggins speculated in an interview with Talk Nerdy With Us that the writers wanted to return the focus back on the Gallagher family, which might explain why her character was taken off the show altogether. Since her time on Shameless, Laura Slade Wiggins has appeared in a few high-profile movies, including Rings and 20th Century Women, as well as some popular television shows, such as Chicago P.D., CSI, and Law & Order: SVU.
Zach McGowan (Jody Silverman)
As Karen Jackson's husband Jody Silverman, Zach McGowan first appeared in Shameless' second season before he became a main character in Season 3. But his appearances on the Showtime series came to a close when Karen left for Arizona. Given the decision to take Karen off the show, it made sense that Jody Silverman would also leave with his wife in her time of need, thus keeping Zach McGowan off the show.
Following his time appearing on Shameless, McGowan has had several big roles, including Dracula Untold, The 100, Agents of S.H.I.E.L.D., The Walking Dead, and L.A. Finest. More likely than not, however, television viewers know him best as Charles Vane on Black Sails, which is often considered his most famous role — outside of Shameless, of course.
Emily Bergl (Sammi Slott)
Introduced as the eldest daughter of Frank Gallagher, Emily Bergl's Sammi Slott played a key role in the fourth and notably fifth seasons of Shameless, as part of the storyline surrounding Frank needing a liver transplant. Alas, her tenure on Shameless didn't extend past this. At the end of Season 4, Sammi Slott is incarcerated after she tries to shoot Mickey. The last time audiences saw the character, Sammi was spending hard time in the slammer, and we haven't heard too much from her since then.
It's no secret that the character wasn't especially well-liked, with even the Gallaghers themselves turning on Sammi before she got locked up. There was never an official reason given for why Sammi (and Emily Bergl )were taken off Shameless, though the actress didn't have trouble finding work afterward. Since starring on Shameless, Bergl has been keeping busy in a number of popular and acclaimed television and streaming shows, including (but not limited to) Law & Order: SVU, Scandal, Gilmore Girls: A Year in the Life, You, The Marvelous Mrs. Maisel, Mindhunter, How to Get Away with Murder, American Crime and more.
Emma Greenwell (Mandy Milkovich)
In joining Shameless as Mandy Milkovich, actress Emma Greenwell took over for Jane Levy, who played the part in Season 1. Mandy is, of course, Mickey's sister who eventually forms a friendship with Ian from Seasons 2 through 6. It was in the sixth season of Shameless, though, that Greenwell served merely as a guest star, where it was revealed that Mandy had become an escort after leaving for Indiana. After one of her clients died, Mandy fled once again, this time to an unknown destination.
Though the writers surprised viewers by bringing Mandy back for that brief appearance in Season 6, the character hasn't been seen on Shameless since, and it looks unlikely that she'll return. Similar to Jimmy's brief "hello and goodbye" from Shameless, it seems that Mandy's brief Season 6 interlude was mostly used as a chance to bring official closure to this long-time character — even though Mandy's last exit from Shameless was notably more depressing and arguably unsatisfying. In an interview with Cosmopolitan following Mandy's surprise return, Emma Greenwell admitted she isn't sure if her character will return to Shameless again, though her lack of appearances since suggests the writers have wrapped with Mandy. After leaving, Greenwell joined the acclaimed Hulu drama The Path and was last seen on TV in Starz's The Rook.
Isidora Goreshter (Svetlana Fisher)
A Russian prostitute who had a complicated history with the main characters, Svetlana Fisher was initially a guest star role for Isidora Goreshter when she first appeared in Season 3. The role grew into a recurring role from Seasons 4-6, and Goreshter became a series regular for 7 and 8. Alas, Isidora was written out of the series after the eighth season. When we last saw Svetlana, she'd married a senile old man and finally moved out of Kev and Veronica's house.
It would appear that Goreshter's exit is a classic example of the show writers not knowing what else to do with Svetlana and deciding to let her go for good. In an interview with Entertainment Weekly, Goreshter surprisingly admitted that she wanted her character to suffer a dramatic death, but the writers didn't want that to happen in order to leave the door open in case they decided to bring Svetlana back again. She hasn't been on Shameless since, however, but Goreshter has appeared in other popular dramas such as Grey's Anatomy and Condor.
To be sure, these fine actors don't account for every single character who ever came and went on Shameless, but they're among the cream of the crop. It's never fun to see some of your favorite characters leave, though it seems like most of the show's exits were due to storyline ebbs and flows, as opposed to there being lots of drama behind the scenes. Let us know the Shameless characters you miss the most in the comments below.
Your Daily Blend of Entertainment News
Will is an entertainment writer based in Pittsburgh, PA. His writing can also be found in The Playlist, Cut Print Film, We Got This Covered, The Young Folks, Slate and other outlets. He also co-hosts the weekly film/TV podcast Cinemaholics with Jon Negroni and he likes to think he's a professional Garfield enthusiast.