Central Park: Why Fans Of Bob's Burgers Should Be Excited For The New Apple TV+ Show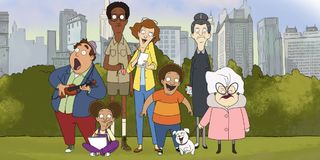 If you're a fan of Fox's animated comedy Bob's Burgers, there's a chance you may have heard of the Apple TV+ series Central Park. Slated to debut in late May, this new source of musical comedy looks ready to wow the world, especially fans of Fox's long running hit.
But why exactly should you, a connoisseur of animated comedy and shenanigans, be excited for Central Park? Well, there's several reasons, and they're all tied to the fact that the show is similar to Bob's Burgers in enough ways to draw in fans, but unique enough to distance itself from merely copying the successful formula of its creative cousin.
However, before we start running down the reasons for Central Park to enter your TV rotation, feel free to take a look at the show's official trailer below:
Central Park Partially Comes From The Creator Of Bob's Burgers, Loren Bouchard
One big reason Bob's Burgers fans could eventually be swayed to become Central Park fans is because of the fact that Loren Bouchard is a creative force behind both shows. In fact, Central Park was supposed to originally be a member of the Fox family, up until the network passed on the series. Thankfully, Apple TV+ picked the show up for a two-season commitment, which will only help fans of Bob's Burgers get more comfortable with this brand new family of comedy.
You Can Safely Invest Your Comedy Heart In Central Park
With an automatic promise of two seasons on the books for Central Park, those of you who are afraid to commit to a show in the fear it'll only last for a season have nothing to be afraid of. Just like The Morning Show and Dickinson before it, Apple TV+ is trying to build its content library with an enthusiastic run that could lead to even more. Knowing how much of Bob's Burgers has inspired Central Park, there's a chance that those two seasons could extend to the current high water mark of 10 seasons worth of Belcher family antics, or beyond!
An Even More Insane Storyline Awaits In Central Park
Much like Bob's Burgers, Central Park focuses on a family fighting the good fight to preserve their way of life. In the case of Apple TV+'s series, the Tillerman family are those warriors, and the titular New York landmark just happens to be their charge. However, their task is a pretty huge, as the vicious Bitsy Brandenham (Stanley Tucci) is planning to buy up Central Park, and turn it into a gigantic concrete monstrosity. Oh, and there's been some talk of the Tillerman family saving the world too, so there's that to look forward to.
Leslie Odom Jr, Josh Gad, and Kristen Bell Are Just Part Of The Insanely Talented Cast
Yes, you read that right: Stanley Tucci is one of the voices in Central Park. However, there's a ton of other insanely talented voices involved in the cast of this Apple TV+ show, as the Tillerman family alone has Leslie Odom Jr., Kathryn Hahn, Tituss Burgess, and Kristen Bell bringing those characters to life. Throw in Josh Gad and Daveed Diggs as other supporting figures in the Central Park cast, and you've got a bench of vocally strong performers that will come in handy in more ways than one.
The Musical Madness Is Even Bigger With Central Park
As it turns out, Central Park is not only an animated comedy, but it's being billed as an "animated musical comedy series". Just like Bob's Burgers, the potential for brand new catchy songs pushing along the story and jokes is strong in Central Park. However, with the musicality built into the roster of voices, and the very storytelling at the heart of the series, there are even higher lyrical and melodic heights to scale with this show's soundtrack. So "Taffy Butt" and "Electric Love" might have some stiff competition in your daily rotation on Spotify.
Fans Of Bob's Burgers' Animation Style Will Be Pleased
If you were afraid that the Apple TV+ brand of sleek and stylish interface was going to change Central Park's potential look, fear not! Much like the colorful and uniquely exaggerated animation style that's used in Bob's Burgers, the visual language of Central Park appears to be essentially identical to the series it's extremely closely related to. Everything from those uniquely shaped eyes, to the bodily proportions of the various characters in this new world is pretty much translated directly into this new Apple TV+ series.
Central Park Might Come In Handy If The Bob's Burgers Movie Gets Delayed
Between the radio silence for this summer's Bob's Burgers: The Movie, and the recent slate of delays that have befallen several major Hollywood films in the near future, there's a chance we might not see this film in its originally intended release date. So the fact that Central Park is ready to save the day towards the end of May, and through the convenient Apple TV+ platform that can be accessed in the comfort of your own home, could soften the blow of such a hypothetical delay.
We Could Always Use More Comedy Series Like Central Park
With Bob's Burgers and Central Park practically acting like a set of identical comedy twins, it basically means we're in for double the sort of humor that Loren Bouchard and his team of comedy ninjas have always provided. And the best part about Bob's Burgers has always been the fact that no matter how funny and snarky it gets, there's always a current of kindness and community that runs in its veins.
The fact that we'll be getting even more musical insanity and kind, but sharp humor in Central Park makes the prospects for Apple TV+'s next big debut even more exciting. As there's automatically two seasons' worth of antics in the works, there could be even more heartfelt comedy in the world.
It's not going to be too long before we see the results, as Central Park opens its doors, and saves the world, starting May 29th on Apple TV+. (opens in new tab) Though, should you want to catch up on past and present episodes of Bob's Burgers, you can catch any and all of the Belcher family's antics in their current home on Hulu.
Your Daily Blend of Entertainment News
Senior Movies Contributor
CinemaBlend's James Bond (expert). Also versed in Large Scale Aggressors, time travel, and Guillermo del Toro. He fights for The User.