MacGyver Just Shut Down Production For The Entire Season In 'Abrupt' Ending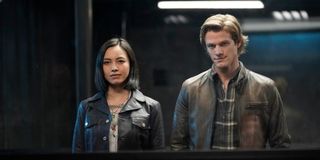 To keep cast and crew safe, many TV productions have been suspending or shutting down production completely due to the coronavirus pandemic. Riverdale, The Flash, and the upcoming Disney+ series The Falcon and the Winter Soldier are among a few of many shows that have put a pause on production. Movie release dates have been postponed and studios have put a number of TV pilot productions on hold for the time being. Most recently, Lucas Till and Levy Tran have revealed that production on MacGyver Season 4 has shut down in "abrupt" ending to filming for the rest of the season.
In a shared video message, MacGyver's Lucas Till and Levy Tran confirm that production on Season 4 of the show is done for the remainder of the season. While many other shows are being suspended until further notice due to rising coronavirus fears, MacGyver has officially wrapped its season, which is much earlier than expected. According to the actors' Instagram post, the call to shut down was rather sudden. Here's what Tran and Till had to say about the show being done for the season:
While it's unclear how many episodes were left to film for MacGyver Season 4, it's important to note that the production shutdown will only affect the rest of the season's unfilmed episodes. However, there are more episodes left of the season that have yet to air and that were not affected by the abrupt halt in production, so I'd wager that fans will get to see those episodes as previously scheduled. You can watch the full video below:
It sure sounds like the actors have a great relationship with their crew and that they appreciate all the hours and hard work that they put in. In a separate post, Levy Tran shared the same video to her Instagram, including a long caption that revealed how emotional the MacGyver shutdown was and how thankful she is that the crew puts in so much effort on the show. In her words:
MacGyver airs Friday nights at 8 p.m. ET on CBS. Stay tuned to CinemaBlend for updates on shifting TV schedules and more. In the meantime, be sure to check out our midseason schedule for more on what to watch.
Your Daily Blend of Entertainment News