This Is The Most ESPN I've Watched In Years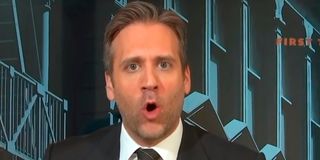 Self-quarantine sounded like a rough situation back in when it was merely a possibility, and back then I took solace in thinking at least I'd still be able to watch my beloved NBA while waiting out the end of coronavirus. Then the season was suspended, MLB was delayed, and even WWE had to change up how it does things. As a sports fan, my television viewing options changed drastically, and yet I found myself turning to a place more frequently than ever: ESPN.
It's a bizarre viewing habit I've picked up as more and more shows run out of episodes, and one I don't see myself stopping anytime soon. ESPN is as good as it has ever been in my opinion, and it really comes down to the changes it has been forced to make in the face of the coronavirus pandemic.
What ESPN Was Before Coronavirus
ESPN programming pre-coronavirus was the same it had been for over a decade. SportsCenter kicked the day off, followed by shows where pundits repeated the same talking points of whatever biggest news stories that will appeal to the largest number of people. There were other stories happening in multiple other sports of course, but ESPN and its affiliate channels seemingly prioritized repeating the same major stories in an effort to retain a large audience, and potentially put less strain on its talent.
After all, a lot of these pundits don't have the time to watch every sports game from the day prior and form a well-researched and educated opinion about it. Pundits are often exposed on this when stories about smaller market teams break, and there have been more than a few occasions in which a well-regarded analyst has incorrectly referenced a player from said team that wasn't even with the organization. One would think fewer mistakes would happen with less frequent airings of programs and more time for other news stories to develop, but that's not how ESPN has operated for a long time.
It was this need to cater to the biggest story and let it invade all facets of its programming that eventually drove me away from ESPN. I didn't want to hear about other sporting events while watching my Indiana Pacers play, which rarely happened anyway as they're often flexed out of the schedule. I'm the type of sports fan that enjoys my team in each sport, and that's it. Though I'm a big fan of the NFL and NBA, there was nothing for me on ESPN.
How ESPN Has Changed During The Coronavirus Pandemic
Outside of the news of Tom Brady's move from the New England Patriots to the Tampa Bay Buccaneers, there hasn't been a ton happening in sports for ESPN to justify its usual programming schedule. There are also little to no sporting events happening, which means the various stations have had to resort to showing repeats of past iconic games from sports, as well as some bizarre events via ESPN 8: The Ocho.
And so far, it has worked on me. Sure, the 2006 Krystal's Hamburger eating contest rebroadcast didn't have to compete with any other sports, but it still held me on the channel for over an hour on a lazy Saturday afternoon. The same was true with the re-broadcast of WrestleMania 30 and the final four matches of UFC's Top 25 matches. I was actually legitimately dumbfounded at how much I watched ESPN this past weekend, especially knowing I was avidly opposed to doing so for my previously stated reasons.
In hindsight I guess it was obvious. I like sports more than I like hearing people talk about sports, and certainly more than people talking about sports stories I'm not interested in. Plus, I'm desperately missing watching the NBA, and while I did that on Fox Sports a vast majority of the time, the lack of games has made me a bit desperate to watch some form of competition even if I know I can immediately search the winner of the event online. In either case, I'm back on good terms with ESPN, at least for the time being.
Will ESPN Change Its Programming After Coronavirus?
It's hard to know what will become of ESPN as the coronavirus pandemic continues. Analysts (via L.A. Times) project the network could lose close to $475 million in ad revenue alone if the rest of the NBA season ends up cancelled. Additionally, analysts are projecting a rise in cord-cutting as jobs are cut. Not all cord-cutting services carry ESPN, which means the network losing a chunk of overall consumers it has a chance to market at to begin with.
And while pre-recorded classics and off-beat programming have been a nice change of pace, live sports have been the ratings bread and butter of some television networks these days. ESPN is potentially looking at an overall ratings decline of up to 80% during this period, so I think it's overly optimistic of me to think this change of pace will spark a renaissance period for the "worldwide leader in sports."
Still, I do think there's some value in this period for ESPN that it can learn from. A 6-year-old repeat of WrestleMania that's available to stream anytime on the WWE Network pulled over 800,000 viewers, making it the most-viewed program on the network that weekend. There is a market of people who will watch and enjoy similar content, though it remains to be seen if that's more a product of a lack of other sports programming or ESPN serving an unserved market.
I can't say ESPN will profit or that this new change in programming will lead to a big turnaround and shift on how it programs going forward. I can only say that, for now, I'm a fan of this bizarro-world programming it's forced into now, and hope that some form of it survives when the coronavirus pandemic is finally over.
CinemaBlend is the place to be for updates on what's happening in the entertainment world during the coronavirus pandemic, and what shows and sports are on hold because of it. Continue to stick with us for that, and for a look ahead at what's coming in movies and television down the road.
Your Daily Blend of Entertainment News
Mick likes good television, but also reality television. He grew up on Star Wars, DC, Marvel, and pro wrestling and loves to discuss and dissect most of it. He's been writing online for over a decade and never dreamed he'd be in the position he is today.