Watch Competitive Eating Champ Joey Chestnut Scarf Down Record-Breaking Number Of Big Macs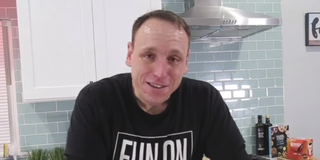 The world of competitive eating has produced some truly remarkable feats of caloric intake, and celebrated competitive eater Joey Chestnut just went big on Big Macs. The hot dog-eating champ switched gears to dive into a record-breaking number of McDonald's burgers, and he did it on camera for the world to see.
Before watching the video, however, there are some shocking numbers you should know: the record for the most Big Macs eaten before Joey Chestnut decided to make history was 30, and he went for 32 of the burgers. 32 Big Macs equals out to more than 15 pounds of food and more than 18,000 calories. 32 sandwiches comprised of two beef patties, Special Sauce, pickles, lettuce, onions, American cheese, and a sesame seed bun. 32!
Fortunately, the man likes Big Macs! Prepare yourself for something... unique, and check out Joey Chestnut scarfing down a record-breaking number of Big Macs on his YouTube account!
It took more than half an hour, a $127.68 tab from Uber Eats, three large bags of McDonald's delivery, and some almost alarming "meat sweats," but Joey Chestnut successfully ate 32 Big Macs in one go. Referring to the endeavor as a "cheat day," Chestnut was clearly thrilled with his victory, which included eating all the lettuce and washing it down with warm water.
I wouldn't have put it past Joey Chestnut to try and use cups of Special Sauce (or at least some condiments), but I don't think McDonald's gives it away in gallon jugs! While I probably could have gone my whole life without seeing 12 minutes of a man eating 32 Big Macs, it was an impressive accomplishment and the fulfillment of a longtime dream for Joey Chestnut. What's not to love about that?
According to Joey Chestnut, he dreamed about eating as many Big Macs as he could since he was a kid thanks to trips to McDonald's with his grandfather. They would order four Big Macs with the two for $4 deal, and Chestnut would wind up eating three of the four.
Those fond memories kept Joey Chestnut going during his 35+ minutes of eating Big Mac after Big Mac, and it's worth noting that he struggled at the end because his throat muscles were worn out, not because he was sick of the taste.
Joey Chestnut actually seemed okay by the end, despite the sweat pouring off him and him looking like he could use a break to sit down and settle. Hey, if he doesn't regret it, how can we regret watching him? Fortunately, 32 is such an extreme number of Big Macs that he probably doesn't have to worry about anybody breaking his record any time soon.
I may never eat again after watching him devour 32 Big Macs, so he definitely doesn't have to worry that I'm coming for the record, at least! Now I kind of want a video of Joey Chestnut hanging out with America's Got Talent's Human Fountains. Are Whoppers next?
Congratulations to Joey Chestnut for making history and accomplishing his dream! Now, if you're in the market for some entertainment that doesn't involve 30+ servings of fast food that definitely surpasses the minimum daily requirement, check out our 2020 midseason premiere schedule and our 2020 Netflix premiere guide.
Resident of One Chicago, Bachelor Nation, and Cleveland. Has opinions about crossovers, Star Wars, and superheroes. Will not time travel.
Your Daily Blend of Entertainment News
Thank you for signing up to CinemaBlend. You will receive a verification email shortly.
There was a problem. Please refresh the page and try again.