Why Chicago Fire's Really Dangerous Stunt Was Even More Impressive In Real Life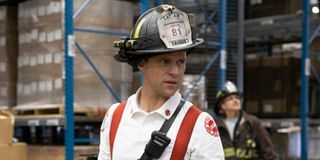 (Image credit: NBC)
Spoilers ahead for the March 18 episode of Chicago Fire on NBC.
Chicago Fire never fails to deliver some high-stakes scenes involving fires, crashes, and various other crises, but March 18's "Protect a Child" featured a really dangerous stunt that also packed an emotional punch. As it turns out, the stunt was actually even more impressive in real life thanks to the efforts of the actor, according to director Brenna Malloy.
In "Protect a Child," Casey and his crew were called to the scene of a house fire where a wheelchair-bound mom by the name of Jenni (played by Rachel Miner of Supernatural fame) was fighting up a set of stairs to reach her frightened son despite the very real danger of the flames on the second floor.
Brenna Malloy, who helmed this episode of Chicago Fire thanks to NBC's Female Forward project, spoke with CinemaBlend about the remarkable scene and how Rachel Miner made it so impressive:
Chicago Fire fans may have thought they'd seen it all when it comes to One Chicago fires, but Rachel Miner as Jenni crawling up the stairs with fire all around and ahead of her was something unique. As Brenna Malloy noted, Miner is wheelchair-bound in real life, having been diagnosed with multiple sclerosis back in 2010.
Thanks to Rachel Miner's willingness and determination to do the stunt as well as her performance, Jenni's fight to save her son was as suspenseful as it was intense, and it raised the emotional stakes when Jenni temporarily lost custody of her son before Casey and Gallo went the extra mile to help her.
Interestingly, her performance as the heroic Jenni on Chicago Fire aired only days before she reprised her very different role as the demon Meg on Supernatural, possibly for the last time as that series approaches its end.
In the process of Casey and Gallo trying to reunite Jenni and young Noah, Casey reflected on his brief time with foster son Louie back in Season 5 before he and Dawson made the difficult decision to give him back to his birth father. Brenna Malloy shared what it was like for Fire to revisit the heartbreaking Louie arc all these years later:
Even though Louie may not be likely to return in the flesh, "Protect a Child" proves that Casey hasn't forgotten the little boy who allowed him to briefly be a dad. His bond with Gallo has the potential to last for a while, too. Chicago Fire didn't waste time in bumping Alberto Rosende up from recurring to regular status, and Fire has already scored a renewal for three more seasons. Assuming Casey is sticking around, their bond could get even stronger.
Of course, Chicago Fire wasn't just an hour of intensity from start to finish with Jenni's plot. Brett and Foster were memorably called to the scene of a very naked man called Cook causing a scene inside a building. The cops wanted the paramedics to handle the situation, but it was very clearly on the cops to do the job. The scene culminated with the man becoming a streaker and racing nude down the streets of Chicago.
Brenna Malloy explained the streaking scene, including who Fire actually recruited to bare (almost) all in "Protect a Child," saying this:
Chicago Fire recruited its gaffer to play Cook the streaker! Even though Tony Lullo was wearing something so that he wasn't totally nude on set, Fire managed to block the scene so Cook definitely looked like he was in the buff. The streaking scene (along with Brett and Foster's reactions) added some lightness to what could have been a heavy episode.
Season 8 of Chicago Fire will be cut short due to the coronavirus pandemic halting production on One Chicago as well as a whole lot of other TV shows. The show isn't out of new episodes yet, though, so be sure to tune in to NBC on Wednesdays at 9 p.m. ET to find out what happens next on Chicago Fire, between new episodes of Chicago Med at 8 p.m. ET and Chicago P.D. at 10 p.m. ET.
Resident of One Chicago, Bachelor Nation, and Cleveland. Has opinions about crossovers, Star Wars, and superheroes. Will not time travel.
Your Daily Blend of Entertainment News
Thank you for signing up to CinemaBlend. You will receive a verification email shortly.
There was a problem. Please refresh the page and try again.