Doctor Who's Jodie Whittaker Gives Fans A Fun Quarantine Message As The Doctor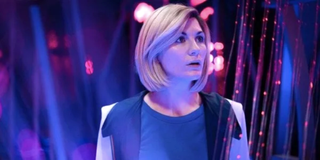 Look, y'all, these times? They be rough. And, all of us are looking for ways to stay the course, do what we know we need to do to stay healthy and keep others healthy, while also trying to not wallow in self-pity over all the things we won't get to do for a bit and not getting too angry about the current situation. Many people have, quite reasonably, turned to entertainment as a way to drown out all the emotional noise, misinformation or glut of news that's been coming our way, and now Doctor Who's Jodie Whittaker has stepped up as the Thirteenth Doctor to give us a guiding hand.
Some Whovians have probably already been wondering what The Doctor would do in such a troubling time as this, and while I'm sure that there's some compelling fan fiction being written (even as I write this) which energetically details such things, why don't we let Jodie Whittaker's Doctor give us a first hand account of her action plan, which came via Twitter? Take a look:
Awwwww! Alright, I can admit to being a semi-emotional individual in the best of times, and am no stranger to getting worked up over something that's been done by a fictional character. But, still, you guys, isn't this message sweet and so perfectly The Doctor? If you want me to admit that I cried a little, well, fine. I cried a little and I'm cool with that!
We don't know whose idea it was to assemble this little clip for Doctor Who fans, but pretty much everything about it was done just right. I love the low-fi nature of the shoot, which (appropriately) suggests that Jodie Whittaker was emailed the script by someone on the writer's team and then filmed it herself on her phone. Also, I think she's either in a closet or a shower, and, who among us has not had at least a slight breakdown in one of those areas of our home recently?
I mean, I teared up in the closet just the other day as I ticked off the completion of yet another roll of toilet paper after doing laundry, so, I get it. Maybe I've talked about crying too much in this article, but, just roll with me here, OK?
You've got to love how the short clip starts, as well, with Jodie Whittaker's Doctor telling us she's doing an emergency transmission because the TARDIS detected an upsurge of psychological signals. Considering how many people are worried about wide swaths of this crazy thing we call life right now, I think we can all assume that the TARDIS is now off somewhere healing her fried detectors for a spell. But, even though The Doctor is "self-isolating" from an army of sontarans, she still had some good advice for all of us worriers.
The Doctor wants us to remember that everything will be all right, but also told us to lighten our loads by telling jokes ("especially bad ones"), being as kind as we can to one another, listening to doctors and trusting science, and she wraps it all up by telling us to stay strong and positive. Honestly, this is exactly what The Doctor has always done in basically every nutty situation she's ever been in, so at least we know that the advice comes from several thousand years of experience, right?
Jodie Whittaker's second season as The Doctor ended earlier in March, but it's good to know that she and the team behind Doctor Who are all thinking about the fans and want us to know they're going through the same stress we are. There's nothing like a helpful message from one of your favorite characters to help brighten your day.
Doctor Who will return for a holiday special either late this year or very early into 2021. While you wait, be sure to check out what you can watch right now with our midseason premiere guide, Netflix schedule and see what's new to Hulu in April.
Your Daily Blend of Entertainment News
Yennefer's apprentice, Gilmore Girl; will Vulcan nerve pinch pretty much anyone if prompted with cheese...Yes, even Jamie Fraser.