Why A Million Little Things Fans Shouldn't Worry After The Season 2 Finale Cliffhanger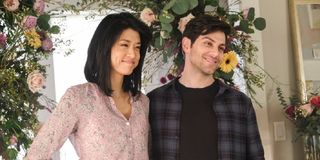 Warning! Spoilers ahead for A Million Little Things Season 2 finale, called "'Til Death Do Us Part."
A Million Little Things Season 2 concluded with a major, and possibly game-changing, cliffhanger. The finale began with some happy news, but that didn't last long as Rome and Regina coped with the fact that they wouldn't be bringing home the baby they'd always wanted. That wasn't the biggest shocker of all, because Eddie's storyline took a tragic turn in the episode's final moments. However, David Giuntoli recently explained why A Million Little Things fans shouldn't worry after the Season 2 finale cliffhanger.
The series wasn't about to let Eddie get his happy ending. While he and Katherine were all set to renew their vows, their nuptials were interrupted. With the wedding on pause, Eddie discovered that he was at his family's lake house when Alex drowned and he had every intention of telling Katherine the truth. Unfortunately, he never got there and was hit by a car on his way home. Now, fans are wondering whether or not Eddie actually survived the crash. David Giuntoli had a hopeful message to assuage any fears about Eddie's fate. Here's what he told TVGuide:
Soothing words can only go so far, though, because David Giuntoli makes it clear throughout the interview that he isn't too sure about whether Eddie will live or die, either. That car crash looked fatal, but he could also be in a coma, so the scale could realistically tip either way at this point.
While David Giuntoli joked that he'd like to know Eddie's fate to better prepare his finances, A Million Little Things showrunner DJ Nash had more of a concrete answer regarding the actor's future with the show. Speaking with Hollywood Life, Nash wouldn't confirm or deny whether Eddie was actually dead, but he had some good news. In his words:
A Million Little Things hasn't officially been renewed for Season 3 yet, but stay tuned to CinemaBlend for updates. In the meantime, be sure to check out our midseason schedule for more on what to watch.
Your Daily Blend of Entertainment News
Thank you for signing up to CinemaBlend. You will receive a verification email shortly.
There was a problem. Please refresh the page and try again.