A Million Little Things Will Kill Off Another Character In Season 2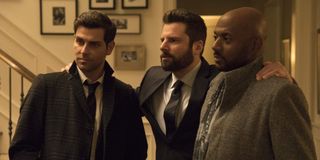 A Million Little Things is no stranger to death. Following a group of friends living in Boston, the ABC drama kicked off its run with character Jon's suicide and now another death looms on the horizon for Season 2. The series' second season will begin not long after the events of the Season 1 finale, which ended with Eddie about to reveal the affair he had with Delilah to his wife, Katherine.
A Million Little Things, which premiered last September on ABC, has never shied away from covering serious and emotional topics. Suicide, grief, and other situations have been embedded into the show from the get-go and A Million Little Things often handles them from a very realistic perspective. Sticking to the real-world nature of the series, it's been confirmed that a character will be killed off in Season 2 and the group must come together to deal with the death.
In an interview with Deadline, executive producer and showrunner DJ Nash spoke about the trials and tribulations that the beloved group of friends will continue dealing with throughout Season 2. He said,
Maggie, having battled cancer throughout Season 1, is probably the most likely candidate to die, but Nash makes it clear that she is now "cancer free." If that's the case, then it's unlikely the series would cure her of cancer only to kill her off afterward in something like a sudden event. After all, this isn't Grey's Anatomy, which killed off one character by way of a heart attack after a long battle with Alzheimer's.
Still, when asked whether the character is a newcomer, DJ Nash teased that the death would involve a familiar face, noting it's "someone you've seen."
It's impressive the way DJ Nash's answer leaves a lot of room for interpretation, while simultaneously not giving anything away. There are a lot of characters on A Million Little Things, meaning anyone could be a candidate at this point.
Most recently, the series cast Parenthood alum Jason Ritter in a recurring role for Season 2. Ritter's character will be a blast from Patricia's past, though he'll also be shaking things up in Maggie's life. As of right now, there isn't much else we know aboutt his character, not even his name, but it seems that he'll be stirring up a lot of drama for our favorite characters when the show does return.
A Million Little Things Season 2 is set to premiere on Thursday, September 26 at 9/8c on ABC. While we wait to see who dies in this fall TV show, check out our schedule to see when your favorite shows will be back.
Your Daily Blend of Entertainment News
Thank you for signing up to CinemaBlend. You will receive a verification email shortly.
There was a problem. Please refresh the page and try again.