Joe Exotic Netflix Documentary: 6 Insane Takeaways From Tiger King: Murder, Mayhem, And Madness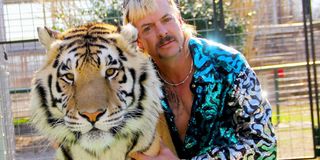 CinemaBlend is partnering with Tidal to bring you fresh content to stay in and stream with each day. We're also offering a free 30 day trial. You can sign up for the package with Tidal here.
For folks stuck at home looking for a new show to binge, Netflix's Tiger King: Murder, Mayhem, and Madness is a strange slice of real-life drama that nevertheless proves the right amount of oddball escapism and utterly engrossing "stranger than fiction" television. The seven-part, binge-friendly documentary streaming series centered primarily around Joe Exotic, a larger-than-life zoo operator, as well as other outlandish wild animal-owning personalities, was an addictive mix of true-crime, odd characters, and a bunch of wild animals.
Suffice to say, it became a huge hit for Netflix. The true story has no shortage of bizarre twists and turns; they could have made seven more episodes and possibly not uncovered everything that's fascinating and/or very perplexing about this cast of characters. Here are just six of Tiger King's most surprising takeaways. Also, naturally, expect many spoilers.
Doc Antle Has Multiple Wives And Makes Them Work Nearly 24/7
In addition to Joe Exotic and Carole Baskin, the central figures in Tiger King, there's also Doc Antle, another wildlife personality. He hosts his own wild animal exhibit, and his life carries a few surprising details. For instance, he has many partners, all of whom work under his employee. He also controls their lifestyles, including their nearly 24/7 work schedule.
People Strongly Believe Carole Baskin Murdered Her Second Husband
In the third episode, titled "The Secret," we learn more about Carole Baskin, the antagonistic figure that serves as the bane of Joe Exotic's existence. The animal rights activist and owner of Big Cat Rescue has a huge social media following and a healthy bank account, but there are several interview subjects, in addition to Joe, who don't necessarily trust her. While it was hinted at earlier in the documentary mini-series, it was revealed that there is a 20-year-plus rumor that she reportedly murdered her second husband, Don Lewis, and allegedly got away with it. This episode mostly steps away from Joe to explore these rumors and why some local personalities believe it's the cold-blooded truth, including Lewis' former wife and his adult daughters.
As the episode explores, Don Lewis and Carole Baskin were not on good terms when he randomly and inexplicably disappeared from the public eye. It was clear that they were having marital problems, and one person claims that Lewis had a restraining order made against Carole before he vanished. It was also suspicious that Lewis left his vehicle with the keys and other items inside near a private plane station. There are folks who believe that Carole pushed her husband off the plane. There's also Joe Exotic, who thinks (sincerely or not) that she chopped up his body and fed the body to their tigers.
Joe Exotic's Studio Burned To The Ground
Joe Exotic is such a boisterous, overzealous personality — even when the cameras aren't on him, which is rare — that it's a given that he fancied himself a future reality television superstar. He has what it takes to fit the mold in his own out-of-the-box way. In fact, there was a TV producer who recognized his odd charisma and tried to make him famous. For years, he filmed Joe's life in his zoo and helped with his social media promotions. He was hoping that it would lead to a big payday. Alas, that didn't happen. In a tragic turn-of-events, the studio which contained all the footage, as well as the camera equipment and some alligators, was burned up and it destroyed everything. The footage was gone; reality TV hopes were instantly dash.
Since Joe Exotic was attending a funeral out-of-town, there was reason to believe that it wasn't him. But there are some folks who don't believe that is the case. Either coincidentally or not, Exotic had a heated debated with the TV producer just about a week prior, where it became clear that Exotic had no ownership of the footage that was shot. It was clear after this heated exchange that the producer could take all the footage amounted thus far and leave Exotic in the dust, which is why some believe that Exotic might've committed arson, knowing that he wasn't going to profit off this venture. Naturally, Exotic doesn't entertain this notion. Instead, he blames the producer for setting the building aflame, believing he might've done it to hurt Joe.
One Of Joe's Husbands Accidentally Shot Himself In A Tragic Accident
As Tiger King chronicles —sometimes paralleling — both Joe Exotic and Doc Antle, one point of comparison comes from their respective love lives. Specifically, they're both seen with multiple younger partners, with Exotic in particular settling down to two (or more) men at a time. As shown in the docu-series, Exotic groomed John Finlay and Travis Maldonado and convinced these two men to get hitched with each other in a conjoined wedding ceremony. But after a few years of marriage, tragedy struck. During an incident where Maldonado acted inappropriately with a loaded weapon, the gun went off, accidentally shooting and killing Travis instantaneously. A couple months later, a heartbroken Joe Exotic dates, then marries, Dillon Passage.
Joe Exotic Ran For President, Then Governor Of Oklahoma
Certainly not one for self-awareness or ego checks, Joe Exotic decided to push his brand further in a major way by doing something outlandish, even by 2016 standards. Specifically, Exotic tried to push himself as an independent candidate for president — even though, it's safe to say, he had nothing in the way of political experience prior to this. He hired a campaign manager and he made a few over-the-top campaign videos, at least a few of which caught the attention of John Oliver. On HBO's Last Week Tonight, he made fun of the outspoken, gun-toting wannabe president rather mercilessly. But rather than be discouraged, Exotic say this television bit as free publicity, and the man used it to further his (admittedly delusional) political aspirations.
After hiring a political advisor, a gun employee at a local Wal-Mart, Joe Exotic decides to shrink his political ambitions down a bit. Rather than put himself on the ballot for leader of the free country, Exotic runs for governor of Oklahoma instead. Exotic prints his name and face on a variety of advertisements, including condoms, and the zoo operator throws himself in the state's libertarian primary (even though, as his political advisor admits, he doesn't know what a libertarian is). Once the votes come in for the primary, Exotic finds himself in third place in the political party's primary, though he managed to score 19 percent of the vote. Either due to (or thanks to) his personality, Exotic got nearly 20 percent — which, admittedly, isn't great by any stretch of the imagination. But, for a man who never went into politics before, that's not necessarily unimpressive either.
Joe Exotic Went To Jail For Scheming To Murder Carole Baskin, Among Other Charges
As Tiger King chronicles in great deal, Joe Exotic and Carole Baskin have publicly been at odds with each other for many years. While they both have active online lives, Exotic is often seen threatening Baskin's life or threatening harm, including shooting dolls and mannequins that serve as stand-ins for the fellow wildlife habitat personality. There have been several moments where Exotic has suggested murdering Baskin, particularly after a lawsuit from her estate put him in a million dollars of debt. Oftentimes, Exotic's employees don't know whether he was joking or if he was actually serious. That changed when there were plans on Exotic's part to hire a third-party assassin to travel down to Florida, where Carole lives, and kill her on her property.
Through a connection made with Jeff Lowe, Joe Exotic was reportedly set to pay the man $3,000 to go down to Florida and kill Carole Baskin during her annual bike run. The accounts rely a lot on he said, he said, but there was evidence of Exotic's attempt to have the woman killed, which is what got law enforcement involved. Exotic was being followed, and when Exotic eventually made his way down to Florida to do the job himself, he was arrested in a parking lot and put on trial. In addition to the murder-for-hire charges lobbied against him, there were also 17 federal charges of animal abuse. As of now, Exotic is currently serving a 22-year sentence in prison, but he's desperate to get out — even if it means bringing other people down with him.
What revelation in Tiger King surprised you the most? What do you think is the most shocking moment in the docu-series? Let us know down below!
Your Daily Blend of Entertainment News
Will is an entertainment writer based in Pittsburgh, PA. His writing can also be found in The Playlist, Cut Print Film, We Got This Covered, The Young Folks, Slate and other outlets. He also co-hosts the weekly film/TV podcast Cinemaholics with Jon Negroni and he likes to think he's a professional Garfield enthusiast.