One Rick And Morty Plot Was Originally Written For Dan Harmon's Community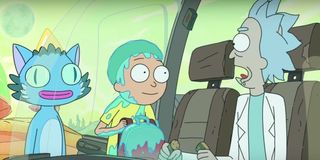 Four seasons in, and Rick and Morty has long been a beloved staple of Cartoon Network's Adult Swim. The animated hit sees the titular characters venturing to different dimensions, realities, and planets. However, not every storyline that was crafted was initially intended for Rick and Morty to deal with. In fact, a Season 4 episode included a plot that was originally an idea from co-creator Dan Harmon's neo-cult classic comedy Community.
Before Rick and Morty, Dan Harmon created and worked on the NBC comedy Community, which ran for six seasons (though not all of them had Harmon on board). Now that the quirk-driven sitcom is on Netflix, Harmon and the cast are reflecting on the show's history. Speaking with The Independent, Harmon revealed that there was a discarded concept from Community that ended up being worked into an episode of Rick and Morty instead. In his words:
For those who don't know, Joel McHale played Jeff Winger on Community, a speech-heavy, womanizing lawyer who was disbarred after lying about having a bachelor's degree. The "shy pooper" concept that Dan Harmon referenced was brought into the second episode in Rick and Morty's fourth season, which was titled "The Old Man and the Seat." The episode is a loose adaptation of Ernest Hemingway's The Old Man and the Sea, just with more Rick poop.
In the episode's subplot, Rick takes a universe detour so that he can use a private bathroom. When he finds out said lavatory is also being used by someone named Tony, Rick berates him for most of the episode. Despite it all, Tony remains intent on using the same bathroom as Rick, who later punishes Tony and plans to destroy him before eventually learning that Tony died in an attempt to live his life to the fullest. Womp-womp. Should this idea ever have made it into an episode of Community, Jeff Winger would have probably been in Tony's place, but it would have likely been far less complicated.
Personally, I think it's unfortunate that this concept was never used for Community because the writers on the series were creative enough to make it work. Plus, Jeff wasn't very shy about anything, ever. That said, I'm glad the idea made it to Rick and Morty and wasn't just thrown out the window. And, for what it's worth, "shy pooper" will always be a fairly funny description.
The second half of Rick and Morty's Season 4 is set to premiere on May 3 on Adult Swim. Meanwhile, Community is now available to binge-watch on both Hulu and Netflix. For more on what to watch on the streaming service, be sure to check out our complete Netflix schedule.
Your Daily Blend of Entertainment News
Thank you for signing up to CinemaBlend. You will receive a verification email shortly.
There was a problem. Please refresh the page and try again.