The 8 Best Community Episodes To Stream Once It Comes To Netflix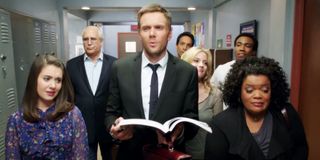 Soon, you will be able to pay a visit to your favorite small town community college via Netflix. Community, Dan Harmon's comedy about a group of seven distinct students who find kinship with one another as they desperately seek a degree from the idiosyncratic Greendale Community College, is heading to the streaming platform starting April 1.
It will be a dream come true for Netflix subscribers who have been tweeting the #SixSeasonsAndAMovie hashtag since the beginning to be able to relive their favorite moments from the almost unhealthily worshipped sitcom that ran on NBC for six seasons (but has yet to spawn a movie). But, here's a pop quiz for ya: which Community episodes are at the top of the class?
While many Community fans and freshmen to the series will likely want to start their Community viewing with Episode 1 and head into a full binge, others might be looking to revisit some of the best episodes first. These are my choices of the episodes that got an A.
Modern Warfare (Season 1, Episode 23)
Community has always excelled as a sitcom that cleverly blurs the line between mundane reality and high-stakes, cinematic fiction, and never better than its paintball episodes. Dan Harmon fans all have their choices for the best of this annual, genre-spanning, paint-splattered event, but I would argue that the one that started it all tops the list. Directed by Justin Lin, who returned for next year's ninth installment of the Fast and Furious franchise, this action-packed half-hour sees the Study Group and others taking the prize of class registration priority very seriously in a paintball competition that turns Greendale into a campus-wide war zone.
Basic Rocket Science (Season 2, Episode 4)
Dean Pelton (Jim Rash) enlists the Study Group to renovate a 1980s-era Kentucky Fried Chicken aerospace flight simulator, but the simulation becomes more realistic than anyone expected when the gang is accidentally towed away and trapped inside the trailer, leaving the remote Abed (Danny Pudi) to act as their ground control in an attempt to safely make it back to Greendale. This is one of Community's most clever parodies, incorporating all the best beats of Ron Howard's Apollo 13 for an exciting survival adventure of astronomic proportions.
Cooperative Calligraphy (Season 2, Episode 8)
The Study Group is gearing up to attend Greendale's Puppy Parade, until the disappearance Annie's (Alison Brie) pen puts the study room on lockdown with the entire cast of characters suspected on thievery. "Cooperative Calligraphy" is one of the funniest instances of Abed's fourth-wall breaking presence in Community as he continuously refers to their situation as a "bottle episode," a term used to describe a cheaply produced TV episode with as few sets, non-series regulars, or effects as possible, which is clearly what is taking place here, but acknowledged to brilliant effect. Not to mention, the discovery of the true pen thief makes for a great reveal.
Conspiracy Theories and Interior Design (Season 2, Episode 9)
Dean Pelton thinks he can catch Jeff Winger (Joel McHale) in a lie over an obscure night class credit that disgraced lawyer-turned-Greendale-student claims is taught by a Professor Professorson, but when said professor (Kevin Corrigan) proves to be real, Jeff admits to Annie that he was indeed making it up all along, prompting a strange investigation that quickly spirals out of control. With a series of increasingly bizarre of conspiracy theories, mind-bending double crosses, and the debut of Abed and Troy's (Donald Glover) elaborate pillow fort, "Conspiracy Theories and Interior Design" is a suspense thriller that even Alfred Hitchcock would be proud of.
Abed's Uncontrollable Christmas (Season 2, Episode 11)
Concerned for Abed's mental health when he claims he is seeing everything in stop motion animation during the Christmas season, the gang endures a group therapy session that takes them on a journey though a whimsical winter wonderland in Abed's mind. This holiday special, that won an Emmy for animation, is one of the few instances in which Community attacked a character issue in way that was less cynical and more fantastic (in the true sense of the word) as the Study Group's family dynamic grows stronger through collectively learning the true meaning of Christmas.
Remedial Chaos Theory (Season 3, Episode 4)
Troy and Abed invite the Study Group to a housewarming get-together at their new apartment, but when Jeff opts to decide who will grab the pizza delivery by the roll of a die, he ends up creating six disparate timelines, some of which have more favorable outcomes than others. If you ask me, "Remedial Chaos Theory" is the peak of Community's brilliance, with a tightly constructed, high-concept story, executed in both a fun and shockingly bleak way, that fans are still positing theories about. Plus, this would mark the beginning of the often referenced "darkest timeline," the peak of that recurring theme also being this episode, in my opinion.
Basic Lupine Urology (Season 3, Episode 17)
If there is one thing that Dan Harmon is impeccably good at, it is parodies that act more as earnest recreations of the subject material that happen to focus on ridiculous situations, and this Community mystery presented in the style of an episode of Law & Order, right down to the donk donk sound in between scene transitions, is an undeniable highlight. The case: someone desecrated the Study Group's biology project (a yam), leading everyone in different crime procedural roles with Shirley Bennett (Yvette Nicole Brown) taking the lead, Troy and Abed imposing questions, Jeff and Annie prosecuting suspects in trial, Pierce Hawthorne (Chevy Chase) providing information, and Britta Perry (Gillian Jacobs) working in a lab.
Herstory Of Dance (Season 4, Episode 8)
In protest of Dean Pelton's "anti-feminist" Sadie Hawkins dance, Britta decides to organize a Sophie B. Hawkins dance (mistaking Susan B. Anthony for the singer/songwriter known best for the '90s hit single "Damn I Wish I Was Your Lover"), at which Abed is forced to juggle two dates at the same time, set up for him by the unwitting Annie and Shirley, respectively. Featuring a pre-Oscar guest performance by Brie Larson as Rachel, a coat check girl with a lot in common with Abed, and a cameo appearance by the real Sophie B. Hawkins as herself, "Herstory of Dance" is a highlight of what many fans consider to be one of Community's more disappointing seasons amid Dan Harmon's absence.
What do you think? Does this list reflect your favorite Community episodes as well, or do you think I should go back to school or re-evaluate if I am living in the correct timeline? Let us know in the comments below and be sure to check back for updates on the potential for that spin-off movie and more here on CinemaBlend.
Jason has been writing since he was able to pick up a washable marker, with which he wrote his debut illustrated children's story, later transitioning to a short-lived comic book series and (very) amateur filmmaking before finally settling on pursuing a career in writing about movies in lieu of making them. Look for his name in just about any article related to Batman.
Your Daily Blend of Entertainment News
Thank you for signing up to CinemaBlend. You will receive a verification email shortly.
There was a problem. Please refresh the page and try again.