5 Things We Need To See In A Community Spin-Off Movie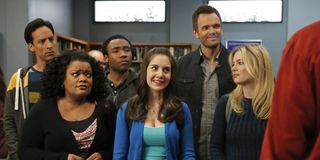 Few TV series owe their survival to popular demand as intensely as Community. The brainchild of Rick and Morty co-creator Dan Harmon, the cult sitcom was revived from cancellation twice, first on its home network, NBC, after a Season 3 finale that posed an uncertain future, then for a sixth and final season on Yahoo! Five years later, fans are still dying for the adventures of the Greendale Community College study group to continue in a spin-off movie. Whether or not a movie actually ever happens remains to be seen, but we continue to hope.
The potential for a Community movie has been speculated since the birth of the #SixSeasonsAndAMovie hashtag began trending as a self-referential ploy to save the show from its first threat of cancellation, followed by the #AndAMovie hashtag, which was initially introduced as a clever way to send off the show after its final episode. However, the concept of stars Joel McHale, Alison Brie, Donald Glover, among others reprising their roles as Greendale alumni on the big screen is still a hot button topic, which no one involved with the series can comment on with confidence.
As Abed Nadir (Danny Pudi) says to Jeff Winger (Joel McHale) on the finale of Community, "I know it comforts you to look at things through a meta lens but this is reality," and we may need to accept that the spin-off movie may only exist in alternate timeline. But, if #SixSeasonsAndAMovie did become a reality, what should we expect to see? I have five hypothetical ideas.
WARNING: The following article features huge spoilers for Community**. Unless you have already seen the show or do not care about spoilers, don't "Britta" the show for yourself and catch up before you proceed.**
Troy And LeVar Burton's Fate On The Childish Tycoon Revealed
The penultimate season of Community saw one of its biggest rising stars, Donald Glover, leaving the show after 89 episodes to pursue other prospects (such as focusing on his music career and later creating the Emmy-winning Atlanta). His series send-off saw his character, Troy Barnes, embarking on a journey across the world by a sailboat called the Childish Tycoon, accompanied by his hero, LeVar Burton, in order to inherit the fortune left behind by the late Pierce Hawthorne (Chevy Chase). However, in the following episode, it is revealed by a brief mention in a news bulletin that the travelers were taken hostage by pirates.
Clearly, a Community movie would be incomplete without Donald Glover, so the movie would have to address what took place aboard the Childish Tycoon. Troy's reunion with the Study Group in the aftermath of what would have been an especially traumatic event for him should most appropriately be handled in the typical, darkly hilarious fashion that Dan Harmon is best at.
The Return Of Evil Abed
In the classic Season 3 episode of Community, "Remedial Chaos Theory," Jeff, despite Abed's warning, creates six concurrent, alternate timelines by rolling the die to determine which member of the study group will bring the pizza delivery up to Troy and Abed's apartment. The darkest of these timelines, which results in the death of Pierce by Annie Edison's (Alison Brie) accidental gunshot, Jeff losing an arm trying to put out a fire, and Shirley Bennett (Yvette Nicole Brown) succumbing to alcoholism, also inspires that reality's Abed to sport a makeshift black goatee and turn evil and eventually becoming a lingering threat to his uncorrupted alternate counterpart for future episodes.
The Community spin-off movie is going to need an antagonist, and I cannot think of a better candidate than Evil Abed, crossing over into the prime timeline to wreak havoc on Greendale once again. To make it even better, seeing the rest of the Study Group taunted by their own Darkest Timeline counterparts would only increase the intensity.
The Paintball War To End All Paintball Wars
One of the definitive episodes of Community, Season 1's "Modern Warfare," sees the entire Greendale student body competing for first dibs on registration in a campus-wide paintball competition. The episode, directed by frequent Fast and Furious franchise helmer Justin Lin, sends up action movies in a uniquely earnest fashion, which would set the tone for future parody episodes and would also become a tradition season by season (including one western style two-parter directed by Joe and Anthony Russo before becoming Marvel Studios darlings).
Why a group of Greendale graduates and/or employees would participate in a campus-wide paintball war, I do not know. But, in the hands of returning directors Joe and Anthony Russo (they're not busy at the moment, are they?), the set-up for a brutal, earth-shattering affair in which the Community case would endure paint, sweat, and tears could border on Shakespearean levels of drama. Not to mention, its tradition.
Jeff And Annie Finally Making Their Romance Official
The pilot episode had viewers convinced that Jeff and Britta Perry (Gillian Jacobs) would be Community's primary "will they, won't they" relationship, with the disgraced lawyer's pursuit of the outspoken psychology student indirectly leading to the Study Group's formation. However, it was actually the far more unlikely pairing of Jeff and Annie that served as the series unofficial, unspoken romance since sharing an impromptu kiss during an intense academic debate in Season 1.
The series ended with them sharing one final kiss before Annie left for an internship with the FBI, but who is to say that is the last of their relationship? Whether it takes the FBI sending Annie to Greendale for an investigative assignment or even a cheesy moment of realization that prompts Jeff to (in the middle of his class, perhaps) abandon his current life in order to track down win over his lost love, I believe much of the Community fandom can agree that we want to see these two together and the spin-off movie would be the perfect way to fulfill that wish.
Things Actually Go Well For Britta
Britta Perry began her run in the series as one of Community's most important characters until every other member of the central cast ended up receiving stronger praise among the fanbase. In fact, Gillian Jacobs' character would be known as the least liked among her peers in the Study Group, eventually earning the nickname "The Worst" at one point, and gaining a reputation for getting herself into embarrassing situations. Maybe the spin-off movie should fix that.
When we last saw Britta, she was working at local bar, The Vatican, her romance with human Subway advertisement Rick had reached a bitter end, and her future as a psychologist was up in the air. It may have been a running trend on Community for nothing to ever go Britta's way, but that ending to her story does not feel justified which is why I believe, for the spin-off movie, we should see her finally reach her goals in her career, learn the proper pronunciation of "bagel," and find a romance that brings her happiness. Maybe if Troy returns...?
The Community movie may only exist in the dreams of the sitcom's legion of hopeful fans, but even so, imagining what may happen is still a treat. Be sure to check back for more updates on the uncertain future of Community's big screen revival here on CinemaBlend.
Your Daily Blend of Entertainment News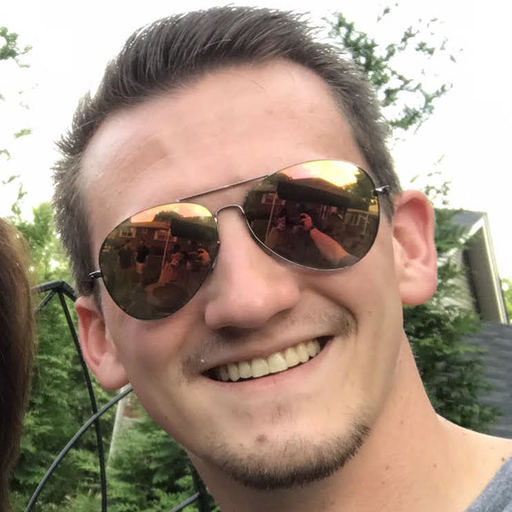 Jason has been writing since he was able to pick up a washable marker, with which he wrote his debut illustrated children's story, later transitioning to a short-lived comic book series and (very) amateur filmmaking before finally settling on pursuing a career in writing about movies in lieu of making them. Look for his name in almost any article about Batman.