Shaquille O'Neal Explains His WTF Cameo In Netflix's Tiger King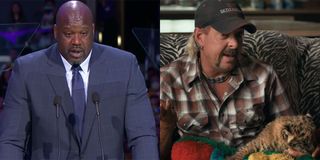 Over the past few days, Netlfix's Tiger King has basically taken over much of the TV conversation, thanks to its cast of exotic characters that include real-life tigers, a mullet-wearing, gun toting zoo owner, a hippie who some speculate may have been involved in her former husband's disappearance and many more. Oh, and Shaquille O'Neal shows up in Tiger King too. Now, Shaq has spoken out about his cameo and the additional speculation in the Netflix series.
In fact, the longtime TV personality has his own podcast aptly titled "The Big Podcast with Shaq." In it, Shaquille O'Neal likes to get topical and this week that means talking Tiger King. But first, how is Shaq connected to Joe Exotic and co.?
There will be some very minor spoilers for the Netflix documentary in this piece, so if you haven't watched the whole thing yet, now may be the time to hop out.
How Shaq Ended Up Appearing In Netflix's Tiger King
One thing Tiger King does really well is pull footage from a variety of sources. Along with filming and using their own interviews and footage, the creative team of Eric Goode and Rebecca Chaiklin use footage from varying components of social media, including YouTube videos or even social media components on Facebook, Instagram and other platforms.
Shaq really comes up a couple of times in Tiger King. There's a short portion of the documentary that lists the times he popped up at Joe Exotic's place the G.W. Zoo in Oklahoma. Then, later in Netflix's Tiger King, there's a whole mention from the documentary of hope surrounding the idea that Shaquille O'Neal might invest in the zoo.
The two have met one another and Joe Exotic makes mention of Shaq in his documentary.
Shaq Explains His Real Dealings With Joe Exotic And The G.W. Zoo
In Tiger King, it's clear that Shaq did go to the G.W. Zoo, but the former NBA player says the other stuff about getting involved in the zoo is hogwash. In addition, on "The Big Podcast," the player also explained he really only visited the zoo a couple of times, noting,
There are a lot of people – albeit mostly not famous people – who show up in Tiger King and seem to be charmed by the prospect of tigers before finding out more about the backstory of the G.W. Zoo. Shaq's story rings true of how a lot of roadside attractions in the United States inspired visitors to drop in, but he also says he and Joe Exotic aren't exactly pals.
So, it sounds like those comments made about Shaq investing are pretty unlikely at this point.
Has Shaq Seen Tiger King?
Yes, so Shaq has been watching Tiger King just like the rest of us plebeians currently living out our days in self-isolation. The podcast host said of the documentary:
So yes, Shaq has seen Tiger King and has positive thoughts about how the Netflix program turned out, even if it seemingly doesn't paint him in the best light due to placing him adjacent to the wild characters the documentary follows.
To sum it up, all of that stuff Tiger King speculates about hoping to get Shaquille O'Neal involved with the zoo is just smoke and mirrors, as is so much of what we see in Netflix's Tiger King. Or as Shaq succinctly puts it:
You can hear more on Shaq's musings about life, pop culture and Tiger King on the Big Podcast with Shaq. Or check out Tiger King, which is currently streaming on Netflix.
Amazing Race & Top Chef superfan with a pinch of Disney fairy dust thrown in. Theme park junkie. If you've created a rom-com I've probably watched it.
Your Daily Blend of Entertainment News
Thank you for signing up to CinemaBlend. You will receive a verification email shortly.
There was a problem. Please refresh the page and try again.