Modern Family's Sarah Hyland Shares Awesome Throwback Pictures To Celebrate Series Finale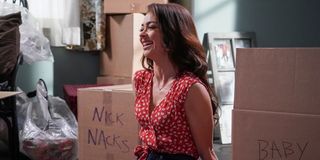 After an 11-season run, Modern Family said goodbye with a warm group hug. With the various members of the Pritchett family headed their separate ways, the long-running sitcom capped things off with a two-part finale that managed to avoid flash-forwards, but included a ton of heart. Knowing that the series was ending, Modern Family's Sarah Hyland shared some awesome throwback pictures of the cast to celebrate the series finale.
Sarah Hyland's Haley Dunphy came a long way from her early days on Modern Family. As one of the resident goofballs of the series, Haley transformed from an expelled college student to a budding fashion designer and potential photographer, though both careers never really took off on the show. In a captioned Instagram post, Hyland recently revealed that she'd had an "incredible journey" while working on the show, and included several fantastic pictures of the cast throughout the years to commemorate the end. Check out her post, below!
The pictures are pretty great because they tell the story of the cast throughout the seasons of the show. The photos range from fun on-set poses, warm hugs between co-stars, and award show shenanigans. They've all grown so much and, while Sarah Hyland will miss everyone a lot now that Modern Family is over, she was "so grateful" that she got to work with such a stupendous cast.
However, Sarah Hyland was recently candid about her feelings regarding Modern Family's final season and admitted that she wasn't too thrilled with the way Haley's storyline ultimately turned out. Specifically, Hyland had wanted to see Haley "own her badassery in the fashion world" and be successful at both her career and being a mom. Unfortunately, that wasn't the way it turned out on the show.
Modern Family may be over, but there are early discussions with ABC for a potential spinoff, one that will revolve around more than one character. I'm not sure whether Sarah Hyland would want to come back for a spinoff, but it might be fun for the series to follow through on Haley's career. That is, if the spinoff ever gets off the ground.
For now, viewers can at least rest easy knowing that Modern Family reached its natural end, having filmed its series finale prior to the shutdowns that have delayed other TV shows and their respective seasons. Series like Supernatural and Empire, which were both coming up on their series finales, got short-changed due to the production stoppage. Meanwhile, already renewed series like Superstore and Grey's Anatomy will likely wrap up unfinished season arcs at a later point in time, when work can begin on their new seasons.
Stay tuned to CinemaBlend for updates and be sure to check in with our updated TV list for more information about which shows are facing delays.
Your Daily Blend of Entertainment News