Law And Order: SVU's Peter Scanavino Explains Season 21 Finale's Big Rollisi Scene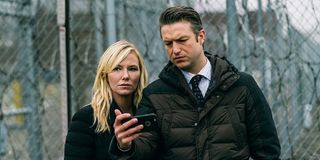 Spoilers ahead for Law and Order: SVU's Season 21 finale.
Law and Order: SVU's Season 21 finale came full circle with the trial of Tobias Moore, a wealthy and powerful man accused of rape and sexual harassment. The trial finally began after being introduced in the season premiere, and was especially intense for Sonny Carisi, who grew increasingly frustrated over Moore's lawyers stalling the proceedings. Rollins came by afterward for a drink with Carisi, reigniting fans' hope for a potential Rollisi romance. Law and Order: SVU's Peter Scanavino recently explained that big Rollisi scene from Carisi's perspective.
Production shutdowns halted filming on Law and Order: SVU in March, leaving the series with only 21 eps of its 25-episode order. Therefore, "The Things We Have to Lose" served as the Season 21 finale, though it wasn't a bad way to end the season, considering it looped back to Sir Tobias Moore's trial and tied up some other loose ends. Knowing how frustrated he was, Rollins offered to take Carisi out for a few drinks and promised him a ride home afterward. Feeling jaded at the time, Carisi rejected her offer and said he still had work to do. Gasp!
Speaking with TVLine, Peter Scanavino revealed what was going through his character's head during that particular scene. Here's what he had to say:
While it's understandable that Carisi was "protecting himself emotionally," it's a shame the scene didn't play out differently. It seemed like Rollins was unintentionally asking Carisi out on a date without being way too obvious about it.
Historically, it's been easier to read Carisi's feelings on the matter. That said, Rollins' request there could be a huge step forward for the future, and their scene together could be hinting at a full-on romance between them in Season 22. It's hard to tell from just one episode, though, because it's unclear what may have transpired in the four episodes that weren't filmed. Whatever the case may be, it's still a glimmer of hope for fans of Rollisi.
That's it for Law and Order: SVU this season. The drama has been renewed for Season 22, but there's no word on when production is set to begin with all of the shutdowns still in effect. For more on what to watch in the meantime, be sure to check out our list of all the big TV finales coming up, as well as our 2020 summer premiere guide.
Your Daily Blend of Entertainment News
Your Daily Blend of Entertainment News
Thank you for signing up to CinemaBlend. You will receive a verification email shortly.
There was a problem. Please refresh the page and try again.