8 Shows You Should Stream If You Like Law And Order: SVU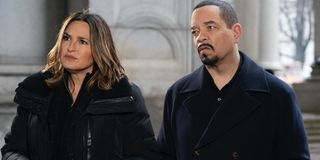 Law and Order: SVU has become the longest running television series of all time. This is a huge accomplishment, especially for a drama series with so many intricate aspects. The series follows Captain Olivia Benson (Mariska Hargitay) and her team as they deal with some of the most heinous crimes as the Special Victims Unit of the New York Police Department.
The addictive storylines, exceptional cast, and gripping storytelling has made Law and Order: SVU a beloved and respected drama with a distinct voice. The Golden Age of television has made great procedural police dramas and crime shows readily available. However, no series has reached the same level of success and entered the pop culture lexicon quite like SVU, but there are still plenty of worthy shows out there to watch when Law and Order: SVU is on a seasonal hiatus.
The Assassination of Gianni Versace: American Crime Story (Netflix)
The Assassination of Gianni Versace is the title of Ryan Murphy's second season of American Crime Story. The anthology series highlights various true American crime stories, everything from murder to crimes against humanity. The Assassination of Gianni Versace explores the murder of designer Gianni Versace by Andrew Cunanan, and the events that led to it. Darren Criss, Edgar Ramirez, Ricky Martin, and Penelope Cruz star in this season of American Crime Story.
Law and Order: SVU fans may enjoy The Assassination of Gianni Versace because it is rooted in real life events. SVU often uses true stories and current headlines as inspiration for their weekly episodes. The second season of American Crime Story also shows how victims can become criminals—a continuous theme of many of the Law and Order: SVU cases. The Assassination of Gianni Versace gives us supreme performances, especially from Emmy winner Darren Criss. The series is available to stream on Netflix. Watch The Assassination of Gianni Versace HERE.
Criminal Minds (CBS All Access)
Criminal Minds began in 2005, and concluded its 15-season run in 2020. The series follows a group of criminal profilers that use behavior analysis to investigate and track criminals. Criminal Minds is a typical police procedural in that it has weekly cases and deals with the main team's personal struggles, those directly and indirectly related to their work.
Criminal Minds and Law and Order: SVU share in their format, but also in their ability to deep dive into factors that contribute to criminal behavior and crimes. Both series are also two of the longest running dramas of all time. Criminal Mind stands out among the world of police procedural dramas because it focuses more on the criminal than the crime. All 324 episodes of the series are available to stream through CBS: All Access. Stream Criminal Minds HERE.
Chicago P.D. (NBC)
Chicago P.D. follows the 21st District of the Chicago Police Department as they tackle crimes and their own personal demons. Dick Wolf, who also created the Law & Order franchise, created this series. Chicago P.D. was the second series in the Chicago franchise.
Law and Order: SVU and Chicago P.D. exist in the same universe. The two series have done crossover episodes. With Dick Wolf as the creator of both series, they have a similar tone. Chicago P.D. deals with a more diverse set of cases and criminals than SVU, as a more generalized overview of the police department. Both series will be around for a while, giving fans plenty of time to learn to love the One Chicago world and the people determined to protect it. All current and past seasons of Chicago P.D. are available to stream with a TV subscription that includes NBC. Stream Chicago P.D. HERE.
FBI (CBS All Access)
FBI is Dick Wolf's latest popular series. He originally wanted the show to be part of the Law and Order franchise, with it starting as a backdoor pilot on Law and Order: SVU . NBC passed on FBI and CBS swooped in and bought it. This deal marked the first time in 15 years that Wolf launched a series not on NBC. FBI is trying to become its own franchise for CBS by only being on for two seasons but already having a spinoff called FBI: Most Wanted.
Though it'll difficult to execute a crossover between competing networks, it's safe to assume that all Dick Wolf's series live in the same universe and will have a crossover at some point. FBI has a similar beat and tone as Law and Order: SVU, but with the added bonus of being on CBS, which has its own long history of crime-based series. FBI keeps the trusted and loved procedural style but ups the game with fascinating cases that offer social commentary. FBI is available on CBS: All Access. Stream it HERE.
CSI: Crime Scene Investigation (CBS All Access)
CSI: Crime Scene Investigation was the first in the CSI franchise. It was a police procedural that highlighted the forensics elements of crime solving. The show aired from 2000 to 2015, lasting 15 seasons and joining the longest running TV show club. CSI mixed weekly cases with the personal struggles of the team members.
CSI: Crime Scene Investigation, like SVU, deals with a specialized part of the criminal investigation process. The reason CSI managed to be so successful is that it explored a division that most people had no knowledge about, and they showcased the investigative process in such a fascinating way that it built a very loyal fanbase, one that would gladly watch a reboot. Stream CSI: Crime Scene Investigation on CBS: All Access. Stream it HERE.
The Act (Hulu)
The Act is Hulu's original series about the real life story of Gypsy Rose Blanchard and her mother Dee Dee Blanchard. Patricia Arquette and Joey King star in this true crime story. The Act won Arquette an Emmy award for Outstanding Supporting Actress in a Limited Series.
The Act's leads Joey King and Patricia Arquette are the series' biggest strength, as they both give outstanding performances. The Act and Law and Order: SVU are similar in that Dick Wolf's hit series often features cases similar to the one depicted in the Hulu drama show. SVU even has an episode based on the Gypsy Rose and Dee Dee ordeal called Pathological. It aired in 2018. The Act is available on Hulu. Stream it HERE.
Unbelievable (Netflix)
Unbelievable is a Netflix miniseries that dramatizes real rape cases that happened in Washington and Colorado from 2008 to 2011. It follows a young girl, Marie (Kaitlyn Dever) who makes a rape allegation that no one believes. It also follows the two detectives Karen (Merritt Wever) and Grace (Toni Collette) determined to get to the truth.
Merritt Wever, Kaitlyn Dever, and Toni Collette all give stunning performances in their perspective roles. Unbelievable, like SVU, deals with the difficult topic of rape and sexual assault. It's not an easy show to watch but a powerful one for its portrayal of how the justice system can both fail and vindicate a sexual assault survivor. Stream Unbelievable, the Netflix original series HERE.
Orange Is The New Black (Netflix)
Orange is the New Black is a Netflix original series that follows Piper (Taylor Schilling) as she heads to prison for a crime she committed ten years prior. The series follows the women and law enforcement of the Litchfield prison. Each episode of Orange is the New Black deals with the plot of the season, while highlighting a specific prisoner and showing how their past led them there.
Orange is the New Black takes a dark comedy approach to the criminal justice system—often being very critical of police officers, and often making them the villains. SVU shows how the justice system tries hard to help those in trouble, even if it fails. The shows share in their ability to address the circumstances that can lead to people becoming criminals, whether it is love, environment, or a crime being committed to them. Both series also address how the criminal justice system doesn't always succeed. SVU has done episodes where Olivia and crew have regretted their approach to a crime or criminal. Stream all seven seasons of Orange is the New Black HERE.
Other Law And Order Series
Law and Order: SVU is part of a seven series franchise. Hate Crimes is the latest one in development. Unfortunately, some of the Law and Order franchise shows are airing in syndication, so they are not available (at the moment) to stream without a cable subscription. However, the Law and Order franchise will be available to stream when the Peacock streaming service launches nationwide on July 15. Until then, the series are available for purchase digitally or stream on NBC...
Law And Order
Law and Order began in 1990 and ended in 2010. It takes a more generalized account of the New York justice system. The cases vary from murder to neglect. Law and Order seasons are available to purchase on most major digital platforms, such as Amazon Prime and iTunes. Buy Law and Order HERE.
Criminal Intent
Vincent D'Onofrio and Kathryn Erbe star in Law and Order: Criminal Intent, a series more focused on the criminals behind the crimes than the victims. Uniquely, Criminal Intent sometimes started with viewers knowing who committed the crime, and then showing the events that followed. Law and Order: Criminal Intent is available to purchase on iTunes, Amazon Prime, Vudu, and other digital services. Buy Criminal Intent HERE.
Trial by Jury
NBC cancelled Law and Order: Trial By Jury after only 13 episodes. It put the trial part of the criminal justice system as the focus: viewers watched the lawyers prepare for the case and the trial. The entire series is available to stream on NBC.com. Stream Law and Order: Trial by Jury HERE.
Los Angeles
Law and Order: LA was Dick Wolf's first attempt to expand his worlds beyond New York. Unfortunately, this wasn't nearly as successful as his original Law and Order series and the One Chicago series. NBC cancelled Los Angeles after one season of 22 episodes. It had the same format as regular Law and Order but with the Los Angeles location. Terrence Howard and Alana de la Garza were two of the series' leads. Stream Law and Order: Los Angeles on NBC.
True Crime
Law and Order: True Crime is the franchise first anthology series. The first season followed the true life events of the Menendez Murders. It starred Edie Falco. Law and Order: True Crime's first season aired from 2016 to 2017, but hasn't been officially cancelled or renewed. The first season of the series is available to stream on NBC's website. Stream Law and Order: True Crime HERE.
If none of these series spark your interest, then you can always just rewatch all 21 seasons of Law and Order: Special Victims Unit on Hulu. Stream it HERE.
Spent most of my life in various parts of Illinois, including attending college in Evanston. I have been a life long lover of pop culture, especially television, turned that passion into writing about all things entertainment related. When I'm not writing about pop culture, I can be found channeling Gordon Ramsay by kicking people out the kitchen.
Your Daily Blend of Entertainment News
Thank you for signing up to CinemaBlend. You will receive a verification email shortly.
There was a problem. Please refresh the page and try again.