The Awesome Way Parks And Recreation's Reunion Updated The Characters' Stories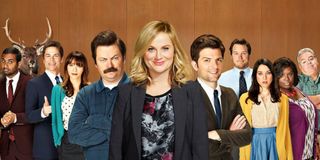 (Image credit: NBC)
Spoilers ahead for the special Parks and Rec reunion episode on NBC.
The whole Parks and Recreation gang got back together for a reunion episode on NBC… sort of. In a 30-minute special in support of Feeding America, executive producer Mike Schur recruited Amy Poehler, Nick Offerman, Rashida Jones, Rob Lowe, Adam Scott, Aziz Ansari, Chris Pratt, Aubrey Plaza, Retta, and Jim O'Heir (along with some very familiar guest stars) to reprise their roles for a socially-distant installment. The reunion episode provided some hilarious updates on where these characters are and how they're handling quarantine.
Filmed remotely, the episode follows the characters chatting with each other to make sure that everybody is okay despite current events. So, read on for a rundown of what's happening with the likes of Leslie Knope, Ron Swanson, and more!
Leslie Knope (Amy Poehler) And Ben Wyatt (Adam Scott)
In true Leslie Knope style, Amy Poehler's character insisted on a phone tree with all of her Pawnee pals. Hard at work at the Department of Interior (and cheerful despite having to close all the national parks in her jurisdiction), Leslie still loves to admire Ann's beauty, volunteer for several committees (that she created), catch up with her friends, and try to spread her good messages even when they fall on the deaf ears of Pawnee press. All things considered, she's only getting two hours of sleep instead of her regular four.
As for Ben Wyatt, he's dealing with quarantine a little less well than his wife. Stuck at home with the kids despite his status as a congressman, Ben has returned to two of his standbys: the Letters to Cleo t-shirt and the Cones of Dunshire game. He broke out of his haze of writing a screenplay for a claymation Cones of Dunshire movie to join Leslie in trying to inform friends and Pawnee reporters about social distancing. Also, he still doesn't get the hype around Li'l Sebastian. Come on, Ben!
Ron Swanson (Nick Offerman)
Ron Swanson has been preparing for social distancing all his life, so he's handling current events pretty well. In fact, he's had enough time for hunting that he has stocked up 12-years-worth of venison jerky. He's still with Diane, but his remote location and happy marriage didn't stop Tammy 2 (played by Nick Offerman's real-life wife Megan Mullally) from tracking him down. Despite being left to the wolves, Tammy 2 escaped, and Ron is afraid for the wolves.
April Ludgate (Audrey Plaza) And Andy Dwyer (Chris Pratt)
April Ludgate is dealing with quarantine by throwing all of her clothes in a garbage bag and always wearing the first five things she pulls out. Despite still being married to Andy, she and her husband are in separate rooms, for very good (and hilarious) reasons. Andy managed to get himself locked in the shed, and April is leaving him to figure it out for himself. Why? Because Burt Macklin doesn't need help.
Andy Dwyer has not yet figured out how to unlock the shed and has been stuck inside for two days, but he's not upset with April and his isolation gave him time to do what's really important: reprise his role as Johnny Karate to poorly educate kids about washing their hands and, of course, serenade his friends with a rendition of "5000 Candles in the Wind" for Li'l Sebastian. R.I.P. Li'l Sebastian.
Ann Perkins (Rashida Jones) And Chris Traeger (Rob Lowe)
Ann Perkins is all by herself without her husband or kids in the phone tree, but for good reason! She went back to her job as a nurse to help out in Michigan in light of the coronavirus, so she's isolating herself for the safety of Chris and the kids. They're still in the same house, but safely apart. Way to help out, Ann!
As for Chris Traeger, he's happily supporting his wife and doing his part for the CDC by donating blood four times a week because he is extremely healthy. Unsurprisingly, his blood type is just plain positive, and his red blood cells are so big that they're visible to the naked eye. Chris is apparently a "super healer," along with Megan Rapinoe and a panther from the Miami zoo.
Tom Haverford (Aziz Ansari)
Tom Haverford was supposed to be in Bali with Lucy, but the book tour that would have ended with him in paradise was cancelled. He's still thinking of entrepreneurial ideas, including double-breasted pajamas, protective masks with the teeth of other people (like Timothée Chalamet) printed on them, tiny iPads for each finger, and lasagna that is also toilet paper. Tom is going a little stir crazy.
Donna Meagle (Retta)
Donna Meagle is still with Joe, who is teaching from home, and Donna has decided that every teacher deserves "a brand new Mercedes after all this." She already got Joe a Mercedes, though! Considering her Mercedes purchase and the fact that she was chatting with Tom from within her gigantic closet packed with clothes and shoes, she's clearly doing just fine for herself!
Garry Gergich (Jim O'Heir)
Sadly, nobody still likes Garry Gergich, and cancelling the annual Pawnee Popsicle Lick And Pass didn't make him any friends. He hasn't mastered the art of phone filters, but he did set Leslie and Ben's media blitz about official health guidelines up with some Pawnee press. Garry's marriage is still seemingly going strong, at least!
Recurring Characters
Would the special reunion episode of Parks and Rec have been complete without some of the most memorable recurring characters of the original seven seasons? Paul Rudd actually opened the episode as Bobby Newport, sporting a "Knope 2012" sweatshirt and filming from his family's fox hunting state in Switzerland, where he has not yet caught a fox.
Mo Collins was back as Joan Callamezzo, whose Pawnee Today became Joan at Home, and Joan has a whole bunch of creepy dolls keeping her company. And hey, she has an EGOT! Joan has officially been banned from the Emmys, Grammys, Oscars, and Tonys.
Also back was Jason Mantzoukas as Dennis Feinstein, whose "Miracle Cure" cologne kills everything in comes in contact with and therefore must also kill viruses. Jay Jackson was in the mix as Perd Hapley for a quarantine version of Ya' Heard? With Perd, whose delivery has not been impacted by the worldwide pandemic. Jon Glaser starred in a commercial as Dr. Jeremy Jamm, complete with quarantine self-haircut, offering to talk people through their dental procedures that might be legal.
The special episode surely wouldn't have worked without Ben Schwartz making an appearance as Jean-Ralphio Saperstein, who just got run over by a Porsche and is reaping the financial rewards. He bought an enormous house with no furniture, and got commercial time with nothing to advertise but his personal phone number, which of course is (930) 1-RALPHIO.
The episode ended with the whole cast (even Ben!) singing along to "5000 Candles in the Wind," and if you didn't already think Parks and Rec needs to come back for more, this special might be enough to convince you. That said, this episode was to raise money and awareness for Feeding America and not the first episode of a revival on NBC, so be glad that the whole cast went the extra mile to make it happen!
Your Daily Blend of Entertainment News
Laura turned a lifelong love of television into a valid reason to write and think about TV on a daily basis. She's not a doctor, lawyer, or detective, but watches a lot of them in primetime. Resident of One Chicago, the galaxy far, far away, and Northeast Ohio. Will not time travel, but will sneak references to The X-Files into daily conversation.