The Funniest Parks And Recreation Cast Members, Ranked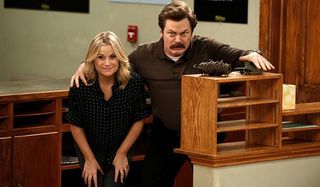 The Parks And Recreation cast has become legendary since it started its run on NBC a decade ago -- yes a decade -- in 2009. Not only did the show produce some of the biggest stars in Hollywood today, like Chris Pratt and Aziz Ansari, but its endless parade of guest stars and cameos is also amazing.
Parks & Rec had an amazing ensemble cast, each of whom brought some unique and hilarious to the project. Characters like Tom Haverford and Ron Swanson have broken free of being mere sitcom characters and have become cultural icons. The actors who played them are still some of the funniest people in Hollywood and have continued to make audiences laugh long after the show wrapped up its final episode in 2015.
But which are the funniest? In a cast that includes Amy Poehler, Aziz Ansari, Nick Offerman, and Rob Lowe, not to mention smaller cameos and guests starring roles from the likes of Bill Murray, Andy Samberg, Dan Castellaneta, Patricia Clarkson, Henry Winkler, and so many more legends, how do you rank them? Well, let's take a shot here.
10. Rashida Jones (Ann Perkins)
On Parks And Recreation, Rashida Jones plays the kind and loving nurse and best friend to Leslie, Ann Perkins. While Ann is generally positive and bubbly, she has a dark streak in her too. Her low-key, measured and often deadpan reactions to the chaos that her co-stars create on Park & Rec are fantastic as she often seems to be the only sane person in Pawnee, Indiana.
Rashida Jones herself is Hollywood royalty, as the daughter of Golden Globe-winning actress Peggy Lipton and legendary music producer Quincy Jones. She first hit the big time when she starred as Karen on The Office. Jones is also a writer and a producer and was involved early on as the co-writer on Toy Story 4, and she has also written or co-written an episode of Black Mirror and the underrated rom-com Celeste & Jesse Forever (in which she also starred alongside Andy Samberg).
9. Adam Scott (Ben Wyatt)
Sir Ben Wyatt is the both hapless and brilliant love interest of Leslie Knope. Wyatt is basically a socially inept, awkward nerd who comes to town with a truckload of political baggage thanks to his ill-fated term as the youngest mayor in America in his hometown of Partridge, MN. He also holds a knighthood from the Queen of England and owns his very own Iron Throne from Game Of Thrones.
Adam Scott is a brilliant comedic actor who effortlessly plays understated characters and who brings humor in subtle and unexpected ways, well, except for his over-the-top and ridiculous coke-fueled character in Eastbound & Down. Even still, his character is like a more understated version of Kenny Powers, with a filthy mouth and messed up sense of humor.
8. Billy Eichner (Craig Middlebrooks)
Billy Eichner was a late addition to the Parks and Recreation cast, joining the show in Season 6 when Pawnee merged with Eagleton and he transferred to the parks department. His loud, overly enthusiastic and fairly angry character was a completely new voice for the show.
Since his stint on Parks & Recreation ended, it sure seems like Billy Eichner is everywhere these days, usually playing himself or some version of himself, screaming and carry on wherever he pops up, from late night talk shows to The Simpsons and everywhere else. He's even got a part in the upcoming Lion King remake. His loud, brash humor is as hilarious as it is uncomfortable.
7. Rob Lowe (Chris Traeger)
When Rob Lowe joined the cast in Season 2, it was only supposed to be for a quick run as a guest star, but the character was so popular and Lowe liked it so much, he soon joined the cast full time as State Auditor and uncompromising health enthusiast Chris Traeger. Chris Traeger is literally one of the funniest characters Rob Lowe has ever played.
By the time he joined Parks & Rec, Rob Lowe was obviously already a huge star, going back to his "Brat Pack" days in the '80s when he starred in movies like St. Elmo's Fire, and About Last Night, not to mention his hilarious roles in Tommy Boy and Austin Powers: International Man Of Mystery. While Rob Lowe has also played serious, dramatic roles, most notably as Sam Seaborn on The West Wing, his charm and humor have always shined through, no matter the role. He also hasn't doesn't take himself too seriously, popping up in cameos all over the place, or starring in movies like Sex Tape, having been one of the original celebrities to deal with the release of one way back in the late '80s.
6. Aubrey Plaza (April Ludgate)
Aubrey Plaza's April Ludgate was such an underused character at the beginning of the Parks and Recreation run. It took some time for the character to properly develop but once she did, it was spectacular. Her unpromisingly dark and nihilistic attitude is the direct foil to her unfailingly positive boyfriend/husband Andy Dwyer and together they are one of the funniest couples in sitcom history.
For her part, Aubrey Plaza has become a huge star since the show, starring usually as a similarly dark character in movies like Dirty Grandpa with Robert De Niro and Mike And Dave Need Wedding Dates, not to mention the upcoming reboot of Child's Play. But her best post-Parks & Recreation role may just be as Aaron Burr in the Hamilton episode of Drunk History. It is seriously funny.
5. Megan Mullally (Tammy Swanson – Tammy II)
Tammy II is Ron Swanson's second wife and the bane of his existence. She is also the director of the Pawnee Public Library and the bane of Leslie's existence. She is manipulative with both characters and serves as a unifying force for both characters to team up against.
Tammy II is played, of course, by the fantastic Megan Mullally, the real-life wife of Nick Offerman and now an often comedic partner with her husband. For 20 years she has been one of the funniest people in Hollywood, first making a big name for herself in her Emmy-winning performance as Karen Walker on Will & Grace starting in the late '90s. Since then, she's has shown up in a string of hits, like Boston Legal, 30 Rock, The New Adventures Of Old Christine, and many more, including her current portrayal as Nick Offerman's sleazy wife in the Sling Box commercials that make commercial breaks worth watching.
4. Chris Pratt (Andy Dwyer)
It's hard to argue that by far the biggest breakout star from Parks And Recreation is Chris Pratt. His character Andy Dwyer started as more or less a side character, a failed musician and deadbeat boyfriend of Ann Perkins who falls into the hole behind their house and ends up working for the Parks Department after marrying April.
As for Chris Pratt, he is now one of the biggest stars in the world, starring in three of the biggest franchises in Hollywood. First as Emmet in The Lego Movie, then as Star-Lord in Guardians Of The Galaxy, and also as the dinosaur handler Owen Grady in Jurassic World and its follow-up, Jurassic Word: Fallen Kingdom, with another Jurassic World movie expected in 2021.
3. Aziz Ansari (Tom Haverford)
Tom Haverford has, by far, the most laugh-out-loud lines in Parks And Recreation. His ridiculously bougie aspirations keep the laughs coming from the first episode until the last. He was an early highlight on a show that was notoriously slow to find its footing in the first season. Luckily, once the comedy picked up speed, his character never lost the funny.
Aziz Ansari was another huge breakout star of the show. His multiple stand up specials and his Netflix show Master Of None have been huge hits and Ansari is one of only a handful of stand-up comedians to sell out Madison Square Garden in New York. That tells you everything you need to know about how funny he is.
2. Amy Poehler (Leslie Knope)
The star of Parks And Recreation and one of the funniest people in Hollywood, Amy Poehler has become a legend. Her character, Leslie Knope is a brilliant "every man (or woman)," determined to do good and make the world, or her small part of it, better. Her aspirations should be the aspirations of everyone, except for maybe the obnoxious (but hilarious) enthusiasm for everything. Literally everything.
Poehler got her first big break as a cast member on Saturday Night Live, during one of its most creative and funniest periods, alongside fellow cast members Will Ferrell, Jimmy Fallon, Tina Fey, Seth Meyers, and Tracy Morgan. Amy Poehler has written and starred in countless movies, often with her fellow SNL alum Tina Fey and has been praised for hosting both SNL and The Golden Globes, winning an Emmy for the former. Her latest project, Wine Country, can be found on Netflix.
1. Nick Offerman (Ron Swanson)
Ron Swanson is the undisputed king of Parks And Recreation. As the ornery "man's man" who heads the department with an attitude that since government is inherently bad, the best way to do a government job is to barely do anything at all, Ron Swanson is great at doing very little at work. He balances his lack of hard work on the job with a slew of "manly" hobbies, like fishing, hunting, woodworking, lounge singing, meat eating, and ex-wives named Tammy.
Nick Offerman's performance as Ron Swanson puts him in the upper echelon of all-time great sitcom characters, up there with George Costanza, Michael Scott, Liz Lemon, Norm Peterson, and any other great you can think of. In the years since Parks & Rec he has starred in stand-up specials, movies and TV shows like The Lego Movie, The Founder, Fargo and most recently in Amazon Prime's Good Omens. It's hard to image how funny life must be at home for two people like Offerman and his wife Megan Mullally.
Of course, there are characters and actors we've left off that hurt a lot to leave off, like both Saperstein siblings, Jean-Ralphio and Mona-Lisa, or their father Dr. Saperstein, played by Henry Winkler. There are three Tammys and only one made the list but all three are amazing.
By far the hardest to leave off are the other two full time employees of the Pawnee Parks Department, Donna, played by Retta and Jerry/Garry/Larry/Terry played by Jim O'Heir. They deserve better, as they are amazing too. But a ranked list is a ranked list and this time they didn't quite make the cut. Although if we were ranking by best one-liners, "treat yourself" would have to be on there.
Your Daily Blend of Entertainment News
Hugh Scott doesn't believe aliens are hidden at Area 51 or that Elvis is alive, but he does believe birds are real and Meghan Markle isn't treated fairly by the tabloids. He's been writing about music, movies, and celebrities for most of his adult life after realizing stocking shelves in a paper warehouse in college wasn't all it was cracked up to be.
Your Daily Blend of Entertainment News
Thank you for signing up to CinemaBlend. You will receive a verification email shortly.
There was a problem. Please refresh the page and try again.