How Council Of Dads Is Handling Its Big Death Differently Than This Is Us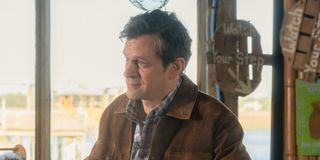 (Image credit: NBC)
Spoilers ahead for the second episode of Council of Dads Season 1 on NBC, called "I'm Not Fine."
Council of Dads has officially returned to NBC with its second episode, airing more than a month after its original premiere following the Season 4 finale of This Is Us. Since Council of Dads' very first episode ended with the heartbreaking death of a father, comparisons to This Is Us and the death of Jack Pearson were inevitable. Of course, This Is Us has brought Milo Ventimiglia back many times despite Jack's death, whereas the second episode of Council of Dads didn't feature much new footage of Tom Everett Scott's Scott. So, how will the two NBC family dramas compare, especially with such a big death early on?
Showrunner Tony Phelan chatted with CinemaBlend about how Council of Dads is handling the big death differently than This Is Us. When asked if Tom Everett Scott will reprise his role as Scott despite Scott's death at the end of the series premiere, Phelan said this:
While fans haven't seen the last of Tom Everett Scott as Scott on Council of Dads, this isn't a situation like This Is Us spending so much time in the past via flashback. Notably, Tony Phelan (who previously served as co-showrunner of Grey's Anatomy) didn't rule out Scott's appearances coming via flashback, but simply said that this is a series about moving forward rather than always looking back. And hey, there are always dream sequences, hallucinations, and/or video recordings as possibilities, right?
Council of Dads will continue to get creative in how it handles time, even if not constantly jumping back and forth between past, present, and future. As viewers know, the series premiere tackled a year in the life of the family as Scott went from diagnosis to death within the span of an hour, but the second episode covered only days.
While enough time passed for Luly to make her decision not to move to New York and to meet her birth mom, JJ (and Oliver) learn how to ride a bike, and Anthony to drop the bombshell that he's Luly's biological dad, not nearly as much time was covered in "I'm Not Fine" vs. the premiere. Explaining why Council of Dads started with Scott's story before actually getting into the council, Tony Phelan said;
Council of Dads doesn't need flashbacks (or flash-forwards) to play with time, and viewers can look forward to an episode spanning several months at some point in the first season. Season 1 did finish filming before production halts across the television industry, so the story of the council of dads and the Perry family won't be cut short.
Even with Tom Everett Scott returning to Council of Dads and Scott's continued impact as his family moves forward, the show will of course continue to develop the characters who make up the council. Anthony isn't the only one with a lot to deal with when it comes to the Perry kids. Tony Phelan shared some details about what's to come:
The ensemble of Council of Dads will continue to mix rather than just pair off, even if some ties are more natural than ever. Robin and Oliver were close friends before Scott died and appointed Oliver as one of the men to help his kids with "dad" stuff, whereas Larry seems determined to lend a hand wherever he can.
Larry may not always be the most tactful or delicate, but Theo has already responded to his brand of help, and JJ might not be able to ride a bike yet if not for Larry! That's not to say that the dads won't be dealing with issues of their own. Tony Phelan teased what's ahead:
Fortunately, Council of Dads won't be going away any time soon. The first season received an order for ten episodes, so there is still plenty to come for the extended Perry family. Council of Dads moves to its regular time slot on Thursday, May 7 at 8 p.m. ET on NBC.
For some additional viewing options now and in the not-too-distant future, be sure to check out our 2020 spring premiere schedule and our 2020 summer premiere guide. Council of Dads is only one of several shows that managed to finish filming before production had to stop, so primetime isn't running out of content even if some of TV's biggest shows wrapped early.
Resident of One Chicago, Bachelor Nation, and Cleveland. Has opinions about crossovers, Star Wars, and superheroes. Will not time travel.
Your Daily Blend of Entertainment News
Thank you for signing up to CinemaBlend. You will receive a verification email shortly.
There was a problem. Please refresh the page and try again.