How Abuse On The Set Of One Tree Hill Still Affects Hilarie Burton's Life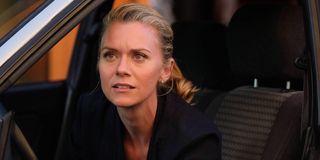 One Tree Hill ended its nine-season run in 2012, but series star Hilarie Burton left the show in 2009, later alleging that she suffered years of abuse at the hands of showrunner Mark Schwahn, which reportedly included being kissed on the mouth against her will. Burton provides further details about her years on the show in her new memoir, The Rural Diaries, and she recently opened up about how the abuse on the set of One Tree Hill still affects her life.
In 2017, a former One Tree Hill writer named Audrey Wauchope tweeted that she and her writing partner at the time had been sexually harassed when they worked on the show in Season 7. That, in turn, prompted Hilarie Burton and 17 other women — including Chicago P.D.'s Sophia Bush — to write a letter accusing Mark Schwahn of sexual harassment. Following the allegations, an internal investigation was conducted that ultimately resulted in Schwahn's firing from his job as The Royals' showrunner. In the pages of The Rural Diaries — which is out May 5 — Burton offers more insight about the allegations and her experiences with Schwahn. Burton says the years of abuse still pisses her off to this day and has impacted her life and kids:
Hilarie Burton concedes to People that her time on One Tree Hill wasn't all bad, but says that the alleged abuse she suffered through heavily weighed on her. She recalls being told not to tell anyone at Warner Bros. about the alleged harassment from Mark Schwahn because it would end her career and she'd be "labeled a troublemaker."
What's more, Hilarie Burton says she's spoken to her ten-year-old son Gus about her experience on One Tree Hill, at least to some degree. Here's how she frames it for him in terms of why she continues discussing all the good and bad aspects of her years on the show:
More recently, Hilarie Burton and her husband, The Walking Dead's Jeffrey Dean Morgan, currently host the weekly Friday Night In with the Morgans, a video chat-based series on AMC that's filmed on Burton and Morgan's farm in upstate New York.
Stay tuned to CinemaBlend for updates. In the meantime, be sure to check out our 2020 summer TV premiere guide for more on what to watch in the coming months.
Your Daily Blend of Entertainment News