Why A One Tree Hill Revival Needs To Star The Original Cast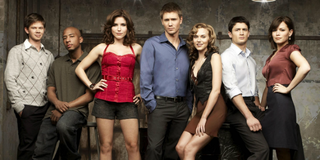 (Image credit: The CW)
One Tree Hill is one of those shows that I truly miss, even years after it left the airwaves. It ended its run with nine seasons in 2012. The past seven years have been tough without its huge drama and compelling characters. Considering how long it has been since it went off the air, there is an unmistakable desire for a revival.
Given how nostalgic television has been recently, a revival seems more possible than ever. If that day ever comes, there is one thing that would need to happen. It cannot be a reboot. Revisiting One Tree Hill needs to happen via a revival that stars as much of the original cast as possible. In other words, whoever would agree to return.
In the show's series finale, there was a sense it may have been opening itself up to continue via a follow-up series. That theoretical show could focus on Haley and Nathan's son, Jamie, as he pursues basketball in high school. Remember, he was shown as a teenager entering the basketball court playing for the Ravens in the series' final scene.
Many of the main characters had kids when One Tree Hill finished. Jump forward a few more years after the series finale and an argument for One Tree Hill: The Next Generation could get made. The children of Brooke, Peyton, etc., would be the characters that television executives could be tempted to shift towards.
However, it feels way too soon for the original cast to be handing over the torch. Those characters still have a lot of stories to tell. I would want a revival to keep its focus on the original cast of characters. They are the reason that so many fans tuned in to watch. Finding out where their stories are today and watching where they head would be the hook.
Viewers have a history with Brooke, Peyton, Lucas, Haley, Nathan, Skills, Mouth and so on. While the new set could be fleshed out and become beloved, they could not take the originals' spot. Watching a show's first cast play supporting characters has not been fun to watch when done by other revivals.
I am unlikely to be the only fan curious to know what One Tree Hill's original characters would be doing today. At this point, many of them would be settled into their marriages, and it would be fun to know what excitement they have in their lives. If there is one thing that was never in short supply in Tree Hill, it was drama.
You may be wondering if it would be possible to get everyone back. It may not be, which is fine. One Tree Hill has shown itself to be no stranger to self-contained rebooting. However, it may also be possible to get a lot of the original cast back together for a revival. Hopefully including Peyton, who never returned, while Lucas did.
Last year, Hilarie Burton said that she wanted to do a project with Sophie Bush (Brooke) and Bethany Joy Lenz (Haley) in the future. What better outing than a revival of One Tree Hill? It could focus on Peyton, Brooke, and Haley's dynamic if their spouses were unable to return.
Explanations could be given for why they are not shown, if the actors won't return. However, that would be a huge shift. Much like Fuller House not having enough of Danny, Jesse, Joey, and Becky when it got started, it could be a bad thing. That is something every revival should want to avoid. If it can get the cast together and they are willing to take a prominent role, then crisis averted.
If One Tree Hill cannot get everyone back, the show could pivot to include new characters to fill the void. During its initial run, the show proved it could re-shuffle and bring in new additions that became fan favorites.
When Chad Michael Murray and Hilarie Burton left the show in Season 6, they took Lucas and Peyton with them. The following season, One Tree Hill introduced Haley's sister, Quinn, and Nathan's sports agent, Clay. They ended up fitting in wonderfully, in my opinion. They became core characters this viewer could root for as much everyone else.
To have the original core cast back would be great, along with some of the familiar faces that came in throughout its run, either starring or putting in appearances. It is worth noting that the cast that sent the show off was brilliant.
Not having Dan around is a tough loss for the revival. He was killed off in the final season. Dan fueled a lot of the villain-looking-for-redemption arcs that pulsed through the series in a positive way. Tree Hill without Dan will be an adjustment. Unless Dan had a secret identical twin the show never told viewers about, who could come to town.
Thankfully, a lot of the One Tree Hill cast remains close. That is a positive sign that a revival could eventually come about in the future. Plus, much of the cast is available.
Many of the show's actors came back together for a Lifetime Christmas movie in 2018. At the time, Hilarie Burton expressed interest in doing a Christmas movie revival. That's a pitch that I really hope someone was listening to and makes happen. It is a fantastic idea!
The beauty of One Tree Hill is that even though it went on for nine seasons, it felt endless. There always seemed to be another great story lurking around the bend. When Season 9 finished, there was no lack of storylines left to continue pursuing. Julian did have that Tree Hill-inspired TV show.
Imagine the One Tree Hill revival opening with Julian lamenting the end of his TV show as a wink to fans as the real One Tree Hill is actually making its return. Symmetry.
It would be so much fun to find out how Haley and Nathan are doing. How are they handling being parents to a teenager? Is Brooke's company Baker Man still doing well? Did Peyton and Lucas ever stop traveling? Has Skills found everlasting happiness with Bevin? See? No shortage of questions.
If One Tree Hill returns, it will probably have to deal with that time jump it put in its finale. Getting away from that timeline would be tricky. Seven years have passed since it aired, so it would make sense to pick up where the show ended.
Many of the shows that were beginning when One Tree Hill was ending are now coming to an end. What better time to start the drama back again? It would be The CW coming full circle.
You can currently binge all nine seasons of One Tree Hill on Hulu (opens in new tab).
Like a contented Hallmark movie character, Britt happily lives in the same city she grew up in. Along with movies and television, she is passionate about competitive figure skating. She has been writing about entertainment for 5 years, and as you may suspect, still finds it as entertaining to do as when she began.
Your Daily Blend of Entertainment News
Thank you for signing up to CinemaBlend. You will receive a verification email shortly.
There was a problem. Please refresh the page and try again.