Superstore's Best Amy Episodes To Watch After America Ferrera's Departure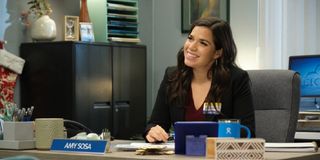 Be warned that this post contains some spoilers through Season 5 of Superstore.
America Ferrera, who has played Amy Sosa for five seasons on Superstore, announced that she was leaving the show and that Season 5 would be her last. It was rather depressing news because, though the NBC workplace comedy is an ensemble, Ferrera's Amy has been the show's most grounding character.
Superstore recently wrapped Season 5 with an emotional storyline that saw Amy being offered a corporate job with Cloud 9's parent company, Zephra, in California. After telling Jonah of her decision to move, he chose to join her. Given that it was meant to be a two-part finale, Amy's goodbye was cut short and postponed until early Season 6. However, Amy is still very much leaving Cloud 9 behind for bigger and better things.
In celebration of her time on the series, here are eight of Superstore's best Amy-centered episodes to watch after America Ferrera's departure.
8. Season 1, Episode 3: "Shots And Salsa"
Amy is often at her best when she's trying to explain to others that something's not right, but somehow ends up mired in the nonsense of it all anyway. The Season 1 episode "Shots and Salsa" is the first of many examples where this happens on Superstore.
While Amy is trying to stop a Cloud 9 employee from serving salsa by faking a Mexican accent, questions of authenticity and racial stereotypes bubble to the surface. Amy calls into question the problematic nature of pushing said stereotypes to sell products, but eventually finds herself in the same situation she attempted to thwart. The episode is the first example of Amy's sense of justice.
7. Season 2, Episode 3: "Guns, Pills, and Birds"
Amy eventually becomes the manager of Cloud 9, but Superstore has shown off her managerial skills long before the title made it official in Season 4. In this Season 2 episode, Amy is stuck doing damage control and trying to keep the peace following Jonah's refusal to sell guns at the store counter. Amy, being the level-headed logical one, puts a stop to all the nonsense by calling out everyone's hypocrisy.
Standing atop the cashier counter, she asks everyone to keep themselves in check after gun owners show up to the store in protest of Jonah's refusal to sell them their ammo. The episode is a prime example of how well Amy can handle a diverse group of people, values, and chaotic situations. They tend to happen a lot at Cloud 9!
6. Season 2, Episode 10: "Lost and Found"
Amy is often unlucky, so when she finds hundreds of dollars in the lost and found, she debates whether to keep it for herself or give it back to the store. Jonah convinces her she should keep the money and do something for herself for a change. She eventually agrees, but not before the rest of her co-workers find out that she has the money.
Out of guilt and a deep sense of fairness, Amy buys everything needed to finally upgrade the employee lounge. Though she later gives the money back to its rightful owner, the episode showcases how much Amy values her coworkers and puts the needs of others ahead of her own, even to the detriment of her well-being sometimes.
5. Season 3, Episode 8: "Viral Video"
Amy isn't considered the coolest person at Cloud 9, though she's often tried to prove many wrong whenever a co-worker offers a hot take about her personality. Season 3 is one of the show's best and it's also the season where Amy is openly jealous of Jonah's relationship with Kelly, Cloud 9's new employee.
Hilarity ensues when Amy can't wrap her head around why Kelly's Instagram videos are getting so much attention, so she works to prove that she can do the same to get views. Amy tries everything and it's all over-the-top and embarrassing. However, things take a turn for the worse when she gets in trouble for posting a (finally viral) video revealing the rats in the store bakery. Whoops!
4. Season 3, Episode 19: "Lottery"
Amy has been an employee at Cloud 9 for over a decade and, after finding out that she was pregnant, decides to ask Glenn for a raise. She's reluctant to do it, but Jonah encourages her. However, while Glenn says he'd love to give her a raise, the decision is out of his hands.
So, Amy winds up taking the day to track down the district manager, Laurie, at a golf course. It's the first major step in Amy putting herself out there and asking for the raise she deserves, even if things don't turn out well — Amy's raise is rejected after she accidentally hits Laurie with the golf cart. But, hey, she tried!
3. Season 4, Episode 4: "Costume Competition"
Once again, Amy walks the fine line between fairness and stereotypes. Only in "Costume Competition," she and Mateo try to use the latter to their advantage in order to win a paid vacation day for having the best Halloween get-up.
Amy and Mateo convince Sandra that Cheyenne's costume is offensive before working their way through the entire store in hopes that others will lose. The episode is great in that it inadvertently opens up a thoughtful discussion about what is and isn't considered offensive. It also showcases Amy's rather competitive side and desperation to win that coveted vacation day, cheating be damned.
2. Season 4, Episode 6: "Maternity Leave"
Nothing screams retail work like the lack of benefits. After giving birth to Parker, Amy has to go back to work immediately after and she's appalled to discover that she doesn't qualify for maternity leave.
Amy is understandably exhausted, annoyed, and ready to snap at anyone from the lack of sleep and the unfairness of having to resume working. She's able to do her work, but she obviously isn't happy about it at all. America Ferrera puts in a great performance and gets to be visibly angry about her predicament, which easily highlights what's wrong with the system and how it affects new moms like Amy.
1. Season 5, Episode 13: "Favoritism"
Amy's attempts to make Mateo her assistant without interviewing anyone else for the job gets her into trouble. With the rest of Cloud 9's employees accusing her of favoritism, Amy sets up a round of competition for the rest of the staff to prove they're more qualified — though they're not wrong in assuming she only really likes a handful of the employees.
The episode exemplifies the relationships Amy has built with her co-workers over the years, how those relationships have changed since becoming manager, and how Amy has ultimately maintained a strong connection to all of them while trying to be fair to them in some way.
Superstore got a shortened Season 5 due to Hollywood-wide production shutdowns, but showrunners Jonathan Green and Gabe Miller have stated that America Ferrera will return in Season 6 to properly wrap up Amy's "unfinished business" before leaving for good.
All five seasons of Superstore are currently available to stream on Hulu. For more on what to watch, be sure to check out our 2020 summer TV premiere guide.
Your Daily Blend of Entertainment News