What The Parks And Recreation Cast Members Are Doing Now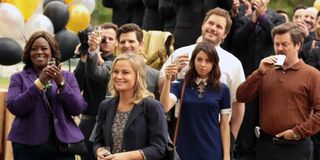 Never has the development of city parks and recreational facilities been so entertaining to watch than on Parks and Recreation. The NBC sitcom created by The Office writers Greg Daniels and Michael Schur made household names out of Aubrey Plaza and Chris Pratt, to name a few, and gave household names like Amy Poehler and Rob Lowe a large addition to their fanbase.
Since their final curtain call in 2015 (2017, by their timeline) after seven seasons (before the recent social distancing themed reunion special), the cast is busier than ever, if you have not noticed. Actually, I would honestly be surprised if you have not heard of any projects that at least a few of the Parks of Rec clan have been or are currently involved in. Seriously, they're everywhere.
To prove it, I have conducted a little research on the careers of the Pawnee Parks Department's off-screen counterparts. Treat yo' self to this post-Parks and Recreation retrospective.
Amy Poehler (Leslie Knope)
After seven seasons on Saturday Night Live, Amy Poehler left to play workaholic Leslie Knope. Following Parks and Rec's finale, the Golden Globe-winner lent her voice to Pixar's Inside Out, reunited with Tina Fey for Sisters, and made her directorial debut with 2019 Netflix dramedy Wine Country, but has been keen not to abandon her TV roots either, from reprising her Wet Hot American Summer role in Netflix's prequel and sequel series to co-creating and voicing the protagonist of Fox's Duncanville. Poehler will reprise another animated creation of hers, Bessie Higgenbottom from The Mighty B!, in the announced Nicktoons movie and also currently hosts NBC's homemade craft competition show Making It with a former co-star of hers uniquely suited for such a job.
Nick Offerman (Ron Swanson)
It is no surprise that some elements of Nick Offerman's performance as Ron Swanson are reflective of his real-life, particularly his passion for woodworking, which comes through in his duties as co-host of the aforementioned Making It. Furthermore, since Parks and Recreation ended, Offerman has kept busy acting in projects of a stunning variety, such as playing a McDonald brother in The Founder or a suspicious tech guru in Alex Garland's miniseries Devs. He also recently appeared on Will & Grace, starring his wife Megan Mullally, with whom he has written a book (opens in new tab) (The Greatest Love Story Ever Told: An Oral History) and currently co-hosts weekly podcast In Bed with Nick and Megan.
Rashida Jones (Ann Perkins)
Leslie Knope could not have asked for a better friend than nurse turned Pawnee Health Department PR Director Ann Perkins, played by Rashida Jones. The actress, has managed to keep in touch with some former Parks and Rec co-stars by continuing to work on projects together, like with Amy Poehler on Inside Out or with Adam Scott, who made a cameo on Steve and Nancy Carell's cop show spoof Angie Tribeca, which Jones played the title character of for four seasons on TBS. Jones has also done plenty of work outside of acting in films like Tag or opposite Bill Murray in Sofia Coppola's upcoming dramedy On the Rocks, such as co-writing Black Mirror's Season 3 episode "Nosedive" or co-directing a Netflix documentary about her father, music legend Quincy Jones.
Chris Pratt (Andy Dwyer)
Must I honestly have to list what Chris Pratt, just about the biggest movie star in the world right now, has been up to since saying goodbye to lovable idiot Andy Dwyer? Well, he has played galactic anti-hero Star-Lord in four MCU films (so far), led the cast of Jurassic World (the first in a trilogy slated to wrap up in 2021), and joined Antoine Fuqua's 2016 retelling of The Magnificent Seven - all of which he would poke fun at in the 2019 sequel to The LEGO Movie before voicing a teenage elf in Pixar's modern fantasy Onward the following year. Those are just the basics of what one of Parks and Recreation's biggest success stories has been up to, in addition to filming futuristic action thriller The Tomorrow War and struggling to get a role that will sum up pretty much everything he has already done (Cowboy Ninja Viking) out of its long development hell.
Aubrey Plaza (April Ludgate)
Aubrey Plaza has brought the same dry, morbid wit that defined her role as April Ludgate to roles in raunchy comedies like Dirty Grandpa, Mike and Dave Need Weddings, and Ingrid Goes West. However, the Latina actress has also expanded her horizons since, playing a mental patient from the X-Men universe in FX series Legion, a mother who unwittingly buys her son a murderous doll in the 2019 Child's Play remake, and the murderous Cat Adams in Criminal Minds, among others. In addition to starring in Best Sellers with Michael Caine and lesbian romantic comedy Happiest Season (both in post-production), Plaza plays a spider in The Ark and the Aardvark, an animated retelling of Noah's Ark, and will also do a 180 to that as the reluctant mother of the Antichrist in the announced FX animated comedy series Little Demon.
Aziz Ansari (Tom Haverford)
After finding modest success as part of the comedy trio Human Giant, Aziz Ansari gained a lot more street cred in the comedy world from playing Tom Haverford, an underachieving parks department administrator with dreams too big for his own good, at first, that is his prowess as an entertainer increased not long after Parks and Rec ended when he won a Golden Globe for Best Supporting Actor in a Comedy Series for Master of None, the highly inventive Netflix comedy series he co-created with Alan Yang that has yet to receive a third season. Otherwise, he has kept with a recurring appearance on Bob's Burgers and the culinary docuseries Ugly Delicious and made his most personal stand-up special yet with Spike Jonze-directed Netflix original, Right Now.
Adam Scott (Ben Wyatt)
By excluding Chris Pratt, I would have given Adam Scott the award for most transformative Parks and Recreation alum, if not for how eclectic his career had been before joining the cast from a small role in the sixth Hellraiser movie to the short-lived, but much loved 2009 sitcom Party Down. However, after playing Mr. Leslie Knope, Ben Wyatt, Scott was still no stranger to comedy from starring in Ghosted, The Good Place, or Between Two Ferns: The Movie as himself, but was getting more recognized in serious roles, like Black Mass, an episode of Jordan Peele's The Twilight Zone reboot, HBO's Big Little Lies, and a mix of both with respective horror comedies Krampus and Little Evil. He is keeping this train of versatility chugging with Severance, a recently announced workplace drama series for Apple TV+ which he will also co-produce with Ben Stiller.
Rob Lowe (Chris Traeger)
Rob Lowe is another actor with an eclectic career before, since, and during his Parks and Rec casting, known best for St. Elmo's Fire, Wayne's World, and The West Wing. It seems as if playing vastly energetic Chris Traeger gave the actor an enhanced enthusiasm to try just about anything, choosing animated detective parody Moonbeam City as one of his first projects after leaving the series, followed by an earnest medical drama (Code Black) and crime procedural (Wild Bill) within a few years of each other and a major role in Super Troopers 2 in between - that's just a few of his recent acting credits. Before his brief stint hosting game show Mental Samurai, he produced and starred alongside his sons in a paranormal investigation reality show called The Lowe Files. There is literally nothing this man will not try and God love him for it.
Jim O'Heir (Jerry Gergich)
The award for busiest cast member is most definitely Jim O'Heir despite the fact that, in all of his nearly 200 credits, the clumsy notary public Jerry (or Gary, or Terry, or Larry) is still his best known character and may continue to be for the rest of his life. Nonetheless, among his most notable ventures after his loving farewell on Parks and Recreation are playing Channing Tatum's boss in Logan Lucky, starring alongside former co-star Nick Offerman in Bad Times at the El Royale, donning puka shells for The Lonely Island's visual album The Unauthorized Bash Brothers Experience, and taking on a little revisionist history with Helen Keller vs. Nightwolves. There are plenty more to talk about, but those were easily the juiciest titles.
Retta (Donna Meagle)
It is no surprise how it took no time at all for Retta to be cast on another hit series (Girlfriends' Guide to Divorce) after the Parks and Rec finale, considering how effortlessly she stole every scene she was in as Donna Meagle, the sassy office manger of the Pawnee parks department. In addition to landing a role in the Netflix exclusive drama To the Bone, playing a mother in the 2019 comedy Good Boys, and becoming a published author in 2018 with her memoir So Close To Being the Sh*t Y'all Don't Even Know, the stand-up comedian's rise to prominence has not slowed down. She is currently on yet another hit NBC show, Good Girls, a more dramatic venture in which she plays one of a trio of suburban housewives pushed into lives of crime.
So, which Parks and Recreation cast member has had the best career after leaving Pawnee? Let us know in the comments and be sure to check back for more updates on the beloved mockumentary sitcom here on CinemaBlend.