Michael Buble Had To Get An MRI After Sledgehammer Incident On HGTV's Celebrity IOU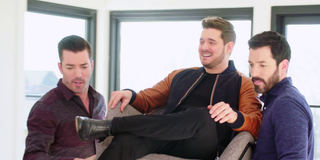 Handiwork doesn't always result in a feeling of satisfaction. Michael Bublé learned that the hard way after an appearance on HGTV's new show, Celebrity IOU. In the most recent episode of the series, which sees celebrities returning the favor to those who have heavily impacted their lives by renovating their homes, the singer got a little ahead of himself and wound up having to get an MRI after a sledgehammer incident.
Drew and Jonathan Scott, best known as the Property Brothers, have been bringing a slew of celebrity guests on their new show, Celebrity IOU. With the help of the HGTV staples, stars like Viola Davis, Melissa McCarthy, and Brad Pitt were able to renovate the homes of their nearest and dearest. In the episode called "Michael Bublé's Shocking Surprise!," the singer was all about renovating his late grandfather's home so that his former caretaker could live in it. However, Bublé may have gotten a bit too excited about demolition day. He picked up a sledgehammer to show the brothers "how tough I was," but it didn't turn out so great afterward. Here's what Bublé told ET:
Part of the reason Michael Bublé had to get an MRI is because he's apparently a hypochondriac, which is due to his 6-year-old son, who was diagnosed with cancer and is currently in remission. Naturally, the singer would want to make sure nothing's wrong after all that his son has experienced.
Michael Bublé went on to say that he could feel a distinct "knot in my ribs" whenever he tried to lift his arms after picking up the sledgehammer. That's what prompted him to get an MRI in the first place, and it's a good thing he did. His situation's definitely a lesson and reminder to always be safe when trying to lift heavy objects and working around the house in general. Say no to picking up sledgehammers unless it's safe to do so!
New episodes of Celebrity IOU air every Monday night at 9:00 p.m. ET on HGTV. The next celebrity to tackle home renovation with Drew and Jonathan Scott is none other than Rebel Wilson, who will be attempting to fix up the home of her hair stylist and best friend. For more on what to watch, be sure to check out our 2020 summer TV premiere guide.
Your Daily Blend of Entertainment News