Blindspot Star Reacts To Getting Killed Off In Season 5 Premiere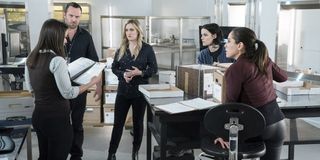 Warning! Major spoilers ahead for the Season 5 premiere of Blindspot.
The Season 5 premiere of Blindspot kicked things off with a major death that will shake up the rest of the season. It was shocking, to say the least. After Madeline Burke leveled the FBI team's safe house with a drone strike, everyone miraculously survived. Everyone except for Reade, that is. Following that game-changing death, Blindspot star Rob Brown reacted to his character getting killed off so early on in Season 5.
Reade and Zapata had only just gotten back together, so when Reade saw that she was trapped underneath some of the debris, he made the quick decision to shift his weight to get her out. However, that one move proved fatal and he was crushed. And so, the Season 5 premiere ended with a surprising fatality that will forever change the FBI team moving forward. Speaking with ET, Rob Brown revealed his feelings about Reade's death. Here's what he said:
That's definitely a positive way to react to the news of your character's death. Rob Brown always figured that Reade would kick the bucket and could've died "at any point" in the last few seasons. And, hey, at least Reade made it to Blindspot's final season!
In the end, Rob Brown could rest easy knowing that Reade went out like a hero and sacrificed himself for the woman he loved. Here's how he put it:
Blindspot showrunner Martin Gero revealed that there were "some business reasons" for why one of the leads had to get the ax and that the writers ultimately came to the decision that it was Reade who would die because it made sense creatively. But, if fans think they've seen the last of him, fear not, because Rob Brown and Gero revealed that Reade will be back. He's still dead, of course, but viewers will get to see him again before the end of Season 5. However, how that will happen is anyone's guess at this point.
Blindspot Season 5 airs every Thursday at 9:00 p.m. ET on NBC. For more on what to watch, be sure to check in with our 2020 summer TV premiere guide.
Your Daily Blend of Entertainment News