Why Wendy Williams Is Taking A Hiatus From Her Talk Show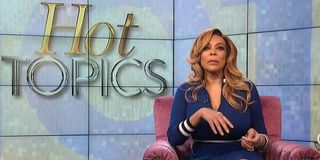 Wendy Williams has been through a lot in the last couple of years, and has remained largely open with fans about her struggles with drug addiction, her myriad health issues, and her divorce from husband Kevin Hunter. Some of these personal situations have previously caused her to break from filming new episodes of The Wendy Williams Show, and now the talk show host is taking another hiatus from the show due to side effects from having Graves' disease.
Like many talk show hosts in recent months, Wendy Williams turned to filming her talk show remotely from her New York home. However, The Wendy Williams Show won't be airing any new episodes for the rest of this week, and there has been no confirmation about when Williams is expected to return.
The indefinite hiatus stems from Williams experiencing symptoms from Graves' disease, an autoimmune disorder that causes hyperthyroidism. A statement made by a talk show spokesperson, per Variety, revealed the specific symptoms Williams is dealing with, and also provided an overall update on her health and the future of the show. Read the statement below:
In the meantime, reruns of The Wendy Williams Show will air in place of new episodes until the talk show host announces her return. Wendy Williams was first diagnosed with Graves' disease in early 2018 and took a three-week hiatus from the show immediately following her diagnosis.
Ongoing health struggles have caused Wendy Williams to take breaks from filming her show in fairly consistent intervals. The talk show host also took an extended break in January 2019 following a surgery to repair a shoulder fracture. Williams had initially gone back to work on the show against the advice of healthcare professionals at the time, and later had to apologize to her audience for doing an episode while on painkillers, which wasn't exactly a secret in the moment..
What's more, this particular break went on for over a month, and Wendy Williams didn't return until early March 2019, with her health issues exacerbated by the adjustment of her Graves' disease medication, which caused her to experience vertigo and thyroid flare-ups. Thankfully, it seems Williams is taking some much needed time out to rest and "receive treatment" instead of overtaxing her body by continuing to film the fan-favorite talk show.
The Wendy Williams Show continues to air every weekday morning in syndication, so check your local listings to find out when and where to watch. For more on what to watch in the coming months, be sure to check out our 2020 summer TV premiere guide.
Your Daily Blend of Entertainment News