The 25 Most Masculine Mustaches In TV History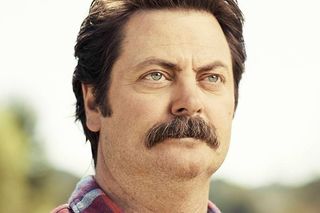 We're now past "Rocktober" and have fully moved into "Movember," the month-long spotlight on men's facial hair meant to raise awareness of male-specific health issues. I'm guessing fleece lovers are gearing up to make Fleecember a thing next month. But for now, it's all about the 'stache.
Here at Cinema Blend, we're tipping out hats and raising our straight blades to the 25 most masculine mustaches that have ever graced our television screens. As any man will tell you, it's not just about how big and thick it is -- Wilford Brimley would like to run counterpoint on that -- but it's also a combination of the performer and what they're representing. That should explain why Geraldo Rivera also isn't on here. To be expected, a lot of amazing mustaches didn't make the cut, but we hope you won't split hairs on the issue. Both puns fully intended.
25. Pornstache
Where You Know Him From: Orange is the New Black
George "Pornstache" Mendez, played by Pablo Schreiber, is the exact opposite of what one would want "masculinity" to stand for. He's mostly just a combination of all the negative attributes of manhood, such as his perverseness, his leery attitude and his all-around doucheness. The mustache was probably enough to get him a job as a corrections officer, but his attitude during the interview process definitely should have cost him the job.
24. Waldorf
Where You Know Him From: The Muppet Show
Now, we're not trying to say that being a completely judgmental asshole is a sign of masculinity here, but there's something about the way in which the balcony-seated Waldorf and his hook-nosed mate Statler slam people that makes it an art form. It's not often that a color-free mustache can retain the same amount of badassery as its colored brethren, but it works here, perhaps more so due to the not-very-manly lack of eyebrows.
23. Meathead
Where You Know Him From: All in the Family
While Rob Reiner's Michael "Meathead" Stivic is kind of a whiny overly liberal brat, especially by today's standards, the character still pulled off a mustache that not only held a masculine appearance, but it was also one of the ways in which the character could peacefully rebel against the staunch conservative values of Archie Bunker, the father-in-law whose house he was living in. A face tattoo would have been cool, but the dangle-stache works just fine.
22. Gordon
Where You Know Him From: Sesame Street
Gordon is the one character on this list that was actually played by two different men. (Well, it was three, but one of them was clean-shaven and thus has no place here.) First sporting the rad mustache-to-sideburns look of Matt Robinson, Gordon was soon passed onto Roscoe Orman, the actor whose Dad-stache is still winning over audiences to this day. Sesame Street honorable mention: Forgetful Jones.
21. Hank Kingsley
Where You Know Him From: The Larry Sanders Show
Hey now! The manliest part of Jeffrey Tambor's talk show host sidekick Hank Kingsley is his signature mustache, especially in contrast to his bald head. If you watch out of context scenes from The Larry Sanders Show where Hank is manically flipping out on someone, you might think he's a real hardcore sumbitch. But then he calms down back into a sad sack and ruins it. Still, that mustache.
20. Gomez Addams
Where You Know Him From: The Addams Family
While Raul Julia rocked more of a pencil-thin look for the Addams Family films, the original Gomez Addams (John Astin) kept it big and bushy, though not as bushy as Cousin Itt's. Often seen with a cigar, Gomez might cause one to draw comparisons to Grouch Marx, but we're pretty sure Morticia would never speak French to arouse any of the Marx brothers. Let's all give him a hand, shall we, Thing?
19. Khal Drogo
Where You Know Him From: Game of Thrones
Portrayed in part by Jason Momoa, Dothraki warlord Khal Drogo's mustache is made more hardcore when seen in combination with the rest of his visually distinct facial hair. It's the kind of mustache/beard combo that is complex enough to make one wonder how he shaves it properly, and then you realize he probably just pulls it out of his own face. Because that's how real men shave.
18. Ray Holt
Where You Know Him From: Brooklyn Nine-Nine
As portrayed by Andre Braugher on Fox's Brooklyn Nine-Nine, Captain Ray Holt is not a man whom you'd expect to see pimping a manly mustache, given his authoritative approach to life. But Holt's early days on the force came equipped with an out-of-time 1970s lip wig and deflated afro. As an openly gay man trying (and mostly failing) to climb the ranks in the New York City police force, Holt's fuzz is the source of a unique brand of manliness, and one that went away too soon.
17. Frank Cannon
Where You Know Him From: Cannon
While not the best, Cannon is your stereotypical 1970s American detective drama, which means it's infinitely more entertaining now than it was when it first aired. And one of the reasons for that is William Conrad, who brought to the role of Frank Cannon a sizable gut and a mustache that cut through a suspect's bullshit quicker than any questions did. Conrad's 'stache on Jake and the Fatman was good, too, but Cannon's was king.
16. Walter White
Where You Know Him From: Breaking Bad
Back when Walter White was living the life of a guilt-and-cancer-free school teacher, his mustache was basic and meek, but by the time the finale rolled around, Bryan Cranston's face had produced the Heisen-stache. Though its light color doesn't convey harshness, Walt's mustache ends up becoming as much a character trait as anything else. Even when he's at his most desperate and frazzled, his "wild man" mustache and beard are still properly trimmed. Walt can never let go of anything all the way.
15. Isaac Washington
Where You Know Him From: The Love Boat
Has there ever been a warmer smile in TV history than that of Ted Lange's Isaac Washington on The Love Boat? It's roughly 465 teeth shining brightly beneath a light-absorbing sawhorse of manly facial hair, and it's often served with whatever alcohol you're drinking, since he's the bartender. I like to pretend after the show ended that Isaac got inspired by Road House and became a Shaft-like bouncer who strangles people with his bow ties.
14. Bob Belcher
Where You Know Him From: Bob's Burgers
In his quest for the American dream, Bob Belcher started up a mostly successful burger joint that is constantly in jeopardy, married a woman who appreciates him but doesn't fully recognize his value, and fathered three kids that he clearly doesn't understand. He also grew a doozy of a mustache that will always be there for him when times get tough. It was made all the more amazing once Archer's lead spy, also voiced by H. Jon Benjamin, appeared in the show as Bob.
13. Alex Trebek
Where You Know Him From: Jeopardy
What is...the smartest mustache TV has ever seen? Alex Trebek has been hosting Jeopardy! for 30 years, though his iconic mustache was only there for a little over half of that time. Trebek shaved it off in 2001 and kept it that way until earlier this year, when he grew it back for the 31st season. Unfortunately, he shaved it off again after an Internet poll allowed the world's dimwits to tell him to shave it off again.
12. Opie Winston
Where You Know Him From: Sons of Anarchy
This is another mustache that works in conjunction with the rest of the forest covering the face, and Opie Winston (Ryan Hurst) wears his facial hair better than anyone else on Kurt Sutter's highly violent biker drama Sons of Anarchy. It started off strongly enough in early seasons, but the character's downward spiral and lack of shaving equipment turned this mustache into a fuzzy monolith of masculinity. And not that we like to talk about shaving, but the video of Hurst lopping it all off is pretty amazing as well.
11. Hulk Hogan
Where You Know Him From: Pro wrestling, Hogan Knows Best
Hulkamania has been running wild on civilization for over 30 years, and Terry "Hulk Hogan" Bollea has been pimping the tree-trunk handlebar mustache for damned near the entire time. The bleached wheat color has remained consistent, and never was it more disgustingly fabulous than during the N.W.O. days at WCW, when he ditched the red and yellow colors and started (seemingly) spray-painting on his space-black stubble.
10. Earl Hickey
Where You Know Him From: My Name is Earl
The ability to transform the way facial hair looks on one's face is a talent often overlooked in Hollywood. Jason Lee was able to go from the Gen X full facebeard in Chasing Amy to the good ol' boy lip-hugging mustache of Earl Hickey. It was the kind of slightly sleazy mustache that went with his life of petty crime, but not even a major lottery winning could sway him from rocking the Burl of Earl.
9. Ned Flanders
Where You Know Him From: The Simpsons
Though he's almost always used as a foil for Homer's shenanigans, Ned Flanders is one of TV"s most faultless beings, with his religious zealotry keeping his manners and morals in check, while his hands-on approach to life has given him huge muscles and rock-solid abs. And what's the most perfect part of it all? His comb-like mustache, serving as an immaculately coifed first impression-maker. It's no wonder Edna Krabappel liked to roll around in the sheets with it.
8. Mike Watt
Where You Know Him From: Spaced
Portrayed by Nick Frost, Mike is a walking and talking ode to gun-toting manhood, though his military dreams were dashed by retinal detachment. This boomerang of a mustache is the perfect compliment to Mike's camo-wear and sunglasses, and is far more intimidating than the meager fuzzyface of Simon Pegg's Tim Bisley. Plus, we're pretty sure Mike has had his mustache since birth.
7. Leland Stottlemeyer
Where You Know Him From: Monk
As a colleague of the quirk-ridden detective Adrian Monk, you have to do quite a bit to stand out. Not only does Ted Levine's Captain Leland Stottlemeyer have a ridiculously awesome name, but he's also got a mustache that could easily serve as a surfboard. Levine later did some fine work on FX's The Bridge, but 30% of his onscreen time was just me missing the Stottlemeyer 'Stache.
6. Larry Csonka
Where You Know Him From: The NFL, American Gladiators
To be fair, there were a LOT of NFL players rocking mustaches in the 1970s, and many of them were probably manly enough to start their own professional football mustache leagues. But only Larry Csonka was a part of the undefeated 1972 Super Bowl champion Miami Dolphins as well as the host of the machismo-fueled conquests of American Gladiators, and only Larry Csonka inspired one of the funniest running gags in Mystery Science Theater 3000. And it was all because of that mustache, probably.
5. Jamie Hyneman
Where You Know Him From: Mythbusters
Is it possible for a mustache to possess brains? What about just one brain? Mythbusters hosts Adam Savage and Jamie Hyneman both boast praise-worthy facial hair, but Hyneman's upper lip is covered by an arch of manliness that either works with or against the ever-present beret on his head. I can't quite tell. The episode where they sneezed in super-slo-mo for a test? Absolutely amazing.
4. Al Swearengen
Where You Know Him From: Deadwood
Honestly, everyone in Deadwood could have been on this list, but Ian McShane's saloon owner Al Swearengen had, at its best, the perfect mustache. It was a dome-shamed prefix for every "cocksucker" utterance, and you can be damned sure it always smelled of boozy testosterone. If it was a person, this mustache would be badass enough to have forced HBO to keep Deadwood on the air.
3. Paul Teutul, Sr.
Where You Know Him From: American Chopper
I'd have no trouble believing that while Orange County Choppers co-founder and American Chopper cast member Paul Teutul Sr. is sleeping at night, his mustache is up and busy taking care of the work that didn't get done that day. If there was ever a mustache that would walk up to Hulk Hogan's and tell it to suck its dick, it's currently adding around four pounds to Paul Teutul's face.
2. Thomas Magnum
Where You Know Him From: Magnum P.I.
Tom Selleck redefined the mustache for the role of Hawaii private investigator Thomas Magnum. Selleck has carried that mustache with him for most of his career -- he's currently showing it off in full on Blue Bloods -- but it was Magnum P.I. where we first got to know this iconic batch of follicles. Thankfully, "unbuttoned shirts revealing chest hair tufts" haven't remained as popular.
1. Ron Swanson
Where You Know Him From: Parks and Recreation
Ron Swanson lives and breathes all things stereotypically masculine, from creating usable goods with his hands to a meat-and-booze-filled diet. While the hair on top of actor Nick Offerman's head always looks like a good blast of wind got to it, the immutable hair above his upper lip is as stoic as a statue made out of petrified bacon.
Your Daily Blend of Entertainment News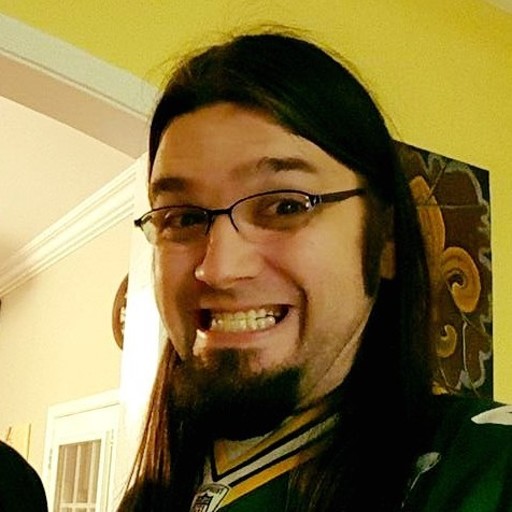 Assistant Managing Editor
Nick is a Cajun Country native, and is often asked why he doesn't sound like that's the case. His love for his wife and daughters is almost equaled by his love of gasp-for-breath laughter and gasp-for-breath horror. A lifetime spent in the vicinity of a television screen led to his current dream job, as well as his knowledge of too many TV themes and ad jingles.