Ramy Season 2 Ending: 6 Questions We Have After The Hulu Series' Season Finale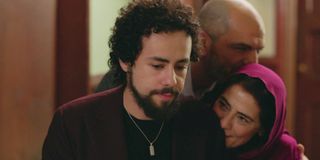 Ramy is one of Hulu's hidden gems. The series focuses on Muslim American Ramy Hassan (Ramy Youssef) and his family, and deals a lot with the ways American culture has helped and hurt the family. It also explores what it means to be a good Muslim by today's standards. Religion plays a major role in this series, especially in Season 2. Ramy Season 2 explored Ramy trying to use his religion to become a better version of himself, which ended disastrously. We don't know if Hulu plans to renew the series, but we definitely need some answers after the Ramy Season 2 finale. (Spoilers ahead)
Ramy ended the season on a somber note, as the main character once again showed his resistance to growth and change. However, Ramy wasn't alone in his struggle as many of the Hassan family continued to engage in harmful behavior. Let's explore some of the biggest lingering questions from Season 2.
Will Uncle Naseem Accept His Sexuality?
Ramy took a major turn during Season 2. Episode 9, "Uncle Naseem," we got to go deeper into the world of Uncle Naseem (Laith Nakli), and see the reason behind his brash comments and behavior. The episode revealed that Uncle Naseem is a closeted gay man, very afraid to accept his sexuality.
He engages in secret hookups, and even flinches at the idea of true intimacy with another man. After visiting one of his old friends and lovers, Naseem tries to go on a date with the man he has been hooking up with at the gym, but when the man tries to kiss him, Naseem responds by punching him. The episode ends with a sad Naseem eating a cake in the middle of the street.
Naseem has been more of a caricature of a character up until this episode, so it was nice to see Ramy offer him more depth. It also made the character more sympathetic. If Ramy does have a Season 3, I would love to see the series explore more of Naseem's life and past, and see if there is any hope for him to get to be his true self.
Will Farouk Get A New Job?
Farouk (Amr Waked) has been spiraling into a state of depression since losing his job. He kept this a secret from his family, but finally revealed the truth to Ramy in the episode "Frank in the Future,"
There wasn't any resolution about Farouk's job situation, but it would be interesting to see a fun episode in Season 3 about Farouk exploring other career options. With such a depressing Ramy Season 2 finale, it would be entertaining to have a few less heavy episodes sprinkled into Season 3.
What Happens With Ramy's Marriage To Zainab?
Ramy Season 2 really drove home the message that Ramy is a frustrating character. During the season finale, Ramy went through with his marriage to Zainab (MaameYaa Boafo), only to reveal after their wedding and marriage consummation that he had sex with his cousin Amani (Rosaline Elbay) the night before their wedding, and that this wasn't the first time that he slept with his cousin. Ramy woke the next morning to Zainab gone and her father Sheikh Ali Malik (Mahershala Ali) doing everything in his power not to rage against Ramy.
Ramy and Zainab's marriage definitely seems over, but they legally got married, so there is a chance the steps to annulment or divorce won't be easy. With Zainab being so religious and spiritual, there is also a chance she might later clear her mind and try to make it work (though Ramy definitely deserves 0 more chances). Also knowing Ramy's character, he might also have some great epiphany and attempt to repair it.
Will Ramy's Family Learn About His Affair With Amani?
Ramy has been having a secret affair with his cousin since he visited Cairo. The two tried to break it off, but when Amani came for his wedding, they slept together again. After Zainab left him, Ramy tried to tell Amani that he was meant to be with her, but she also rejected him--stating that she hated who he made her become.
Since Ramy sleeping with Amani played the biggest part in Zainab leaving him, it has got to be a matter of time before his family learns that his wife is gone and that his affair with Amani caused it.The Hassan family all have their own damage, but something tells us they won't be completely on-board with this incestuous relationship. However, Amani did say that if their families found out, they would wanted them to get engaged. So it might not be extremely taboo in the Hassan world. Ramy's cousin Shadi (Shadi Alfons) also revealed that he thought he was developing feelings for Dena (May Calamawy), Ramy's sister and Shadi's cousin. So this just might be a weird family thing with the Hassans.
Is This The Last We See Of Sheikh Ali Malik?
Sheikh Ali Malik seemed completely done with Ramy after he broke Zainab's heart. Before the wedding, the Sheikh was a real guidance to Ramy, a great mentor, and an almost friend. Honestly, Ramy seemed more in love with the Sheikh than any woman in his life, and it was completely understandable.
Now that Ramy has burnt that bridge, it's likely he won't see his new father-in-law again. However, I selfishly hope that's not the case because Mahershala Ali was a great addition to the season. He showed why he deserves 400 Oscars. Hopefully he continues to add to his TV credits, but also continues to make appearances on Ramy.
What Happens Next With Ramy's Life And His Religion?
Ramy Season 2 ended with the main character losing his new wife, his Sheikh, being partly complacent in a murder, and losing his cousin-lover. Things did not look good for his future. The season faded away with Ramy in Dennis (Jared Abrahamson)'s old car listening to a tape about how to be a good muslim.
The season started with Ramy seeking guidance and a direction. He briefly found it with Zainab, but messed that all up. Despite being lost, it still seems like he'll turn to his religion in times of need. However, with Ramy ending season 2 on such a somber note, we aren't sure if Season 3 might show him seeking direction elsewhere. Perhaps a questioning of his faith or fully embracing the fact that he can't live up to what he believes are muslim standards? It'll be interesting what new direction Ramy takes in a possible upcoming season.
We'll have to wait to see if Hulu renews Ramy, but it's a critical darling, actually really funny series, thought provoking, diverse, and unique. It should be an easy decision to renew it. You can stream Ramy Season 1 and 2 on Hulu.
Spent most of my life in various parts of Illinois, including attending college in Evanston. I have been a life long lover of pop culture, especially television, turned that passion into writing about all things entertainment related. When I'm not writing about pop culture, I can be found channeling Gordon Ramsay by kicking people out the kitchen.
Your Daily Blend of Entertainment News
Thank you for signing up to CinemaBlend. You will receive a verification email shortly.
There was a problem. Please refresh the page and try again.