The Best Shows On Hulu That You Can Binge Over A Weekend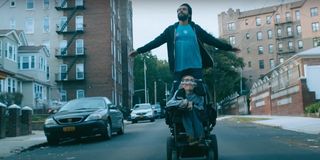 Hulu is the best streaming service option for a large selection of original and licensed series. Hulu has some of the best shows created in the past decade, which makes it a necessary service for all your binge watching needs.
Hulu provides thousands of hours of content. This extensive list of series gives streamers the hassle free solution to find a show or two to binge all year long. However, if you don't have a year to invest in a television series, Hulu also has some of the best shows to watch in one weekend.
For this best of Hulu list, we stuck with series exclusively available on Hulu, series that don't total over 20 hours of streaming time, and shows that appeal to the many different flavors of binge watchers. If you don't see some of your favorite Hulu series, like The Handmaid's Tale and Marvel's Runaways, it's because there are so many episodes for those shows that it would either be impossible or require a lot of commitment to get all the way through them in a weekend.
The Act
The Act, a series based on the real life story of Gypsy Rose Blanchard and her mother Dee Dee Blanchard, stars Patricia Arquette and Joey King. Many people already know the story of Dee Dee, a mother who fabricated her daughter's serious illnesses, possibly due to Munchausen syndrome by proxy. Hulu's The Act brings new depth and sensationalism to this tragic story of control and revenge. This true story ends in a fatal incident involving Gypsy Rose (Joey King), her boyfriend, Nick Godejohn (Calum Worthy), and Dee Dee (Patricia Arquette).
Critics and viewers have been praising The Act since it's 2019 premiere. Much of the series' praise comes from Patricia Arquette and Joey King's performances, which earned both of them Emmy nominations. Arquette won both an Emmy and a Golden Globe for her portrayal of Dee Dee. Currently, The Act only has one season with 8 episodes, so it's easily watchable in a weekend. Stream The Act HERE.
Ramy
Golden Globe winner Ramy Youssef created and stars in Ramy, a Hulu original series about being an American Muslim. Ramy wants to stay true to his religion and traditions, but sometimes modern American practices conflict with Muslim traditions. The cast also includes Succession's Hiam Abbass, who plays Ramy's mom, Maysa. She particularly shines in the episode "Ne Me Quitte Pas."
Much of Ramy feels like a collection of short stories. This stylistic element allows each member of the Hassan family to radiate in their stand-alone episodes, and it creates an overarching family comedy saga that also works as episodic incidents. Ramy does a magnificent job of tackling misconceptions and stereotypes about Muslims, while framing each story in a way that shows how everyone, no matter what religion, race, sexuality, gender, etc., deals with the same struggles of identity, family, and culture. Hulu renewed Ramy for another season, so catch up by watching the first 10 episodes before the second season premieres. Stream Ramy HERE.
Castle Rock
Castle Rock is a Stephen King anthology series. All the events take place in the fictional town of Castle Rock, Maine, and follow themes or characters from Stephen King's books.
Fans of King's books will immediately identify all the Easter eggs hidden throughout the series, like Castle Rock Season 2 following one of his most infamous characters, Annie Wilkes who Kathy Bates made famous in Misery, and Lizzy Caplan plays in this Hulu show. Castle Rock features very talented actors in both seasons, including Pennywise himself, Bill Skarsgard, Moonlight's Andre Holland, Carrie herself Sissy Spacek, and Tim Robbins. Bring a little horror to your weekend by watching both seasons of Castle Rock. Stream Castle Rock HERE.
Atlanta
FX's original series Atlanta follows rising rapper Paper Boi (Brian Tyree Henry), his cousin and manager Earn (Donald Glover), their friend Darius (Lakeith Stanfield), and Earn's sometimes girlfriend Vanessa (Zazie Beetz). Atlanta is a dark comedy that addresses the struggle of trying to make it in the Atlanta music scene, and the Hulu show also deals with issues of gun violence, internet trolls, race inequality, and poverty.
Atlanta is often hilarious in its satirical depictions of fame. "B.A.N" from season 1 and "Teddy Perkins" from season 2 are particularly noteworthy episodes for overall clever writing and social commentary. FX has already renewed Atlanta for Seasons 3 and 4, so you'll have plenty of episodes to watch as you wait for the new seasons. Stream the first two seasons of Atlanta HERE.
Rick And Morty
Rick and Morty started off as an animated parody of Back to the Future, and now it's its own beloved cult series. Rick and Morty follows eccentric scientist Rick Sanchez (Justin Roiland) and his grandson Morty Smith (Justin Roiland) as they travel across multiverses.
Rick and Morty falls in the same category as other adult animated series like Futurama, South Park, and The Simpsons, but it stands out from these series with its unique humor that takes inspiration from British sitcoms. Hulu currently has Rick and Morty's first three seasons. The fourth season is still airing on Adult Swim. Stream Rick and Morty HERE.
Killing Eve
Triple threat Phoebe Waller-Bridge was the showrunner for the first season of Killing Eve, and that helped give the series its unique blend of killer action, sharp wit, and gut-wrenching suspense. Sandra Oh and Jodie Comer co-lead this spy dramedy about a deadly assassin and the Eve (Sandra Oh) chasing her.
In Killing Eve's two seasons, the series has received multiple award nominations, and an Emmy win for Jodie Comer and a Golden Globe win for Sandra Oh. The series takes viewers on a thrill ride as they watch the constant cat and mouse game between its two leads. Killing Eve is still a relatively new show, but the future possibilities for the series seem very exciting. Jump into the heart pumping action by streaming both seasons of Killing Eve HERE.
Firefly
Joss Whedon's massive cult-hit, space western Firefly aired for only 14 episodes during its original run on Fox. The cancelled series became so popular that it received a resolution through a follow-up movie called Serenity. Firefly followed the renegade crew of the Serenity spaceship. Captain Mel (Nathan Fillion) led the crew of Serenity. The crew also included characters played by Gina Torres, Alan Tudyk, Morena Baccarin, Adam Baldwin, Jewel Staite, Sean Maher, Ron Glass, and Summer Glau.
Firefly won over TV fans with its infectious fun energy, cast of characters, and Joss Whedon's trademark style of storytelling. Firefly received a continuation film long before Kickstarter started bringing back fan favorite television, which validates the power of fan influence and Firefly's geeky charm. All fourteen episodes of Firefly are available on Hulu, Stream Firefly HERE.
The Murder Of Laci Peterson
Ripped straight from the headlines, The Murder of Laci Peterson is a true crime documentary that follows the events that led to Laci Peterson's disappearance and Scott Peterson becoming the number one suspect in the case, and his eventual murder conviction.
A&E originally aired this six-part documentary in 2017. The story of Laci and Scott Peterson was one of the most covered and talked about event from the early 2000s and beyond, so The Murder of Laci Peterson appeals to true crime fans and anyone fascinated by one of the defining cases of the last 20 years. Stream all six-parts of The Murder of Laci Peterson HERE.
Difficult People
Billy on the Street's Billy Eichner and Julie Klausner star in Difficult People, a comedy that follows two best friends as they deal with the ups and downs of trying to make it in New York City. Both Julie and Billy try to break into the New York comedy scene, but they often face a series of obstacles that make success very difficult. Hulu's hilarious original comedy Difficult People lasted for three seasons until it was cancelled in 2017.
Billy Eichner and Julie Klausner are a dynamic comedic duo in Difficult People, and their response to the ridiculous incidents that New Yorkers can relate to make this comedy a must-see series. The recurring characters include Fred Armisen, John Cho, Gabourey Sidibe, and Lucy Liu. Difficult People's guest stars include Kate McKinnon, Amy Sedaris, John Mulaney, Julianne Moore, and Amy Poehler. Stream all three seasons of Difficult People HERE.
Cloak & Dagger
Marvel's Cloak & Dagger follows the superhero team of Tandy Bowen (Olivia Holt) aka Dagger and Tyrone Johnson (Aubrey Joseph) aka Cloak. As children, the duo experience two traumatic incidents, and it's through these events that they are bound together, but they don't meet again until they're teens. Tandy and Tyrone have very different backgrounds, morals, and lives, but once they connect again, they must put their differences aside to protect the world and each other.
Cloak & Dagger is the perfect Marvel series to binge after you complete Hulu's Runaways. Cloak & Dagger tackles superhero related issues, like fighting bad guys, and modern day issues like police brutality and white privilege. Unfortunately Freeform cancelled Cloak & Dagger after Season 2. The gone-too-soon series only aired 20 episodes and all of them are available on Hulu. Stream Cloak & Dagger HERE.
Any of these great Hulu shows should keep you busy all weekend, but if you need even more options, Hulu's list of binge worthy content continues to grow.
Your Daily Blend of Entertainment News
Spent most of my life in various parts of Illinois, including attending college in Evanston. I have been a life long lover of pop culture, especially television, turned that passion into writing about all things entertainment related. When I'm not writing about pop culture, I can be found channeling Gordon Ramsay by kicking people out the kitchen.