Why Law And Order's Next Spinoff Will Need To Bypass NBC For Streaming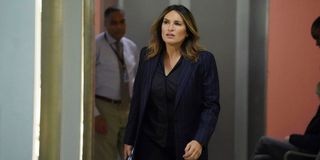 Law & Order: SVU has been a staple of NBC for 21 seasons. The series has also been renewed for an additional three seasons and a spinoff called Law & Order: Hate Crimes is currently in development. But, while the spinoff was greenlit by NBC back in 2018, the series was put on pause. Now, Law & Order: SVU showrunner and Hate Crimes creator Warren Leight reveals why the spinoff will need to bypass NBC for its streaming service.
Law & Order: Hate Crimes was given a 13-episode order at the time of its announcement. However, there hasn't been a lot of forward movement. According to Warren Leight, the spinoff series will likely air on the Peacock streaming service instead of NBC for a very specific reason. Here's what he told THR's TV's Top 5 podcast:
That is certainly an "interesting consideration" and says a lot about what networks will and won't air. Given recent events and conversations surrounding police brutality, many have called into question the way cops and other law enforcement agencies are portrayed on TV. Knowing that the spinoff is called Law & Order: Hate Crimes, one has to wonder what kind of language the show intends to use in portraying those who commit the hate crimes that it couldn't air on NBC.
Warren Leight went on to say that Law & Order's Elliot Stabler spinoff, which will center on SVU vet Christopher Meloni, is taking precedence over Hate Crimes at the moment. Still, Leight believed that Hate Crimes was too important a show not to be made. In his words:
It's rare for a show to center on hate crimes at all, especially from the perspective of the victims and not the cops. So, maybe NBC execs will change their minds in light of current events and fast-track Hate Crimes' debut. That said, nothing has been confirmed at the moment and there's no telling when or if the series will move forward and finally start filming.
Season 21 of Law & Order: SVU was cut short due to the Hollywood-wide shutdowns in March. Like so many other series, SVU aired an unintended season finale. Stay tuned to CinemaBlend for updates. For more on what to watch in the coming months, be sure to check out our 2020 summer TV premiere guide.
Your Daily Blend of Entertainment News
Thank you for signing up to CinemaBlend. You will receive a verification email shortly.
There was a problem. Please refresh the page and try again.