11 Community Inside Jokes That Are Still Completely Brilliant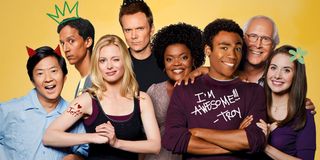 There are many comedy shows that fail to hold up on rewatch, particularly if you have distinct memories of all the most hilarious moments, but Community definitely isn't one of those shows. This is partially because few series in modern television possess such impressive wit, and creativity, but mostly because episodes consistently operate on multiple levels. In addition to its strange setups and fantastic dialogue, it also regularly features layered background jokes and meta narratives. And with the show now streaming on both Netflix and Hulu, audiences everywhere are starting to recognize the brilliance.
To write in detail about every inside joke in Community would result in an untenable and unwieldy feature, so instead we have chosen to highlight 11 of the best, plucked from the show's entire six season run:
Abed Helps A Pregnant Couple
Toward the end of Season 2, Abed is able to knowledgeably jump into action when Shirley goes into labor during the Anthropology final, and while it's a confusing turn of events for his classmates, he explains that he helped deliver a baby earlier in the year. Watching this, some viewers may be a bit confused – but not those who really pay attention to "The Psychology Of Letting Go." While Jeff works to convince Pierce his mother is dead and not in a lava lamp, and Annie and Britta work to raise money during the Deepwater Horizon oil spill, Abed can be seen in the background of select scenes befriending a pregnant couple and then serving as their doula.
Beetlejuice-Beetlejuice-Beetlejuice
It's unreasonable to think that any television show would track the specific number of references it makes to the classic Tim Burton film Beetlejuice, but that's precisely what Community did in the construction of a joke that took about three years to pay off. Referencing the fact that reciting Beetlejuice's name three times summons him, the show has one episode in each of its first three seasons ("Communication Studies," "Cooperative Calligraphy," and "Horror Fiction In Seven Spooky Steps") where the name is said – and when the name is said a third time (conveniently during a Halloween-set story), a person dressed like the Michael Keaton character pops up in the background. Perfection.
Jeff's Special Underwear
The Beetlejuice gag is amazing all by itself, but it's also noteworthy in that it also points to another weird running gag in Community. The aforementioned reference in "Cooperative Calligraphy" has Britta linking the style of the Tim Burton movie to the striped underwear that Jeff typically wears, and in addition to being a hint at Jeff and Britta's "secret sex," it's also part of a larger bit concerning Jeff's undergarments. In addition to Jeff being featured in striped underwear in multiple episodes ("Physical Education," "Anthropology 101," "Paradigms of Human Memory," "Modern Warfare," et. al), Dean Pelton can be seen wearing an identical pair during his mental breakdown in "Documentary Filmmaking: Redux" and again in "Economics Of Marine Biology."
Troy Loves Spider-Man
Following the end of Sam Raimi's trilogy of Spider-Man movies, Sony Pictures announced that they were searching for an actor to play a new version of Peter Parker, and one campaign that got a lot of heat was the suggestion of Donald Glover for the role. The part ultimately went to Andrew Garfield, but Community offered Glover a consolation prize with some special references in the show – not only featuring Troy wearing Spider-Man pajamas in the Season 2 premiere, but giving him a Spidey tie in Season 3's Law & Order-inspired "Basic Lupine Urology." Oh, and did we mention that the conversation inspired the creation of Miles Morales in Marvel Comics? Because that's pretty significant too.
"Daybreak" By Michael Haggis
If you finish binging a whole bunch of Community, and then find yourself humming a little ditty to yourself, there is a very good chance that the ditty in question is the instrumental track "Daybreak" by Michael Haggis. The catchy song is first played in "Horror Fiction In Seven Spooky Steps," played during Abed's overly-realistic slasher story, but by the end of the show's run a bunch of characters can be heard humming it – and Fat Neil even plays it while serving as radio DJ in the episode "Pillows And Blankets."
Shirley And Jeff Are Around The Same Age
Being an adult community college student, Shirley demonstrates a certain sensitivity about her age in the first few seasons of Community, and one of her most frequent deflections finds her comparing herself to Jeff – who regularly works to align himself with the younger members of the study group (because he too is sensitive about his age). It's in "Foosball and Nocturnal Vigilantism" that it becomes a wonderfully layered bit, however, as it's revealed not only that Shirley is correct in comparing herself to Jeff, but that they actually had an unfortunate conflict when they were pre-teens. The connection between the two was later taken a step further with events in Season 4's "Heroic Origins," but Season 3 is the really great payoff.
Living On The Bubble
Despite inspiring a devoted fanbase, Community wasn't a supremely popular show when it first aired on NBC, and the low ratings regularly left it as a potential candidate for the chopping block at the end of every season – or "on the bubble" to use industry lingo. This surely created a certain extra level of stress for everyone involved with the show, but one way that stress was relieved was with the series regularly hinting at the looming possibility of cancelation. Sometimes it's subtle (like when Abed became distressed about Cougar Town going on hiatus in the Season 3 premiere, or starting proclaiming that The Cape should get six seasons and a movie in "Paradigms Of Human Memory"), and other times its overt (like the "Depends on what fails" tag at the end of Season 5's "Basic Sandwich.")
Community's War On Television
Being a cult show surviving based on the failures of new NBC programming, Community had few fucks to give throughout its run, and it regularly demonstrated it by throwing proverbial spitballs at the more-popular-but-far-shallower shows also on the air at the time. Glee is a big target throughout the earlier seasons, the Dan Harmon series regularly mocking the singalong drama for not writing any original songs (as seen in "Modern Warfare" and "Regional Holiday Music"), and "Intermediate Documentary Filmmaking" basically exists to mock the stylistic setup of The Office, Parks and Recreation, and Modern Family (in Abed's words: "It's easier to tell a complex story when you can just cut to people explaining things to the camera.")
The Cougar Town Crossover
In Season 2's "Critical Film Studies," a private dinner between Abed and Jeff escalates when the former tells the latter about an opportunity that he got to be on an episode of his favorite show, Cougar Town, and how the special day ended with him pooping his pants. It's a weird and funny bit by itself, but the specialness of Community eventually took it to the next level. Actor Danny Pudi wound up making an appearance on the ABC series (playing an extra who mysterious sprints off at the end of a scene in "Something Good Coming" – a reference to the aforementioned pants pooping), and Cougar Town's Busy Phillips and Dan Byrd can briefly be seen at the end of the Star Wars-inspired Season 2 finale "For A Few Paintballs More."
The Gas Leak Year
Among Community fans, Season 4 is not exceptionally well-regarded. This is the stretch of the series when Dan Harmon was no longer serving as showrunner, having been fired due to behind-the-scenes incidents, and while there are a few solid episodes scattered in it, there are a number of stinkers, and it's all-around not as sharp. Of course, Harmon eventually came back, and when he did he decided to turn the whole circumstance into a meta joke, having members of the study group in Season 5 and 6 refer to the period as "the gas leak year" – suggesting that any kind of out-of-character behavior came as a result of fume-related brain damage.
Is there a Community inside/background joke that you love that we didn't feature here? Hit the comments section with your favorites, and let us know if we pointed out some that you never noticed before!
Your Daily Blend of Entertainment News
Assistant Managing Editor
NJ native who calls LA home and lives in a Dreamatorium. A decade-plus CinemaBlend veteran who is endlessly enthusiastic about the career he's dreamt of since seventh grade.
Your Daily Blend of Entertainment News
Thank you for signing up to CinemaBlend. You will receive a verification email shortly.
There was a problem. Please refresh the page and try again.