Dirty John Season 2: How Accurate Is The Depiction Of The Betty Broderick Case?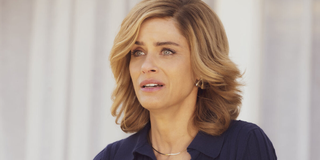 (Image credit: Isabella Vosmikova / USA Network)
In Season 2 of Dirty John, the anthology series turns its attention from the tale of John and Debra Meehan to that of a notorious California story circa the 1990s. That would be the Betty Broderick case, which spanned two real-life trials, and two made-for-TV movies starring Meredith Baxter. Fast forward and it is the subject of the now-USA drama's second outing. How accurate is it, though?
When it comes to relating real-life to film, "artistic license" is often taken with what viewers see. One would think Dirty John might not be any different as it attempts to depict the Betty Broderick case with a seemingly sympathetic view of Betty. Based on how Season 2 has gone so far, viewers have an idea of how accurate it has been.
Dirty John changed a real-life moment during its first season, so what about Season 2? How accurate are the events unfolding week-to-week? Are those watching getting the real story behind the Betty Broderick case? It is time to wind back the clock, primarily to the events of the late 1980s, to find out where fact meets fiction.
Betty Broderick Really Murdered Dan Broderick
In the early morning hours of Sunday, November 5, 1989, Betty Broderick came into her ex-husband, Dan Broderick's house. By the time she left, Betty had shot and killed Dan's second wife, Linda Kolkena, and Dan to death. The murder was revealed at the end of Dirty John's Season 2 premiere with Betty expressing shock over what had happened.
As you likely know by now, this is yet another true crime story. Betty Broderick has never denied being the killer in real life, and Season 2 seems focused on what led to her becoming one. Dirty John has not yet arrived at the time just before the double homicide, so viewers are still left wondering what, exactly, led to Betty's motive in the murders.
Betty Did Not Remain Single After Dan
Yes, according to the Los Angeles Times, Betty started a relationship with businessman Bradley T. Wright. The article claims (along with Betty's daughter Kim) that Brad and Betty were in an intimate relationship "for years." Betty denied the two had ever been intimate. So far on Dirty John, Betty is yet to be shown moving on from Dan in Season 2.
The second season's timeline has gone back and forth. As of now, it has not brought viewers back to the time right before the murders. Dirty John has so far portrayed Betty as being singularly devoted to Dan and incapable of thinking of dating anyone except him. Time will tell if that changes as Season 2 progresses.
Betty Actually Ran Her Car Into Dan's House
As shown at the start of Dirty John's second season, a furious Betty took her car and drove it into the front door of Dan's house. There was one moment Dirty John did not show. Dan had reportedly alleged at the time that Betty had reached for a butcher knife. Hence, her subsequent three-day stay in a mental health facility.
On Dirty John, after Betty rams into the house, Dan is shown coming out of it and furiously dragging Betty from the driver's seat. The two eventually struggle in the yard. Betty is not shown reaching for a knife or any other weapon. She is instead seen acting dazed after the wreck and gets carried away.
Betty Did Lose Custody Of Her Kids
By the time the Brodericks' explosive divorce concluded in July 1986, Dan had been awarded sole physical custody over the couple's four children. Betty had told the Los Angeles Times there was no custody hearing and blamed a deal done behind her back for the ruling. Preceding that decision was Betty's choice to drop off the kids one at a time in February of the previous year (1985).
Betty's reported goal was to get Dan to appreciate the rigors of parenting, and eventually reunite the family. It did not work. Dirty John has yet to show Betty's desperate move, and it will be compelling to see if Season 2 does. So far, Betty has been shown as a devoted mom nowhere near such a decision.
Dan Sold His And Betty's House Behind Betty's Back
That happened the year the divorce was finalized in February 1986. Dan used a rare legal maneuver to sell the house, with a judge signing over Betty's portion. Dan had reportedly claimed that he did that after Betty had refused to sign the sale papers – twice. As shown on Dirty John, Betty's outrage over the sale is what caused her to take the car and drive it into Dan's house.
The tactic and its success struck me as a shocking detail that seemed too astounding to be true. Well, guess again, Dirty John viewers. The incident set off a torrent of activity that reverberated for a long time. It is another piece to the psychological puzzle.
Betty's Ultimatum Did Not End Quite Like That
Dirty John showed Betty taking a pretty spectacular stance against Dan and his philandering. Betty demanded Dan fire Linda, who she was beginning to suspect of being Dan's mistress. The episode ended with Betty laying down the law, telling Dan to move out. He refused with a brutal retort that it was Betty who would leave because he owned everything.
In reality, Betty had suspected an affair and confirmed it on Dan's 39th birthday, noting Dan and Linda's day-long absence from the office. When Dan returned home, Betty had set his clothes on fire in the back yard and handed him his checkbook to leave. Dan did refuse to leave, as he did on the show, amid far different circumstances with Betty.
Dirty John has yet to show what ultimately became of Betty Broderick. Season 2 has shown glimpses of the courtroom action. Betty's first trial in 1990 resulted in a hung jury. Her second trial concluded in her being convicted of second-degree murder for both Dan and Linda. Betty was last denied parole in January 2017, per CBS8. She will not be eligible for it again until January 2032. When she is, Betty Broderick will be 85-years-old.
There you have it, in terms of fact versus fiction. As you can tell, it is a lot easier to discern than something dating as far back as History's historical drama, Vikings. The truth behind Dirty John's depiction of the Betty Broderick case in Season 2 tells a complicated tale about marriage, divorce, and the latter's aftermath. It is a messy story that leaves viewers with a lot of info to contemplate. Now that you know some of the critical facts to the somewhat stranger-than-fiction series, will it change how you watch Dirty John moving forward? Season 2 has covered a lot of ground in its early episodes. Now the rest of the story is set to unfold.
Find out what happens between the Brodericks next when new episodes of Dirty John Season 2 air Tuesdays at 9 p.m. ET on USA. It is one of this summer's premieres. The first season of Dirty John is currently streaming on Netflix, along with lots of 2020 premieres.
Like a contented Hallmark movie character, Britt happily lives in the same city she grew up in. Along with movies and television, she is passionate about competitive figure skating. She has been writing about entertainment for 5 years, and as you may suspect, still finds it as entertaining to do as when she began.
Your Daily Blend of Entertainment News
Thank you for signing up to CinemaBlend. You will receive a verification email shortly.
There was a problem. Please refresh the page and try again.