Why USA's Dirty John Chose Betty Broderick As The Season 2 Killer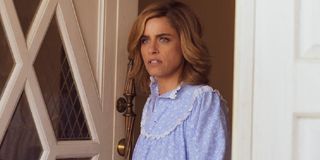 It's been a year and a half since the first season of Dirty John ended. The series, which was originally on the Bravo network, moved to the USA Network ahead of its second season. A true crime series a la Netflix's Mindhunter, Dirty John showrunner Alexandra Cunningham recently explained why the show chose Betty Broderick as the Season 2 killer.
In Season 1, Dirty John explored the case of John Meehan, a criminal and con artist who was killed in 2016. In Season 2, the crime anthology series will take a deep-dive into the story of Betty Broderick, who killed her ex-husband and his wife in 1989. Now, Dirty John: The Betty Broderick Story will look to examine exactly how Broderick got to the point of murdering her ex. Here's what Alexandra Cunningham said about exploring the details of Broderick's relationship and case:
The showrunner went on to tell Variety that Dirty John Season 2 would go back to the beginning of Betty Broderick and husband Daniel's relationship and explore the love that was there between them before things spiraled out of control. More specifically, Season 2 would dissect the turning point in their relationship that shifted the balance.
Alexandra Cunningham argued that she had "become a version of Betty" in that she was now an "upper-middle class mother" who could now try to understand where Betty Broderick was coming from at the time, at least to a certain extent. Here's how Cunningham put it:
Dirty John's showrunner ultimately described Betty Broderick's spiral as an "untethering from reality." That said, Alexandra Cunningham conceded that exploring the chain of events from Broderick's perspective would make for a slightly imbalanced crime story. However, it's important to note that she and the writing team drew upon facts from Bella Stumbo's book, Until the Twelfth of Never: The Deadly Divorce of Dan and Betty Broderick, among other source material about the case.
Dirty John: The Betty Broderick Story will have a two-hour premiere on Tuesday, June 2 beginning at 9:00 p.m. ET on USA Network. For more on what to watch in the coming months, be sure to check out our 2020 summer TV premiere guide.
Your Daily Blend of Entertainment News
Thank you for signing up to CinemaBlend. You will receive a verification email shortly.
There was a problem. Please refresh the page and try again.