Vikings: How Historically Accurate Are The Characters And Events On The TV Show?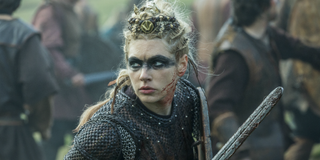 (Image credit: Jonathan Hession / History)
How historically accurate are the characters and events depicted in the Vikings TV show? As fans anticipate the Season 6 premiere of the series, that is one of many questions still sparking curiosity with the fanbase.
Ragnar Lothbrok is a legend wrapped in factual events, but how close has the Vikings TV show come to accurately portraying this sweeping part of history? If you have watched the terrific companion series that ran after Vikings on History -- Real Vikings -- you have some context. To garner more, it is time to dig into how historically accurate some (not all) of Vikings' characters and the events portrayed have been.
Rollo Really Existed
Yes, the Viking-turned-Duke is believed to have lived between 860 to 932 AD, per Britannica. If that timeline is accurate, it puts a wrinkle in the real Rollo's participation in the Vikings' Siege of Paris, as told by the Vikings TV show. That event occurred in 845 AD.
The real Rollo was purportedly born 15 years later in 860 AD. In Vikings, the TV show presents him as being a man well into his thirties when the Siege of Paris is portrayed in Season 3. The show may have meant its version to be an amalgam of the Siege of Chartres in 911 AD, which the real Rollo led.
Vikings' Rollo (Clive Standen) is clearly not an exact interpretation of the real man or the legendary story of Ragnar. For instance, Rollo is not mentioned as being Ragnar's brother in the legend, per The Dockyards. It is an added twist that has brought its share of surprises to the series.
A Real Floki Went To Iceland
Floki's historical counterpart is arguably Flóki Vilgerðarso. Like TV show Floki, real Flóki went to Iceland. The first Norseman to intentionally sail there. After exploring, he went back to Norway. He is said to have eventually returned to Iceland and remained there until his death. How does this mesh with Vikings?
By the time the Vikings TV show had its Floki (Gustaf Skarsgard) begin his journey to Iceland, he was a widower, whose only child had died. The real man was said to have made his voyage with a wife and more than one child. Whether Vikings' Floki will have stayed there until his death currently remains a mystery.
Vikings left Floki in a life-and-death cliffhanger at the end of its penultimate season. Whether he lives or dies, Vikings' version could get closer or further apart from history, and it will be interesting to discover which route the show takes.
Bjorn's Legend Status Is Different
Unlike Floki and Rollo, let's focus on how the legend of Bjorn (Alexander Ludwig) differentiates from Vikings' rendering. The series has told a compelling version of his story with a few twists and turns, including Bjorn's heritage. In the legend, he is a power player, and he is still one in the Vikings TV show.
Vikings reportedly made two considerable changes from the legend. It is tough to imagine given their bond on the TV show, but according to the classic take, Lagertha is not Bjorn's mother. Aslaug (Alyssa Sutherland) is, and the shocks do not end there! Ivar (Alex Hogh Andersen) is Bjorn's older brother!
In the legend, Bjorn also has two other brothers in Eric and Agnar. On Vikings, Bjorn has a possible brother in Ragnar's maybe-son with Kwenthrith. In related news, Lagertha and Ragnar's son was actually a guy named Fridleif. He has not been portrayed on Vikings. Legend status only? In the end, I like the path Vikings took.
Lagertha Is Legendary
Lagertha (Katheryn Winnick) is an incredibly popular character on Vikings who is primarily based on the legend of her namesake. As her "redefining" final chapter is about to unfurl, a question looms. How in keeping is the Vikings TV show's version of the legendary Lagertha? She is mentioned as ("Ladgerda") by Saxo Grammaticus in The Danish History/Book IX.
Key differences between Vikings' Lagertha and Saxo's include that Lagertha meets Ragnar while helping him win a battle. They also have three children – two daughters and the son, who is not Bjorn. Ragnar and Lagertha also divorce in Saxo's tale. However, Ragnar leaves Lagertha for King Herodd's wife, Thora, and not Aslaug, as was the case on Vikings.
Ragnar Lothbrok's decision is not entirely lust-centric in the legend. It stems from his underlying distrust of Lagertha after she had beasts attack him on their sort-of-first-date. The Vikings TV show gives a nod to this story without it playing into any long-term relationship issues.
Alfred The Great Had A Different Origin Story
The Vikings TV show portrays Alfred the Great as the illegitimate offspring of then-Prince Aethelwulf's wife (Judith), and the Anglo-Saxon monk-turned-Viking-turned-monk-again, Athelstan (George Blagden). Historically speaking, Alfred the Great is considered the biological son of King Aethelwulf of Wessex.
Alfred the Great was also the youngest of five sons. In Vikings, Alfred (Ferdia Walsh-Peelo) only has one older brother -- Aethelred. They are shown having no other legitimate brothers. In real life, Alfred only succeeded his brother to the throne after Aethelred died. The Vikings TV show has Alfred already being King when Aethelred is killed.
Vikings takes it a step further by having Aethelred (Darren Cahill) and Alfred's mother, Judith (Jennie Jacques), murder her own son, in a bid to secure Alfred's already-in-progress reign. There is some historicity. Vikings accurately depicts Alfred as suffering from illness, which remains true to life and other TV renderings of the character.
The real history surrounding the series' storylines does not end here. As you can tell from watching Vikings, there is a rich backdrop of stories, people, places, and events to research. Some of the significant bits are covered here. Of course, knowing the full truth continues to be an escalating archeologic journey unearthing new surprises.
As for the History series, we've already seen the new trailer, which teased the beginning of the series' epic final chapter. For multiple seasons, the thrilling drama has brought the legend of Ragnar (Travis Fimmel) and his sons into focus. Vikings' creator, Michael Hirst, has explained that he believes he has brought that story to a close with Season 6; hence the decision to end the show. As you hope some of your favorite Vikings characters make one last appearance, there is even more to contemplate in regards to the series' historical accuracy.
In my opinion, Vikings has done a great job condensing an elaborate story, comprised of legends and reality. Ragnar's overall arc seems to fall closely in line with what the Vikings TV show depicted. There is no arguing that it has been a gargantuan feat. How will the show's ending for Bjorn Ironside and Lagertha, compared to what is popularly known? You will have to keep watching to find out!
Vikings Season 6 will premiere on Wednesday, December 4, at 9 p.m. ET on History. A release that makes it one of this fall's premieres. Vikings: Season 5 Volume 2 Blu-ray/DVD set is out now!
Like a contented Hallmark movie character, Britt happily lives in the same city she grew up in. Along with movies and television, she is passionate about competitive figure skating. She has been writing about entertainment for 5 years, and as you may suspect, still finds it as entertaining to do as when she began.
Your Daily Blend of Entertainment News
Thank you for signing up to CinemaBlend. You will receive a verification email shortly.
There was a problem. Please refresh the page and try again.