Studio Ghibli: A History Of Its Rocky Film Rights, From Disney To HBO Max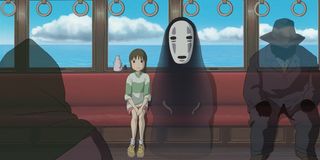 (Image credit: (Studio Ghibli))
CinemaBlend participates in affiliate programs with various companies. We may earn a commission when you click on or make purchases via links.
Over the years, Hayao Miyazaki's gorgeous animated films have not been easy to get ahold of. It's been just a few months since his studio made its films available to purchase digitally for the first time ever. Now HBO Max subscribers can watch 21 movies produced under Studio Ghibli, including Spirited Away, My Neighbor Totoro and Howl's Moving Castle. (That's every Ghibli movie except for the deeply heartbreaking Grave of the Fireflies, which is on Hulu.)
Since the Japanese studio had known ties with Disney up until a few years ago, one might have expected Disney+ would have been the first place fans might be able to access the critically-acclaimed collection on streaming. The House of Mouse and Studio Ghibli worked together to distribute Miyazaki's film around the world for almost twenty years – but not without bumps along the road that ultimately led to an end in their partnership.
Sadly, Disney never really took full advantage of the rights to Studio Ghibli when they were accessible – or the company just didn't know how to? Hayao Miyazaki's work is packed with groundbreaking filmmaking that even the likes of Disney animators looked up to. In the words of former Disney and Pixar creative head, John Lasseter:
Let's track the history between the two iconic animated companies. Why did the relationship between Disney and Studio Ghibli go south and end up over on HBO Max?
The Studio's Debut Film Receives Heavy Edits For Overseas Audiences
Before Disney's partnership started with Studio Ghibli, Hayao Miyazaki released its debut film, Nausicaä of the Valley of Wind, in 1984. When plans were made for the film centered on an explorer princess to be distributed outside of Japan, a company called Manson International took on translating the film for a U.S. audience. The result was a heavily-edited English dub version that shaved 22 minutes off Nausicaä's nearly two-hour runtime.
The U.S. release of Nausicaä started Studio Ghibli's relationship with domestic releases on the wrong foot, and Hayao Miyazaki and his producers would carry the weight of this experience for years to come. Years later, Disney also allegedly made edits to films like Kiki's Delivery Service regarding music, sound effects and dialogue, despite its contract clearly stating against this.
Disney Becomes The Sole Distributor To Studio Ghibli In 1996
Almost ten years into Studio Ghibli's history, the deal with Disney was made for it to be the sole international distributor for the studio in the theatrical and home release markets around the world. Former Disney chairman Joe Roth said this at the time the partnership began:
Hayao Miyazaki needed assistance with funding his work. He ended up forming a financial partnership with a publishing company called Tokuma Shoten, which backed early hits such as 1986's Castle in the Sky, 1988's My Neighbor Totoro and 1989's Kiki's Delivery Service. The success of these films in Japan gave Disney an incentive to work with Miyazaki.
Studio Ghibli Sends Harvey Weinstein A Samurai Sword Threat
Then came Princess Mononoke, Studio Ghibli's first PG-13 rated film. Think about this: Disney has the rights to an animated film, but it is an over two-hour epic with themes centering on environmental destruction and war. Not exactly on brand, is it? Hayao Miyazaki reached a turning point in his creative integrity and found himself wanting to create something more shocking. As he told Empire:
Disney decided to release Princess Mononoke, but under its Miramax label run by Harvey Weinstein. The former Hollywood executive was known as "Harvey Scissorhands" in the industry and wanted to mess around with the film to cater to a Western audience. As confirmed by Hayao Miyazaki himself, Ghibli producer Toshio Suzuki sent Weinstein a samurai sword with a note that simply said "no cuts." The message was received and an uncut Princess Mononoke hit theaters in 1999, but to a limited domestic audience.
Spirited Away Wins A Monumental Oscar For Disney
The height of Disney and Studio Ghibli's collaboration came with the U.S. release of Spirited Away in 2001. John Lasseter was a massive fan of Hayao Miyazaki's work, so he came on as a producer for the English version and fought for a wide release for the film. With a PG rating and comparisons to be drawn with Alice in Wonderland, it was more in line with the Disney brand.
Even with incredibly high praise from critics (it has a 97% on Rotten Tomatoes), the film was given a measly marketing budget and barely saw the light at the box office. Over in Japan, Spirited Away made box office history, becoming the first movie to earn $200 million overseas before reaching the U.S. At the 2002 Oscars, Spirited Away beat out other Disney films for Best Animated Feature in the second year of the category and the first Disney was affiliated with. (The first Best Animated Feature Oscar went to Dreamworks for Shrek). This buffed up Disney's confidence in the animation studio.
Disney Can't Figure Out How To Market Ghibli In The West
After that, Disney placed more energy into the making of U.S. versions of Studio Ghibli films that impressive voice casts, including Christian Bale, Lauren Bacall and Billy Crystal for 2004's Howl's Moving Castle, and Tina Fey, Matt Damon and Liam Neeson for 2008's Ponyo. In the summer season, Howl's couldn't crack $5 million domestically, though it did very well in Japan.
Ponyo and The Secret World of Arrietty were heavily marketed and inherently even more "Disney" than Spirited Away was. They made $15 million and $19 million domestically, respectively. Miyazaki's last film he's directed to date, The Wind Rises, was a biopic about Jiro Horikoshi and also PG-13. It performed similarly to Spirited Away, bringing in just $5.2 million in domestic earnings.
Studio Ghibli Finally Makes Its Way To Streaming
Disney relinquished its rights in 2017 to GKIDS and has remained the distributor to home video rights of Ghibli films. Hayao Miyazaki had decided to retire from making films in 2014, but has since worked on the short film Boro the Caterpillar and is making another feature film called How Do You Live?
Until December 2019, Studio Ghibli films have not been available for digital purchase; one could only grab physical copies. Recently though, this collection of 21 films has premiered on Netflix in other regions and on HBO Max stateside (you can sign up for a free seven-day trial (opens in new tab)). These treasured films thankfully found a home for more audiences to discover them! Stay tuned here on CinemaBlend for behind-the-scenes stories about your favorite movies.
YA genre tribute. Horror May Queen. Word webslinger. All her writing should be read in Sarah Connor's Terminator 2 voice over.
Your Daily Blend of Entertainment News
Thank you for signing up to CinemaBlend. You will receive a verification email shortly.
There was a problem. Please refresh the page and try again.