Manifest Showrunner Reveals What's In Store For Flight 828 Passengers After Season 3 Renewal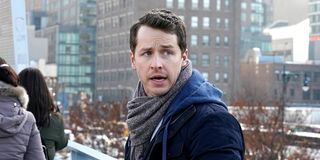 Manifest left fans reeling by the end of its Season 2 finale, with one character somehow surviving his Death Date, and the huge discovery that the tail of Flight 828 had been at the bottom of the ocean. The series turned its focus back to the flight's many mysteries in big ways, and now that the NBC drama has officially been renewed for Season 3, showrunner Jeff Rake revealed what's in store for Flight 828's passengers for next season.
Manifest's emotional and rather confusing end to Season 2 made clear that the series is playing the long game, with several mysteries and story arcs introduced in the first two seasons making viewers wait for payoffs. However, the biggest mystery Manifest has yet to solve is that of Flight 828 itself. In the Season 2 finale, the flight was shown landing safely, but then the tail of the plane was fished out of the water elsewhere. So, what the hell is going on? In an official video recapping the season, Jeff Rake added in a postmortem teaser, saying:
That is the biggest question of the series. It's possible Manifest will give fans some concrete answers in Season 3 about Flight 828, and why and how it exploded twice in two completely separate locations. The truth about the flight will hopefully help clarify a lot about the other trippy events of the series, such as ll the callings. I'm sure Ben is incredibly perplexed by the turn of events as well and wants some answers of his own.
You can watch Jeff Rake recap Manifest Season 2 below!
Jeff Rake previously teased that the discovery of the flight's tail and the tarmac explosion will call the identity of the passengers into question. How many of them aren't who viewers thought they were? How many of them have deeper ties to the plane's secret than we knew already? Let's face it, we know there's something fishy going on. What's more, Rake promised a "lot of good material" coming up. Manifest Season 3 can't come soon enough!
Manifest Season 2 is currently available to stream on Hulu. The series will be back for Season 3 on NBC, but there's no scheduled premiere date yet. Stay tuned to CinemaBlend for updates. In the meantime, be sure to check out our 2020 summer TV premiere guide for more on what to watch.
Your Daily Blend of Entertainment News