6 Reasons You Should Check Out Star, A Great Show That Deserved A Bigger Audience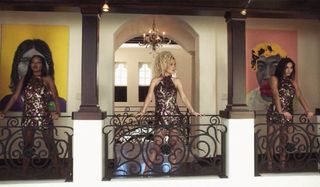 Shows get cancelled all the time for a myriad of reasons, and with the amount of content being created today, it's easy to miss something you may have loved. Lee Daniels' Star is one of those shows that just deserved better. Practically no one watched You when it aired on Lifetime (myself included), but once it landed on Netflix and we all found out it existed, it got the recognition and fanbase it rightfully deserves. Shows like Lost and Scandal long overstayed their welcome with the help of airing during a time when most of us had a scheduled night in to watch live TV, but Star wasn't given that chance.
Star is about a girl group trying to make it as recording artists in Atlanta, but it goes so far beyond that, tackling drug addiction, single parenthood, racial discrimination, deportation, and more. The show was making a difference, launching careers, having hard conversations, and being all around wonderful when its light was put out. You should still watch it, and here's why.
Diversity Is Valued And Celebrated
With the recent events causing people to wake up and examine the need for diversity, many companies and brands have vowed to diversify their team. That's great - but Lee Daniels has always cared about representation, and that shows on Star. Multiple races and ethnicities are featured on this show, as well as sexual orientations and gender identities. Every character is dynamic with a purpose and a story.
The writers took care to really celebrate the diversity of the characters by giving each one a voice, rather than merely checking them off a list of inclusion and having, for example, a gay neighbor who doesn't impact the storyline or an Indian friend who exists only for comic relief of the lead but you never get to know what goes on in their life apart from the lead. This is the first show I have seen with a prominent transgender character, played by Amiyah Scott, and storylines that highlight multiple challenges the transgender community faces.
The Original Music Is Excellent
I didn't want to lead with this point because I know it will turn some people off (it almost turned me off) but Star is a musical drama. Hear me out, I love musicals. Huge fan of Hamilton, Wicked, and The Greatest Showman over here. But I prefer musicals to be on stage or in a film, not a tv show. That being said, the original music featured on Star is so good, I couldn't wait for them to break into song again. The songs are primarily R&B with some pop, rap, and even gospel, and every single song is a hit. I highly recommend checking out the soundtrack, specifically "Breathless" "So Sick" and "Rude" if you're not sold on trying a musical show, and if you like these you'll be downloading new songs after every episode.
The Young Cast Is Insanely Talented
Jude Demorest, Ryan Destiny, and Brittany O'Grady, the three leads who make up the girl group on the show, are all triple threats. As most celebrities, they're in amazing physical shape and watching them dance made me want to work out even harder, but these young women are not actresses who can dance a little or dancers who can carry a tune. They are, individually, singers, dancers, and actresses. The male leads Luke James and Quincy Brown are also people to watch. They were recording artists before booking the show but I hadn't heard of them before watching and missed out on years of great music!
An Overused Stereotype Is Flipped
We've all seen hundreds of stories about poor black people and rich white people, but Star flips what we've seen many times over and gives us the opposite. Alexandra (Destiny) is a black 21-year old from a wealthy family who meets half-sisters Star (Demorest) and Simone (O'Grady) who have been in and out of foster homes and waiting to age out of the system. The three have a lot to learn about each other when they form a group and their upbringings impact how they make decisions when it comes to writing and performing music and marketing themselves as a trio. There is a price to pay to chase their dreams, and they don't agree on which price is too high.
Queen Latifah.
Queen Latifah. She's amazing. What can't she do? Nothing. On Star, she plays Carlotta Brown, the manager and mother-figure to the girls as they embark on their journey into the music business. Carlotta is often the voice of reason, though she makes many questionable decisions of her own and let me just say Queen Latifah freaking delivers. She will make you laugh, cry, angrily throw something at the tv, and keep coming back for more. She also lends her powerhouse vocals to multiple songs throughout the series which is another reason you'll be glad it's a musical, trust me.
Fantastic Guest Appearances
Although you're already sold because, Queen Latifah, Star has so many guest stars it's like a new surprise every other episode! Brandy, Benjamin Bratt, and Evan Ross are all recurring regulars who the show would not be the same without, and then there are the guest appearances. There are too many to name here, but among my favorites are Lenny Kravitz, Missy Elliot, Mike Epps, Patti LaBelle, Meagan Good, Tyrese, Elijah Kelly, KeKe Palmer, and Chad Michael Murray.
I'll note that while Star exists in the same universe as another Lee Daniels show on Fox called Empire, there is only one crossover and you do not need to watch Empire to enjoy or understand Star. Personally I only made it through the first few episodes of Empire, I felt it was over-dramatized and there was a lot of over-acting, kind of like I was watching them film the show instead of being immersed in the world they created and it didn't feel authentic, but I did not have that issue with Star. I'm also closer in age to the leads of Star and I like to be able to relate to the main characters on my shows.
There are only 3 seasons (12 episodes in the Season 1, 18 in Seasons 2 and 3), so it's not a huge commitment. You can watch Star on Hulu now, so get to binging and let me know what you think!
Obsessed with Hamilton and most things Disney. Gets too attached to TV show characters. Loves a good thriller, but will only tolerate so much blood.
Your Daily Blend of Entertainment News
Thank you for signing up to CinemaBlend. You will receive a verification email shortly.
There was a problem. Please refresh the page and try again.