Wendell Pierce: 6 Things To Know About The Jack Ryan And The Wire Actor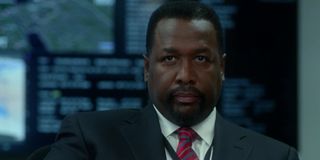 For many, Wendell Pierce will always be Baltimore homicide detective Bunk Moreland from The Wire, while others will forever see him as James Greer from Jack Ryan. And while those are two of the accomplished actor's most notable roles, there is much more to the New Orleans native than a few well-written and three-dimensional characters he's portrayed on television these past 30 years.
As crazy as it may sound, Wendell Pierce, the actor and the man, is far more interesting than any character he's played throughout his career, which is saying a lot. So as we wait to hear more about Season 3 of Jack Ryan, let's take a look at the life and career of one of the Big Easy's biggest personalities.
Wendell Pierce Was Inspired To Act After Hearing About The Free Southern Theater As A Youth
Like any great actor, Wendell Pierce was inspired to enter the world of performing arts after hearing stories shared by his parents about the Free Southern Theater, a community theater group based out of Mississippi that had close ties to the civil rights movement of the early 1960s. Sitting down with Financial Times in 2019, Pierce explained that he was inspired after hearing of the group's legacy, stating:
In the same interview, the Treme actor pointed out that actors should be activists, which is why he has continued to fight for the city of New Orleans throughout his adult life, especially after the devastation left by Hurricane Katrina in 2005.
Wendell Pierce Impressed Bob Fosse, But The Broadway Legend Died Before Pierce Got His Shot
Wendell Pierce has worked for and alongside some of the biggest names in show business, but one name that he never got to work with — despite impressing during an audition — is none other than Broadway legend Bob Fosse. Pierce was asked about the big "what-if" in a 2019 interview with the Chicago Tribune where the Jack Ryan star revealed that he walked in while Fosse was having a rehearsal for Big Deal and ended up reading a scene with the legend himself:
Things didn't work out for the part, but Bob Fosse told the young actor that the two would work together in the near future. But that never came to be because a few months later while Wendell Pierce was in Washington, D.C., he saw a breaking news report that Fosse had passed away, and he never got that shot.
The Actor Who Played Bunk Moreland On The Wire Didn't Think The Show Was Going To Take Off
Nearly 20 years since the debut of David Simon's masterpiece The Wire, critics and audiences alike still consider the HBO series to be one of the greatest of all time. But despite the show's continued praise even more than a decade after it came to an end in 2008, many didn't think the show would make it, including Wendell Pierce who portrayed Detective Bunk Moreland throughout the show's entirety, as he told the Telegraph in 2011:
Eighteen years and countless film and television appearances since, I bet Wendell Price has never been more excited to be so wrong.
The New Orleans Native Has Long Been Committed To Supporting His Hometown
As a New Orleans native, Wendell Pierce has continued to fight for and support different businesses, organizations, and initiatives from within the Crescent City during times of need. This has included everything from helping different neighborhoods bounce back after major storms to more recently with his drive to support local restaurants who took a hit as the city went on lockdown because of the Coronavirus pandemic.
In April 2020, Wendell Pierce set out to take a culinary tour of his hometown with the following Tweet:
Shortly after the Tweet went out to Wendell Pierce's more than 200,000 Twitter followers, the actor was approached by Eater New Orleans to share a list of locally-owned restaurants where people could get great food while practicing social distancing, stating:
In addition to telling people to go out and get takeout or delivery from their favorite spots, Wendell Pierce also encouraged them to support restaurants that are making charitable contributions so that everyone gets a little love during these trying times.
Wendell Pierce Takes Pride In Adding Dimension To The Jim Greer Character in Jack Ryan
James Greer has long been a part of Tom Clancy's novels and their multiple film adaptions, but not until the Amazon original series Jack Ryan, had the CIA chief been presented with so much dimension, especially considering the character is presented as practicing Islam. This is something that Wendell Pierce takes a lot of pride in, as he told SyFy in 2018, stating:
Anyone who has watched the first two seasons of the show knows that there are plenty of times when James Greer's religious views and duty are at conflict with one another, which does nothing but add to the depth of the character and his motivations.
Wendell Pierce Is One Of The First Black Actors To Portray Willy Loman in Death Of A Salesman
Arthur Miller's Death of a Salesman is considered by many to be one of the greatest plays from the 20th Century, mostly due to the character Willy Loman, which until recently had traditionally been portrayed by white actors. Well, that all changed with the casting of Wendell Pierce in the 2019 revival of the 1949 play in London's West End.
Though not the first time the play's main character has been portrayed by a black actor, the 2019 London run was the first to have the entire Lowman family not portrayed by white actors, which Wendell Pierce told the BBC that adds another level to the production, stating:
And even though no changes have been made to the text of Death of a Salesman, having the entire Loman family being portrayed by African American actors adds another dimension to the already tense drama about a down-on-his-luck salesman.
Now that the London run of Death of a Salesman has wrapped up, Wendell Pierce will hopefully have enough time to get ready for Season 3 of Jack Ryan so we can all finally figure out what the ending of the show's second season means for the cast. In the meantime, keep checking back for the latest on Wendell Pierce, John Krasinski, and the rest of the cast of Amazon's hit spy series here on CinemaBlend.
Philip grew up in Louisiana (not New Orleans) before moving to St. Louis after graduating from Louisiana State University-Shreveport. When he's not writing about movies or television, Philip can be found being chased by his three kids, telling his dogs to stop yelling at the mailman, or yelling about professional wrestling to his wife. If the stars properly align, he will talk about For Love Of The Game being the best baseball movie of all time.
Your Daily Blend of Entertainment News
Thank you for signing up to CinemaBlend. You will receive a verification email shortly.
There was a problem. Please refresh the page and try again.