Why Blindspot's Sullivan Stapleton Was Actually Happy To Hear The Show Was Being Cancelled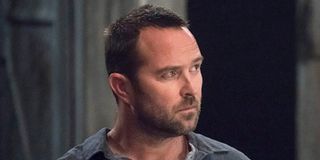 Television shows have varying shelf lives. Some go on for more than a decade, like Supernatural and Grey's Anatomy, while others have only a few seasons to tell its stories. Blindspot is somewhere in the middle. The series was renewed for a fifth and final season (not too shabby!), and Sullivan Stapelton recently revealed why he was actually happy to hear the show was being cancelled.
Blindspot's future was called into question after NBC made a schedule change while Season 4 was still airing last year. Not to mention that it's been on the verge of getting cancelled before then. So when the network renewed the show for a shortened and final fifth season, Blindspot's Sullivan Stapleton was thrilled because it meant NBC execs were letting the story play out in Season 5 instead of abruptly calling it quits after the major Season 4 cliffhanger. Here's what Stapleton told Collider:
Knowing in advance that Blindspot would end with Season 5 definitely seems to have made Sullivan Stapleton "grateful." There aren't a ton of series that get advance notice before they're taken off the air, so the fact that the Blindspot writers have the opportunity to close out the show the way they planned is fantastic.
Having a definitive timeline for when the show will end might also translate to Sullivan Stapleton's Kurt Weller getting a proper ending to his arc. Suffice it to say that Weller has had it rough in Season 5, as he's been tortured and coerced into revealing the team's location.
Weller will be dealing with the aftermath of his kidnapping as well as the team's mission, and that's on top of having faced a traumatic loss at the beginning of Season 5. And despite Blindspot's final season having less episodes, I'm sure the writers have something great in store for the series finale.
New episodes of Blindspot Season 5 air Thursday nights at 9:00 p.m. ET on NBC. For more on what to watch in the coming months, be sure to check out our 2020 summer TV premiere guide.
Your Daily Blend of Entertainment News
Thank you for signing up to CinemaBlend. You will receive a verification email shortly.
There was a problem. Please refresh the page and try again.